One of the great things about having a forum here at 11W is that it gives me the opportunity to think up interesting scenarios that I might otherwise never consider.
As I wandered through my father's day festivities with the family, I kept thinking about how the Buckeyes will more or less need to finish undefeated again to have a shot at the BCS National Championship.
While the current roster may be sufficient to accomplish the feat, I can't help but wonder how the 2013 Buckeyes might be upgraded in some key areas. I thought it would be an interesting exercise to dream up five players I'd love to bring forward in a time machine to shore up this team's weaknesses.
The generally accepted weaknesses of the 2013 Buckeyes are linebacker depth, youth on the defensive line, right tackle, wide receiver, and punter. I started pondering the five trips I'd get in my mythical time machine and which guys would best fill the holes on the current roster.
This is a completely subjective exercise, obviously, so feel free to weigh in with your alternates. Here are the five guys I'd bring forward with my limited number of TARDIS trips:
Korey Stringer (right tackle)
Orlando Pace is perhaps an obvious choice here, but I don't want to upset the chemistry of the returning four offensive line starters. If Pace came forward, Urban Meyer would no doubt want to use him at left tackle, and that could alter the way all five positions get played.
Instead, Korey Stringer would be an outstanding addition here. He played right tackle opposite Pace and was nearly as much of a beast as the pancake man. He'd end the battle for that spot pretty quick, allowing Taylor Decker to develop further and provide greater depth in case of injury.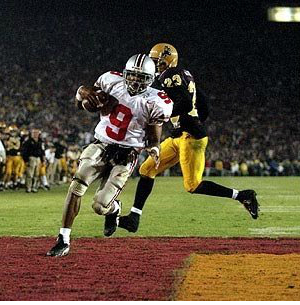 Chris Spielman ("Mike" linebacker)
When I think of the stability that Zach Boren brought to the defense, especially the linebackers, last season, it reminded me a bit of the way Spielman was the rock of his defenses in the 80s. Meyer would love Spielman's leadership and preparation, and Urban would no doubt be gushing about how he'd like to name a son after Spiels before it was all said and done.
Imagine Spielman and Shazier on the same defense and try not to get goosebumps.
Ryan Pickett (defensive line)
I feel like many of the greatest defensive linemen in OSU history suited up in the 60s and 70s and might be a bit undersized for today's game. I further decided that bringing back John Simon so quickly would be kind of like cheating. So to add help and leadership to a young defensive line, it really came down to Cam Heyward, Ryan Pickett, and Will Smith, for me.
Pickett is intriguing especially because a solid college interior tackle can really make a defense better. I feel like Smith may have the better motor than Heyward. Smith was equally capable of occupying blockers to allow the linebackers to make plays and blowing up linemen to get to the quarterback or running backs. His presence would be a big boost for Noah Spence, Adolphus Washington and Michael Bennett. In the end, I'm going with Pickett for his ability to jam up the run game, which is a big question mark for this year's group. He skipped his senior season so he'd also have an extra year of eligibility.
David Boston (wide receiver)
One thing David Boston could bring to Ohio State's current receiving corps is size. Not only was Boston a big target, but he ran good routes and was versatile enough to catch balls over the middle or beat defenders deep.
I think the Buckeyes have a very solid foundation at the receiver position, but much of the talent is very young and inexperienced. A year or two of Boston in the lineup would allow that group to mature.
Tom Skladany (punter)
No Johnny Townsend? No problem. Just plug in a three-time All American and NFL Pro Bowler. Skladany would hopefully not be called upon often in 2013, but his skills would be welcome in a year where the punting position has a lot of questions to answer.
So that's my five. Which five would you bring forward to help the 2013 Buckeyes challenge for a title?