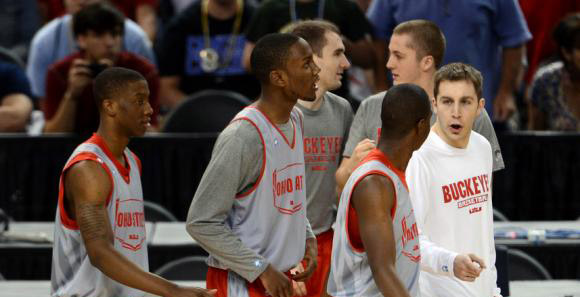 The worst kept secret at Ohio State is now official – Greg Paulus has been elevated to assistant coach. The athletic department confirmed what Jeff Goodman of ESPN originally reported.
Paulus spent the past two seasons as video coordinator, where he spent much of his time compiling video and offering scouting and analysis for the Buckeyes.
Paulus replaced Chris Jent, who took a job on Mike Malone's staff with the Sacramento Kings. A bulk of Jent's career has been spent in the NBA and he and Malone have a long friendship.
At 26-years-old, Paulus has already enjoyed a long string of success in college athletics. He was a three-year starter for Duke, leading the Blue Devils in assists from 2006-08. He led the ACC in assists as a freshman. After graduating, Paulus spent one season as the starting quarterback for Syracuse. He then spent one season at Navy as an assistant at Navy.
Matta recruited Paulus while he was in high school, developing a relationship that lasted through his playing career. When Paulus was hired by the Buckeyes prior to the 2011-12 season, Matta noted Paulus' "wealth of knowledge" and referred to him as a "rising star in the coaching business."
"I've had a long association with Greg from recruiting, watching him as a player and working with him as our video coordinator the last couple years," Matta said in a statement. "He has done all the right things to make himself ready for this opportunity. We are fortunate to add his basketball experience and knowledge to our coaching staff."
When Paulus turned down an assistant job at Toledo during the spring, it became apparent that he was in line at Ohio State whenever one of the coveted assistants moved on. Many figured it'd be for a head-coaching job, though, not as an NBA assistant.
"It has been an honor to be a part of the Ohio State University community for the last two years," Paulus said. "I am extremely grateful to Coach Matta and the coaching staff for the opportunity to have a larger role with a basketball program that has great success and history. I look forward to representing and further developing the basketball tradition at The Ohio State University."
The promotion of Paulus created another opening on Matta's staff, which will be filled Jake Diebler. Diebler, the brother of former Buckeye Jon, spent the previous two seasons as an assistant at Valparaiso.
"Jake comes from an accomplished basketball family," Matta said. "He has been a winner as a player at the high school and collegiate levels and has continued that success into the coaching ranks. His work ethic is second to none and I know he will be a fantastic addition to our basketball family."
Said Diebler: "To be part of the best program in the country was an opportunity I could not pass up. Because my brother Jon played here, I have a great appreciation for Ohio State basketball. The chance to work with Coach Matta and the coaching staff will help me and my professional career."
Diebler was an Academic All-American for the Crusaders and finished 10th all-time in steals (130) at Valpo and 16th with 229 assists.