The off-season tends to conjure up all kinds of stories and discussion about schedules. The B1G has recently announced conference schedules for 2014 and 2015 — the first two such slates to include Maryland and Rutgers, and the new East/West format.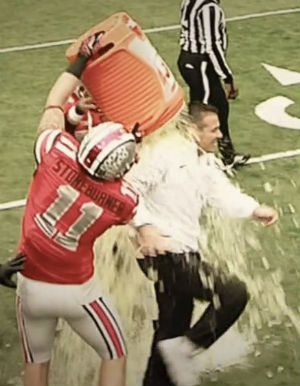 With the focus on conference schedules this time of year, sometimes it's easy to forget that the most intriguing matchups can be the non-conference games. Upcoming series' with schools like Virginia Tech, TCU, Oklahoma, North Carolina, Texas, and Oregon are all outstanding upgrades to the pre-conference slate which has previously been chock full of MAC snacks and FCS schools like Youngstown State.
Although the MAC teams aren't likely to go away, nor should they completely, it's pretty great to see more competitive games lined up in the future.
With an emphasis on improving the non-conference schedule moving forward, it's natural to think of which teams would be fun to see Ohio State play.
Sure, we've done this before, with a slightly different spin, but my OSU list is (mostly) different from my esteemed colleague Joe Beale. My criteria don't require rare or first-time meetings (although, coincidentally, these are included). I'm looking only at the entertainment value, plus meetings that I think fans of any college football team would be interested in.
I've come up with a short list of the next five I'd like to see Gene Smith put on the schedule to face the Scarlet & Gray. I think they'd make ideal, competitive matchups. Thereafter, I'll give my top list of opponents I'd like the other B1G schools to schedule.
My ideal future home-and-home foes for Ohio State are (in no particular order):
Florida State
Joe and I completely agree on this one.
The Seminoles under Jimbo Fisher are back. Aren't they? It seems like we're always hearing about how teams are "back" (looking at you, Notre Dame and Michigan).
The Noles aren't quite atop the college football world the way they once were, but they are competitive and they play a fairly entertaining brand of football. They're a "name" opponent too. I like the idea of a future home-and-home with Florida State, piggybacking on the recent Miami (FL) series.
From a selfish standpoint, I've never been to Doak Campbell Stadium, and it's only four hours up the Florida Turnpike/I-75/I-10 from me. From television, it appears to have a great collegiate atmosphere and it would be a very interesting matchup, particularly in prime time under the lights.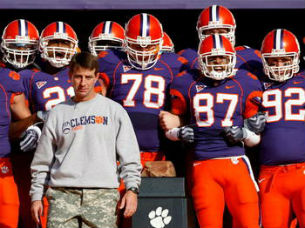 The teams haven't met since the 1998 Sugar Bowl, and it's time to turn around Ohio State's 0-3 record in the all-time series.
Clemson
Staying with the ACC for a minute, there have been fewer teams in the country more entertaining than the Clemson Tigers. Dabo Swinney's bunch can score in bunches and, win or lose, Clemson is rarely boring.
The Tigers do have a tendency toward "Clemsoning," which is a perfect way for the Buckeyes to get an early signature win. It would be fun to see Death Valley at night go suddenly quiet as Ohio State steps up and starts knocking heads.
No tricky time zone changes here either, so both teams would be on equal footing in the series.
It seems odd that these two teams have met only once. That game didn't end well for Art Schlichter or Woody Hayes and now I has a sad just thinking about it. Put Clemson on the schedule and let the Buckeyes get some payback, I say.
Arkansas
Bert Bret Bielema doesn't have a great record against Ohio State (1-5), so what better way to start turning the SEC narrative around than the Buckeyes showing that the Sugar Bowl (which never happened, yet totally happened) was the beginning of a trend rather than an isolated incident.
Officially, the two teams have never met. Except they have. We all saw it and we can never unsee it. Terrelle Pryor. Cam Heyward. Boom Herron and the safety that wasn't. You remember.
Plus, wouldn't it be pretty fun to ruin Bert's run in the SEC? That's assuming he's still there by the time the games get scheduled.
Oklahoma State
We've seen Texas (and will again). We'll soon see Oklahoma. That doesn't leave a lot of power teams in the Big 12, but the Cowboys of the other OSU (no, the OTHER other OSU) are an intriguing opponent.
Mike Gundy is a man north of 40 and he has his team playing as well as anyone in the Big 12 — especially on offense.
The Buckeyes are 2-0 in the all-time series, with the last meeting coming in the 2004 Alamo Bowl. That game saw Justin Zwick (yes, Justin Zwick) lead the Buckeyes to a 33-7 thrashing of Les Miles' Cowboys.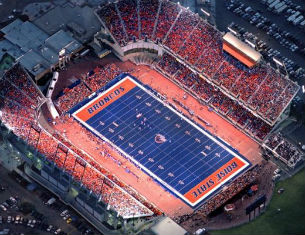 It seems like two schools with the same initials should have met more than twice.
Boise State
The Broncos are college football's spoilers. Not in a BCS qualifier conference, Boise State has been content to run the table seemingly every year and enter the conversation.
Although their schedule strength seems to hold them back more often than not, the Broncos have usually taken care of the big name teams they've faced when given the opportunity.
I'm not afraid of them or their hideous field. I think a home-and-home with Boise would be great fun for fans of both schools and for those without a dog in the fight.
The teams have never met. It's about time they did.
Matching Up the Other B1G Schools
Briefly, here are some opponents I'd like to see the other B1G teams adding to their non-conference schedules:
Rutgers: I'd like to see the Scarlet Knights repping the B1G in a very large way. My ideal non-conference foe for the scarlet R is an SEC opponent. My preferences here are Auburn and Ole Miss.
Maryland: A home-and-home with a west coast team would be fun for the Terps. I'd consider Oregon State, UCLA or one of the Arizonas to be excellent scheduling for Maryland.
Penn State: I'd like to see the Nittany Lions lock horns with Georgia, Stanford, or maybe Kansas State. Why? No real reason, other than I'd like to see it.
Purdue: The Boilermakers should schedule a similar team from some of the other automatic qualifier conferences. California works here, as would Mississippi State.
Michigan State: Sparty might enjoy a home-and-home with Louisville. USC would also be fun, as would Texas A&M.
Iowa: The Hawkeyes should continue to meet Iowa State every year. In addition, I'd be interested in seeing Iowa take on South Carolina, West Virginia, or Virginia Tech.
Northwestern: The Wildcats should rotate playing home-and-homes against Stanford, Duke, and Vanderbilt because, nerd fight!
Nebraska: The Cornhuskers should take on West Virginia just for the contrast between Bo Pelini and Dana Holgorsen. Nebraska against Notre Dame would also intrigue me.
Indiana: The Hoosiers against the new-look Kentucky Wildcats would be a welcome match-up. It would be fun (and if the word "fun" can be applied to Hoosier football, Kevin Wilson is making it happen) to see Indiana against Missouri or BYU.
Illinois: Until/unless Tim Beckman can get the Illini back to respectability, they'd be best served facing similar competition. Right now, this means schools like Virginia, Colorado, and Kansas. Things are kind of ugly right now in Champaign.
Minnesota: The Gophers against Utah or Colorado out west, or Georgia Tech in the east would be competitive, if not exciting.
Wisconsin: Can it be anyone other than Arkansas?
Michigan: I'd like to see the Wolverines against the likes of LSU, Louisville, Stanford, Arizona (for Rich Rod purposes), Florida, and Texas.
Aside from who you'd like to see the Buckeyes play, what teams would you like to see the other B1G schools square off against? Do you even care if the others upgrade their schedules? Let us know in the comments below.