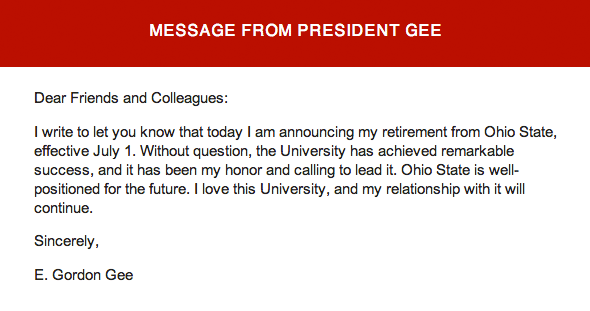 Gordon Gee sent shock waves through the Ohio State community by announcing his retirement, effective July 1, earlier today. Here's the full text of Gee's message to faculty, staff and students, along with Ohio State's release.
Dear Friends and Colleagues:

I write to let you know that today I am announcing my retirement from Ohio State, effective July 1. Without question, the University has achieved remarkable success, and it has been my honor and calling to lead it. Ohio State is well-positioned for the future. I love this University, and my relationship with it will continue.

Sincerely,

E. Gordon Gee

---

President E. Gordon Gee Announces Retirement from Presidency

E. Gordon Gee, President of The Ohio State University, and Robert H. Schottenstein, Chairman of the Board of Trustees of The Ohio State University, announced today that Dr. Gee plans to retire from the presidency, effective July 1.

Executive Vice President and Provost Joseph A. Alutto will be named Interim President. Dr. Alutto previously served as Interim President in 2007.

President Gee served as Ohio State's president for two terms, from 1990-1997 and 2007 to present. During his tenure as President, Dr. Gee has been an extraordinary leader of Ohio State. He has enhanced the University's academic profile as Ohio State has become a highly selective, top-tier public research institution. His leadership has contributed significantly to the strengthening of the University's long-term financial condition, highlighted by his recent efforts to help raise more than $1.6 billion in private support. Widely known throughout Ohio and around the country, President Gee also recently chaired a national commission on the future of higher education. At the request of Ohio Governor John Kasich, President Gee also spearheaded two state commissions that developed new models for funding public higher education.

"I recently returned from a vacation with my family, during which time I had a chance to consider the University's phenomenal achievements and the road that lies ahead for it. Ohio State now has a richness of new opportunities that would be the envy of most universities. During my days away, I also spent some time in self-reflection. And after much deliberation, I have decided it is now time for me to turn over the reins of leadership to allow the seeds that we have planted to grow. It is also time for me to reenergize and refocus myself," said President Gee.

"I began my career at Ohio State in 1990, and I was honored to return as its leader six years ago. I am proud to have played a critical role in the university's transformation from excellence to eminence. I plan to work closely with the Trustees and Dr. Alutto to ensure the smoothest transition possible. I cannot express enough my deep appreciation to the people of Ohio for the opportunity they have given me to lead this great University. I love this University, and although I might be retiring from the presidency, my work with Ohio State will continue. No matter what the future may hold for me, Ohio is my home," concluded President Gee.

Chairman Schottenstein said: "Dr. Gee and I met this morning, and he informed me of his decision to retire. By any measure, Gordon has been a transformational leader for Ohio State. His service to Ohio State has been superb. This man has been an inspiration to many people, including me, and we all are forever grateful for his friendship. His thoughtful and unique leadership style has taken the University to new levels. His engagement with the entire Ohio State community is truly remarkable. Clearly he leaves a rich and lasting legacy and will be missed. On behalf of the Board, I would like to express our profound gratitude to President Gee for his service to The Ohio State University. As we go forward, the University Board will work in close partnership with Dr. Gee and Dr. Alutto through this period to continue the tremendous success and growth we have seen under his leadership."

As The Ohio State University's chief academic officer, Executive Vice President and Provost Joseph A. Alutto has been responsible for the administration, coordination, and development of all academic functions of the university. He held the John W. Berry Sr. Chair in Business in the Fisher College of Business, where he served as dean for the 16 years prior to his appointment as executive vice president and provost. Dr. Alutto was dean of the State University of New York at Buffalo School of Management for 14 years before his arrival at Ohio State in 1991.

Details about the search for a new president will be forthcoming.
[Download Gee's message]