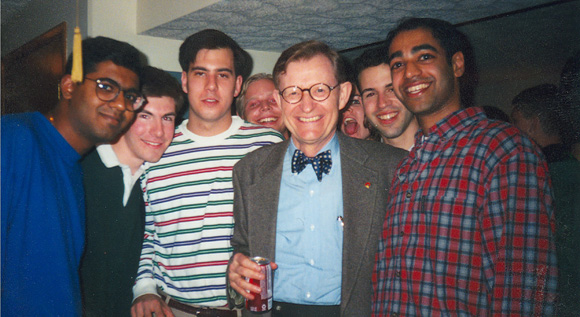 Ohio State University president Gordon Gee, always quick with the joke and often just as quick with an apology for said joke, is back at it. The AP, via a public records request, obtained audio of Gee at the school's Athletics Council meeting jabbing Catholics, the SEC and Big Ten commissioner Jim Delany.
On the courting of Notre Dame (audio):
"The fathers are holy on Sunday, and they're holy hell on the rest of the week," Gee said to laughter at the Dec. 5 meeting attended by Athletic Director Gene Smith and several other athletic department members, along with professors and students.

"You just can't trust those damn Catholics on a Thursday or a Friday, and so, literally, I can say that," said Gee, a Mormon.
When asked about SEC fans who say the Big Ten can't count because it has 14 members:
"You tell the SEC when they can learn to read and write, then they can figure out what we're doing," Gee said.
That's going to go over well.
Gee apologized in a statement released to the AP:
"The comments I made were just plain wrong, and in no way do they reflect what the university stands for," he said. "They were a poor attempt at humor and entirely inappropriate."
Ohio State followed-up by placing Gee on a "remediation plan."
A statement released by Robert Schottenstein, chairman of Ohio State's board of trustees, said the board had met with Gee at length to "develop a plan that addresses these missteps."

"For the leader of a renowned university, inappropriate comments about particular groups, classes of people or individuals are wholly unacceptable and are not in line with what we aspire to be as an institution of higher education," Schottenstein said.
It was the Jim Delany's turn next, with the conference repudiating Gee's comments.
"The remarks made by Ohio State University president Gordon Gee were inappropriate and in no way represent the opinions of the conference," said Big Ten Commissioner James Delany. "We have great respect for the University of Notre Dame and the SEC, and we are proud of the rich, competitive history we share with each."
Delany also communicated his regrets to Notre Dame and the SEC.
Got it all? Good. We love you, Gordon. You do many, many great things for Ohio State, not the least of which is your work with Stefanie Spielman Fund for Breast Cancer Research and your tireless efforts on the university fundraising trail. But, please consider dialing back the jokes – particularly the jokes about religion – a little bit.
Regardless of whether you think this stuff should be a story or not, it will be a story. Every time. That's just where we are in the world of Twitter, 10-minute news cycles and all of these kids on our lawn.
@gerdozone twitter.com/TeddyHeisman/s…

— Andrew Ellis (@TeddyHeisman) May 30, 2013