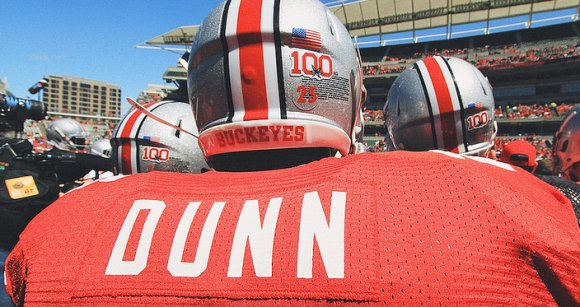 Though I've heard many coaches use it, I'll always associate the expression "a pair and a spare" to Jim Tressel. The Vest, a rabid fan of coach-speak, uttered the phrase often when discussing what it took to make him comfortable about the tailback position. 
This year, Urban Meyer's backfield talent would make Tressel glow with envy. 
Incumbent starter Carlos Hyde returns for his senior season, fresh off a a campaign that saw him seize the starting tailback job at Ohio State, falling just short of 1,000 yards on the season. Finishing with 970 yards, Hyde found the end zone 16 times. Averaging 97 yards per game, Hyde went for over a 100 yards rushing in four games and scored mulitple touchdowns in six. 
Projected to serve as Hyde's chief backup is 6'3", 230 lb. Rod Smith though 6'0", 220 lb. sophomore Bri'onte Dunn shouldn't be far behind. 
Local product Warren Ball is finally healthy, looking strong and adding to the depth and the stable only gets deeper as the Buckeyes welcome 6'0", 198 lb. incoming freshmen Ezekiel Elliott to the mix later this summer. 
Though they are likely to be used more in the hybrid role, other potential ball carriers from the tailback slot include vet Jordan Hall and another slew of incoming freshman in Dontre Wilson, Jalin Marshall and Darron Lee. Frankly, it's borderline ridiculous how much skill, or at least highly touted skill, will be making a bid for touches. 
With Braxton and his fellow returnees on offense expected to be that much more comfortable in the Meyer/Herman offense, the skill players that rise the top will all have an abundance of chances to make plays.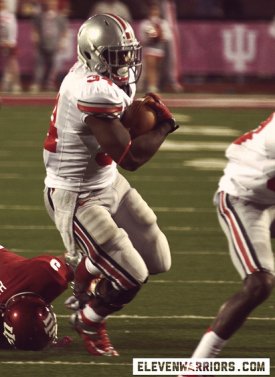 Regardless of the amount of firepower and the myriad of plays the brain trust has to get the ball to its playmakers, elite college football teams still need to be able to line up and move the ball consistently between the tackles. 
Such a need could arise when the plan is to unleash last clock-killing drive to clinch victory. Maybe Braxton is having a bad day through the air. Maybe it's a windy and soggy day. Or maybe the Buckeyes are facing a physical front and need to punch it in from in close. 
The point is that while spreading the field and lighting people up is what makes the highlight reel, championship football teams also typically possess the ability to impose their will on opposing defensive lines, breaking the will of their opponents on the way to the end zone. 
Obviously, Hyde will be the feature back and his style favors getting his smash-mouth-on though he also has the ability to make guys miss and can run away from his fair share of tacklers thanks to 4.45 speed in the 40-yard dash.
There's no reason to believe Hyde will be off the field for very long unless he gets nicked but there is always a need for a primary backup at tailback.
Last year, Smith had the most chances to emerge as the bona fide backup tailback, seeing action in nine games while Dunn appeared in just three. Their cumulative stats look like this: 
2012 STATS: ROD SMITH VS. BRI'ONTE DUNN

| PLAYER | GAMES | RUSH ATT | RUSH YDS | YPC |  RUSH TD | FUM | REC | REC YDS | REC TD |
| --- | --- | --- | --- | --- | --- | --- | --- | --- | --- |
| R. SMITH | 9 | 32 | 215 | 6.7 | 2 | 3 | 2 | 55 | 1 |
| b. dUNN | 3 | 25 | 133 | 5.3 | 2 | 0 | 0 | 0 | 0 |
Despite seeing glimpses of their legit talents, neither has much of a sample size to evaluate. 
Though spring drills, it's Rod Smith who Meyer still touts as Hyde's backup and it feels like the majority of the fan base favors him but I think Dunn can make more than a fair case to challenge Smith for a chance to be the guy who primarily spells Hyde this fall.
More than half of Dunn's carries last year came in the blowout win over Illinois. Afforded 13 carries, Dunn responded with 73 yards, good for 5.6 per carry, and he found the end zone on a three-yard run to round out the scoring at 52-22.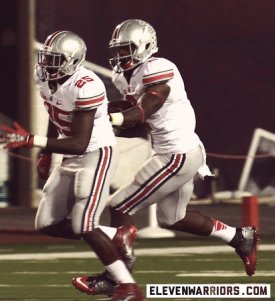 In limited action, Dunn showed he can be frightening for second-level defenders thanks to power, quickness and a mindset of punishing anything in his path. That's not to say he's just a bruiser because he does run fairly light on his feet and has a great set of hands. 
This past spring, the coaches worked on incorporating the tailbacks even more into the passing offense and Dunn showed he could be a weapon in that regard.
In the spring game alone, Dunn hauled in five passes for 61 yards, looking powerfully fluid each time. Bottom line, though seemingly underrated, Dunn is every bit as talented at catching the ball as Smith. 
As for Smith's resume, there's little question he's the bigger homerun threat. The Fort Wayne product teased fans averaging 23.3 yards per kickoff return last year and his 51-yard touchdown grab against Illinois has fans salivating at how his versatility could be better leveraged this season. 
Interestingly, Smith caught only one other pass last year, in the same Illini contest, and he has just four career receptions. Of course, his blend of power, athleticism and speed has enamored fans ever since he arrived on campus. Unfortunately, his Achilles heel has been a propensity to put the ball on the ground, something you can't do if you want to be a big time college running back. 
As a freshman, Smith coughed it up twice in only 29 carries and last year, Smith fumbled three times in 32 carries giving him career marks of five fumbles in in 61 carries, or once every 12 rushing attempts. Again, we're talking about a small sample size but the numbers are hard to ignore when turnovers are typically the catalyst of upsets. 
Even with the fumbles, Meyer has been pretty definitive on who Hyde's backup is at this time. It will be intriguing to see how the battle between Smith and Dunn unfolds and whether or not there are long term roster implications should one of the two find themselves firmly on the outside looking in.