The undefeated season of 2012 worked wonders for the swagger of Ohio State's football program, and even more so for their enormous fan base. Even before the season was over, Buckeye Nation (the real thing, not the ESPiN OSU page that has little more than links to premium content) was starting to dream of a 2013 BCS Championship matchup with Nicky Satan's Tide or some other SEC bogeyman. It seems that the post-season script for the Buckeyes is already written and it resembles the football equivalent of Sherman's March.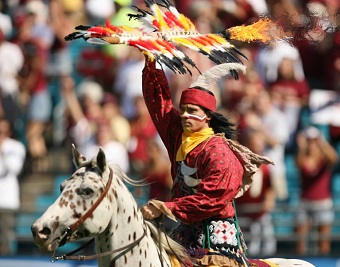 The only problem with that equation is that another undefeated run won't necessarily get the Buckeyes into a position to win the championship. The reason? In a word: S.O.S. By that I mean "Strength of Schedule", not that tasty dish that guys who serve in the U.S. Army are intimately familiar with.
The somewhat lackluster performance of the Big Ten conference teams in bowl games over the past few years is well documented, but this year OSU's out-of-conference schedule is even worse. It is doubtful that poll voters are going to be impressed by the likes of Buffalo, San Diego State, Cal, or Florida A&M. 
Things start to improve a bit in 2014 when Navy and Virginia Tech appear on the schedule (VaTech is also on for 2015). It gets even better in 2016 when the Buckeyes travel to Norman, OK to play the Sooners, and there are some other interesting OOC games as you get down the list. But there are also some open dates scattered over the next few seasons after 2014 that will need to be filled.
While I am intrigued by the games against Beamer's Hokies, and I'm absolutely stoked to get a crack at Babyface Bobby Stoops and the boys, there are also a few other matchups I think would be good for our program. Specifically, these are teams that a) OSU has never played (hard to find), or b) OSU has played in the past but not for a while (a little easier), or c) teams that beat Ohio State in the past and thus are deserving of some payback (piece of cake).
This is not an exhaustive list by any means, but it's not meant to be. I'm putting some of my dream matchups out there and then turning it over to you to help come up with a few more. My list is after the jump.
Florida State
The last time Ohio State fans saw the Seminoles of FSU, they were pounding OSU 31-14 in the 1998 Sugar Bowl and making a mockery of John Cooper's guarantee of victory. Prior to that, they beat the Buckeyes in Columbus in consecutive seasons (1981-82), the only team that has done that in my lifetime. If there was ever a program that was in need of some payback, this is it.
Florida State's program is much more prominent than they were back in the early 80s, and so it's unlikely that they would be willing to come to Columbus again without OSU repaying the favor by journeying to Tallahassee. But I would actually love to see the Buckeyes go down there and scalp the 'Noles in their own stadium, if only to enjoy the entrance of Chief Osceola prior to the game, one of college football's best pre-game traditions.
West Virginia
This is a program that fell on hard times in 2012, going 7-6 after a sterling 2011 season in which they went 10-3, including a 70-33 whipping of #15 Clemson. Ohio State last saw the Mountaineers in 1998, where the #1 ranked Buckeyes went to Morgantown and thumped them 34-17. Overall, OSU is 5-1 against WVU, with the only loss coming back in 1897.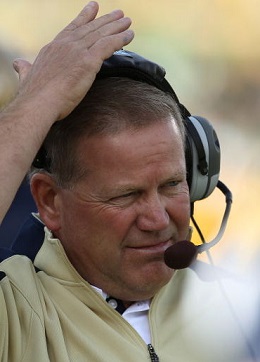 Mountaineer football has come a ways since that nationally televised loss, and it is likely that a game against them would be highly entertaining. Both WVU and OSU run a spread offense and they typically feature dynamic quarterback play. Ohio State will have a talent advantage due to superior recruiting but in a back-and-forth game with lots of scoring, anything could happen.
Notre Dame
A few years ago, this game would have been a yawner. But with Brian Kelly at the helm, the Irish are (seemingly) back to their fighting ways. After going 8-5 in his first two seasons as head coach in South Bend, Kelly led ND to the promised land of the BCS Championship game before getting his head handed to him by Satan. 
Ohio State and Notre Dame famously resumed their long-dormant rivalry in the mid-90s, leading to a pair of memorable victories for John Cooper and the boys. And of course, the last time the two teams met OSU racked up over 600 yards of offense against Charlie Weis's hapless defense on their way to a 34-20 win in the 2006 Fiesta Bowl. Wouldn't it be nice to lay that kind of beating on them again?
LSU
This is another team that is sorely in need of a payback. Ohio State and LSU had a home-and-home series back in the 80s, and Jeff just chronicled the second of those games last week. The first game was in Baton Rouge, and that one ended in memorable fashion as the Tigers blocked a potential game-winning OSU field goal to preserve a 13-13 tie.
Of course, the last time we saw Ohio State play LSU it was in the BCS Championship game following the 2007 season, and we all know how that ended. OSU out-gained Les Miles and the Tigers on paper but a slew of mistakes and a lack of poise led to a second consecutive big-game embarrassment.  It would be nice to see LSU travel to Columbus again, and maybe if they did, Ohio State might consider wearing white so that Les Miles's troops would have to wear the hated purple jerseys.
There's my short list. I asked some of my friends and they made some other good suggestions like Georgia, Texas A&M, Stanford, Missouri, etc. I'd be interested in seeing what the 11W commentariat comes up with. Who would you like to see on OSU's OOC slate in the future?