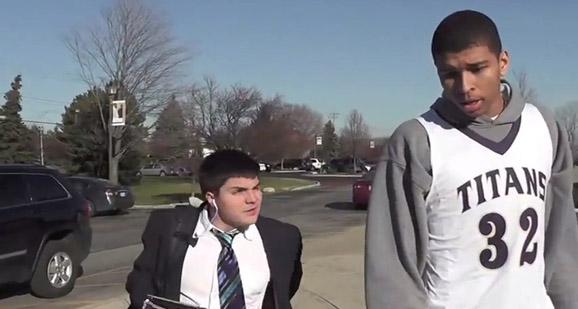 Two months after picking up his second Ohio Division 1 Boy's Player of the Year award, Toledo St. John's Marc Loving has been named a Parade Magazine All-America.
Loving, a 6-foot-8 forward who will suit up for Thad Matta's Buckeyes this fall, averaged 21.3 points and 8.2 rebounds, 2.5 assists, and 1.3 blocks per game for the Titans as a senior. He is the all-time leading scorer at St. John's High School, scoring more than 1,600 points. He also corralled the most rebounds – 711. Loving once scored 42 points in a game.
He committed to Ohio State shortly after his freshman season and with the absence of Deshaun Thomas, Loving could see immediate playing time in Columbus.
---
The 2013 Parade Magazine All-America High School Basketball Team:
| Name | Pos. | High School | Ht. | College |
| --- | --- | --- | --- | --- |
| A.J. Jacobson | F | Shanley (Fargo, N.D.) | 6-6 | North Dakota St. |
| Aaron Gordon | F | Archbishop Mitty (San Jose, Calif.) | 6-8 | Arizona |
| Aaron Harrison | G | Travis (Richmond, Texas) | 6-5 | Kentucky |
| Anders Broman | G | Lakeview Christian Academy (Duluth, Minn.) | 6-1 | South Dakota St. |
| Andrew Wiggins | F | Huntington Prep (Huntington, W.V.) | 6-8 | Kansas |
| Austin Nichols | F | Briarcrest Christian (Eads, Tenn.) | 6-8 | Memphis |
| Bobby Portis | F | Hall (Little Rock, Ark.) | 6-10 | Arkansas |
| Brannen Greene | G | Tift County (Tifton, Ga.) | 6-7 | Kansas |
| Bryce Alford | G | La Cueva (Albuquerque, N.M.) | 6-3 | UCLA |
| Chris Walker | F | Holmes County (Bonifay, Fla.) | 6-9 | Florida |
| Conner Frankamp | G | North (Wichita, Kan.) | 6-1 | Kansas |
| Cullen Neal | G | Eldorado (Albuquerque, N.M.) | 6-4 | New Mexico |
| Derrick Walton Jr. | G | Chandler Park Academy (Harper Woods, Mich.) | 6-1 | Michigan |
| De'Runnya Wilson | F | Wenonah (Birmingham, Ala.) | 6-6 | Mississippi State |
| Dominique Hawkins | G | Madison Central (Richmond, Ky.) | 6-1 | Kentucky |
| Garet Beal | F | Jonesport-Beals (Jonesport, Maine) | 6-6 | Maine |
| Isaiah Hicks | F | J.F. Webb (Oxford, N.C.) | 6-8 | North Carolina |
| Jabari Parker | F | Simeon (Chicago, Ill.) | 6-8 | Duke |
| James Young | G | Rochester (Rochester Hills, Mich.) | 6-6 | Kentucky |
| Jarell Martin | F | Madison Prep Academy (Baton Rouge, La.) | 6-8 | LSU |
| Jon Severe | G | Christ The King (Queens, N.Y.) | 6-2 | Fordham |
| Luke Fischer | C | Germantown (Wis.) | 6-10 | Indiana |
| Mamadou Ndiaye | C | Brethren Christian (Huntington Beach, Calif.) | 7-5 | Cal-Irvine |
| Marc Loving | F | St. John's (Toledo, Ohio) | 6-8 | Ohio State |
| Marcus Allen | G | Centennial (Las Vegas, Nev.) | 6-4 | Stanford |
| Marcus Foster | G | Hirschi (Wichita Falls (Texas) | 6-2 | Kansas State |
| Marcus Lee | F | Deer Valley (Antioch, Calif.) | 6-9 | Kentucky |
| Monte Morris | G | Beecher (Flint, Mich.) | 6-1 | Iowa State |
| Nick King | F | Memphis East (Memphis, Tenn.) | 6-7 | Memphis |
| Nigel Williams-Goss | G | Findlay Prep (Henderson, Nev.) | 6-3 | Washington |
| Peter Jok | F | Valley (West Des Moines, Iowa) | 6-6 | Iowa |
| Ricky Seals-Jones | F | Sealy (Texas) | 6-5 | Texas A&M |
| Roschon Prince | G | Poly (Long Beach, Cali.) | 6-5 | USC |
| Rysheed Jordan | G | Vaux (Philadelphia) | 6-3 | St. John's |
| Semi Ojeleye | F | Ottawa (Kan.) | 6-6 | Duke |
| Steve Vasturia | G | St. Joseph's (Philadelphia, Pa.) | 6-5 | Notre Dame |
| Stevie Clark | G | Douglass (Oklahoma City) | 5-10 | Oklahoma State |
| Tyler Ennis | G | St. Benedict's Prep (Newark, N.J.) | 6-2 | Syracuse |
| Zach LaVine | G | Bothell (Wash.) | 6-4 | UCLA |
| Zak Irvin | G | Hamilton Southeastern (Fishers, Ind.) | 6-6 | Michigan |