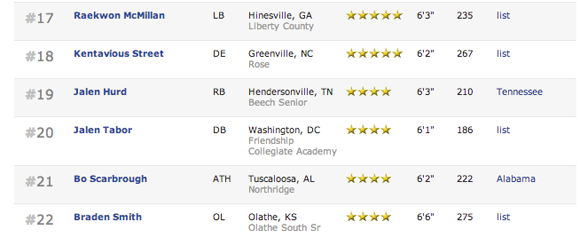 Rivals.com published an updated Rivals100 today, ranking the top 100 football players in the class of 2014, and heavy Ohio State lean Raekwon McMillan earned back a coveted fifth star from the service.
Long considered the top inside linebacker in the country, McMillan is now the 17th-best prospect in the entire class, according to the rankings. McMillan debuted on the Rivals100 as a five-star, but lost a star in the February update. Getting his fifth star back was a priority for McMillan.
Cornerback Damon Webb of Detroit's Cass Tech is the only member in Ohio State's eight-man class to appear on the Rivals100, checking in as a four-star and the nation's 35-best prospect.
Ohio State targets that made the list include OL Damian Prince (#10), QB Deshaun Watson (#12), RB Joe Mixon (#15), OL Braden Smith (#22), QB Kyle Allen (#27), ATH Marshon Lattimore (#45), LB Clifton Garrett (#55), WR Demarre Kitt (#68), WR Mark Andrews (#71), OL Demetrius Knox (#87) and OL Jamarco Jones (#97).
Texas A&M leads all schools with four commitments on the Rivals100.