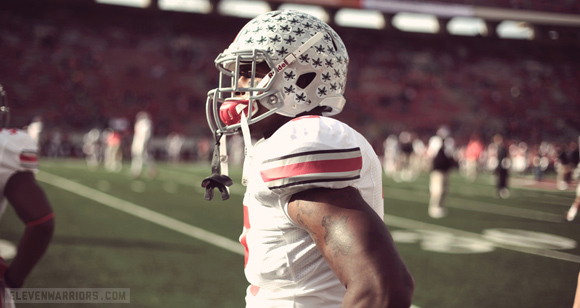 Rod Smith is not Ohio State's starting running back entering his junior year. His career trajectory hasn't been in lockstep with the mental map drawn up his senior year of high school, but don't let his place on the depth chart fool you. Smith factors in nicely for what head coach Urban Meyer and offensive coordinator Tom Herman hope to accomplish on offense.
There was no competition for the starting running back spot in the spring. Carlos Hyde's nearly 1,000-yard season and subsequent return for his final season as a Buckeye put an end to any musical chairs. But the second-string competition also was nonexistent, and that's because of the flare Smith displayed in Ohio State's 12-0 year.
When it comes to making the most of opportunities, Smith took the ball and ran – literally. He only received 32 carries in nine games, but his total rushing yards added up to 215, an average of 6.7 yards per carry. Two plays stick out from the others: a 33-yard touchdown run against Nebraska that included five broken tackles and a 51-yard touchdown reception versus Illinois.
There was more of that during spring practice, where Smith could be seen making would-be tacklers miss. It was a month-long personal highlight reel for one of the nation's best backups. The coaches think so much of Smith that they've incorporated him into the diamond formation, alongside Braxton Miller and Hyde. Smith suffered a concussion during the final week of drills, but it didn't deter his season outlook.
"He was a physical presence out there," said running backs coach Stan Drayton. "I'm really excited where Rod Smith is right now. He's a young man that's had to overcome some things to get to the point where he is right now. It makes it even that much more rewarding for him and myself."
Seventeen months ago, Smith's future with the Buckeyes was uncertain. He missed the team flight to the Gator Bowl and never showed up in Jacksonville. It was the end of a tumultuous year for Smith, who started out at running back before moving to linebacker after what appeared to be an incurable case of fumble-itis. 
There were comparisons to Eddie George before Smith even suited up in scarlet and gray. A 74-yard performance with a touchdown in Smith's first career game only made the drumbeat louder. He's a 6-foot-3, 228-pound machine that runs over, through and around defenders, similar to the physical style of the 1995 Heisman Trophy winner.
Soon, the two would have more in common, but this time it was of the infamous variety. Smith, like George, would go through a dreaded period of fumbling, The most troubling aspect was doing so late in games. For many, it was a return to 1992, when a young Eddie George had two critical fumbles in a loss to Illinois.
Needless to say, on and off the field, Smith did not leave Meyer with a favorable first impression. It couldn't have been much worse for a perfectionist head coach. It was so poor that Meyer sat down with Smith and his father and urged the running back to transfer.
"He's a good guy. I love Rod Smith. I love guys that turn it around."
"The conversation in January (of 2012) is, 'You're probably not going to make it. It's probably best you move on and play somewhere where you can play, because it's obvious you're not good enough to be here,'" Meyer said.
The negativity continued last spring and summer. Smith performed in a forgettable manor with no reason for coaches to grab onto hope. But he persevered and bought into the staff's message.
The first glimmer was the touchdown and four-yard average Smith had against UAB. But it wasn't just offense where Smith attracted attention. The coaches were pleased with his unselfish play on special teams, where Smith was a member the "Freak Show" punt-block team. Meyer has long lauded players that take command by first performing on special teams. It's the quickest way to earn playing time on offense or defense.
Now Smith is one of the hardest workers on the team and routinely spotted putting in long hours at the Woody Hayes Athletic Center. It's part of the reason why he separated himself from fellow running backs Bri'onte Dunn and Warren Ball.
"He's a totally different guy right now," Drayton said of Smith. "He's locked in. He's focused. He understands too that his timeline is coming.
Said Meyer: "He's a good guy. I love Rod Smith. I love guys that turn it around."
Starter or not, it's all irrelevant to Smith and the Buckeyes. He's going to play and the team is better for it. The offense responded with gusto when Smith was inserted into the lineup during the spring.
"He has improved his awareness," Drayton said. "He's year-two in this system now, so he's playing faster because of the knowledge of the system."
Developing a playbook in his mind should prove vital when the freshmen playmakers enroll, among them Jalin Marshall, Dontre Wilson and Ezekiel Elliott. Only one – Elliott – is a true running back. But gaudy high school stats don't guarantee success – at least not immediately. Smith is the best reference point for that argument. He gained more than 6,600 yards in high school and scored nearly 70 touchdowns.
Then he entered the real world, or some form of it. College football is a cruel universe. But for the ballyhooed back who defied his coaches transfer advice, it's not far from a utopia.
"What a great message for our entire team," Meyer said. "He was lower than most guys on this team. To see him rebound…it's called maturity, and it's happening."