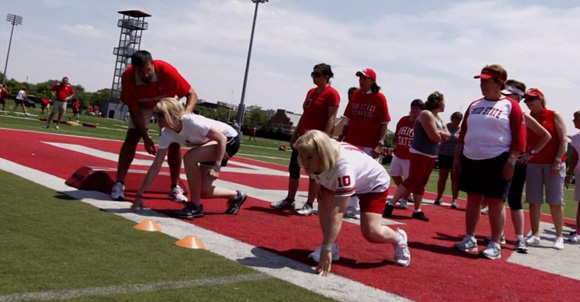 Since arriving, Urban Meyer and his staff have worked hard to involve fans of all stripes. Whether it's the open practice known as student appreciation day or Friday Night Lights, the people behind Ohio State football have done a great job of making it accessible.
Perhaps the coolest thing they've put together is the Women's Football Clinic. The event, now in its second year, is scheduled for Saturday, June 8 from 9 a.m. to 3 p.m. at the Woody Hayes Athletic Center.
The day will start with attendees posing for a photo with Meyer, followed by instructional presentations on offensive, defensive and special teams play. Also lined up: an equipment demonstration and a live auction. If you play your cards, right, there's a good chance you can get Coach Coombs to yell at you, too.
Better yet, the event is held for a great cause. A portion of proceeds will be donated to The Ohio State University Comprehensive Cancer Center – Arthur G. James Cancer Hospital and Richard J. Solove Research Institute.
Last year, Katie Hying attended as the 11W correspondent and came away raving about an amazing afternoon. You can read her full recap here.
If you, or someone you know, is planning to attend this year's event, here's what you need to know:
WHEN: Saturday, June 8 from 9 a.m. to 3 p.m.
WHERE: The Woody Hayes Athletic Center (535 Irving Schottenstein Dr)
ATTIRE: Sweats, shorts and sneakers – something comfortable.
REQUIREMENTS: Participants must be at least 18 years of age.
COST: $75 per person or $50 for Ohio State students.
REGISTRATION: Here.
We already have a correspondent lined up for this year – thanks, Tricia! – but please do feel free to share any photos or stories you take away from the event with us on the site, on Twitter, or on Facebook.