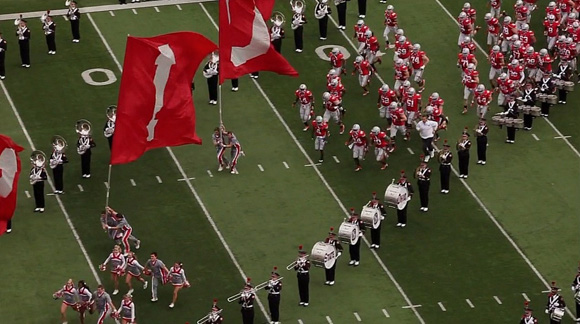 BetOnline.com has released point spreads for 44 opening week college football games and Ohio State is favored by 33 over Buffalo.
This is the first set of full lines released for week one – 5Dimes published lines for seven first week games in late April – so expect plenty of movement as teams head into the heart of arrest and suspension season.
The full list of spreads can be found here. All but one Big Ten team – or future Big Ten team – is favored in its opener: Purdue and new head coach Darrell Hazell opened as two touchdown underdogs to Cincinnati.
Lines for Illinois-Southern Illinois and Indiana-Indiana State are not available.
| Date | Favorite | Dog | Line |       | Date | Favorite | Dog | Line |
| --- | --- | --- | --- | --- | --- | --- | --- | --- |
| Thur. 8/29 | Minnesota | UNLV | 17 |   | Thu. 8/29 | Rutgers | Fresno State | 8.5 |
| Fri. 8/30 | Michigan State | Western Michigan | 24 |   | Sat. 8/31 | Northwestern | Cal | 6 |
| Sat. 8/31 | Maryland | FIU | 13 |   | Sat. 8/31 | Michigan | Central Michigan | 26 |
| Sat. 8/31 | Penn State | Syracuse | 4 |   | Sat. 8/31 | Ohio State | Buffalo | 33 |
| Sat. 8/31 | Wisconsin | UMass | 45 |   | Sat. 8/31 | Cincinnati | Purdue | 14 |
| Sat. 8/31 | Iowa | Northern Illinois | 6.5 |   | Sat. 8/31 | Nebraska | Wyoming | 21.5 |
| Sat. 8/31 | Nebraska | Wyoming | 21.5 |   | Sat. 8/31 | Rutgers | Fresno State | 8.5 |