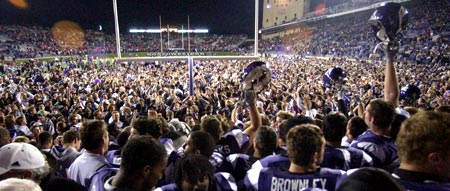 Could it be that Ohio State-Northwestern this October is one of the biggest B1G games of the season? [SPOILER: Definitely]
LTP: Let's cut to the chase. October 5, 2013. It's a night game in Evanston and if we both hold serve in non-conference and you beat Wisky in your B1G opener it will be a likely ESPN Gameday presence for the 'Cats-Buckeyes in primetime.  I saw that 11Warriors recently ranked this game the #2 night game of the entire B1G season and even made a case for it to be #1.  If your blog is a litmus test for Buckeye fans' sentiment, it would seem the respect factor has increased for NU.  How key do you see this particular game being for OSU's season and why?

11w:  I've thought since last season ended that this would be the toughest game on the schedule. Once it was confirmed as a night game that sealed the deal. Two other games stick out – Cal and, obviously, Michigan. The Cal game is the first road game of the season, which is always tough. Factor in the fact that the Bears nearly won at Ohio Stadium last season and new head coach Sonny Dykes runs a very successful offense and it could get interesting.

But Northwestern tops both, in my opinion. First off, the Wildcats are good and have been for several years under Pat Fitzgerald. The work he's done in Evanston has been nothing short unremarkable. Coming off a 10-win season with several key parts returning, heck, Ohio State and Northwestern could play twice next season. The Buckeyes have struggled some at Ryan Field in the past, and even though there will be plenty of scarlet and gray in the stands, it's still a road game at night in a rabid atmosphere. If Ohio State leaves undefeated, it is mostly clear sailing until the season finale at Michigan.

 
Entire interview worth reading. Photo above is from Northwestern's sole victory over Ohio State in the last 40 years. The ensuing celebration actually killed an NU student.