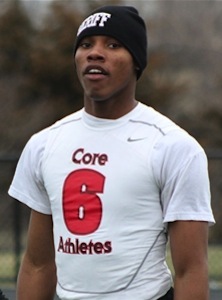 As reported this past weekend, Ohio State received it's eighth verbal commitment for their 2014 recruiting class on Sunday when Gary (Ind.) senior-to-be Lonnie Johnson ended months of speculation and committed to the Buckeyes. 
Most people knew that Johnson, who had publicly named the Buckeyes his leader repeatedly, would choose Ohio State if he was given the chance, and when the Buckeyes – pleased with his efforts in the classroom – said "go," he did. Now that he's officially a member of the 2014 class, we'll take a closer look at Johnson's game and attempt to decipher how his commitment will impact the rest of this class.
The Lonnie Johnson File
There is zero doubt that Johnson is a special athlete, you don't get scholarship offers from Ohio State - especially at wide receiver in Urban Meyer's offense - unless that is the case. Yes, there were some questions about his academics, which Johnson refutes, but clearly there was enough worries and red flags to keep some other staffs from coming through with scholarship offers.
Johnson held offers from 10 schools, including Nebraska, Indiana, Purdue, Illinois, Kentucky and Missouri, but usually when a player gets an Ohio State offer, the other "big dogs" come calling soon thereafter, and that did not happen with Johnson for whatever reason. 
Not that it would have mattered, as Johnson selected his "dream school," the school his parents "fell in love with." Ohio State needed to see more from him in the classroom before they'd accept his commitment, and that finally happened. 
What does Johnson bring the Buckeyes on the field? 
Speed. Versatility. Length. At 6-foot-3, 195-pounds, Johnson is a true blend of size/speed that the Buckeyes currently lack in their wide receiving corps. Devin Smith, the Buckeyes most explosive receiver is only 6-foot-1, and the majority of the other pass catchers on the outside, guys like Michael Thomas and Evan Spencer are not scaring cornerbacks into playing off of them. Johnson can do that. He's also strong enough to win against press coverage if that's the approach taken against him.
Johnson is a football player, and while the competition that he's faced is somewhat "suspect" (a criticism that I despise, regardless of validity, the players can't help where they live), he's shown that he's willing and able to lineup where ever his team needs him the most. Quarterback, running back, wide receiver, safety – heck with 25 pounds he could be a linebacker – Johnson has played it all and could excel at any of those positions because he's that gifted, athletically. Of course, as with any high school player, there are holes in his game that will need to be worked on, and for Johnson it's consistency catching the football. 
Overall, Johnson is a special athlete who, with the right guidance and a coaching staff that pushes him regularly, could become a difference maker at wide receiver for the Buckeyes.
Numbers Impact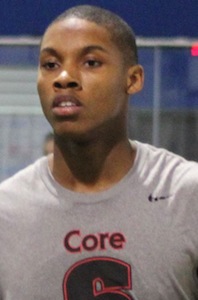 Ohio State's 2014 class is projected to finish with anywhere between 17-23 commitments, depending on who you ask. After signing Corey Smith, Jalin Marshall, Dontre Wilson and James Clark last season, this year's group is still likely to finish with two to three more wide receivers.
Georgia's Demarre Kitt, who will make his college choice on June 10th, says that Johnson's commitment won't impact his decision, stating that the competition is good. The more likely reason it won't impact Kitt is because Demarre is headed for a different school, but his point was well-taken.
Mark Andrew, Derek Kief, Curtis Samuel, Saeed Blacknall, Josh Malone, Artavis Scott, Austin Roberts, Noah Brown and more are still on the board and the Ohio State staff will not rest until they find the players that fit and buy in to the system, on and off the field.
PERSONAL IMPACT
Johnson has wasted no time in joining his fellow commitments trying to make personal connections with some of the top players in the country. Johnson immediately reached out to Scottsdale (Ariz.) Desert Mountain teammates Kyle Allen and Mark Andrews.
Whether or not that yields any results is obviously not yet seen, but it's a good sign for Ohio State that he's not only eager to help the class but is also doing it by actively recruiting a player, Andrews, that he would be directly competing against. 
---
On a somber side note, Johnson lost his grandfather on Monday morning, our thoughts and prayers are with him and his family.