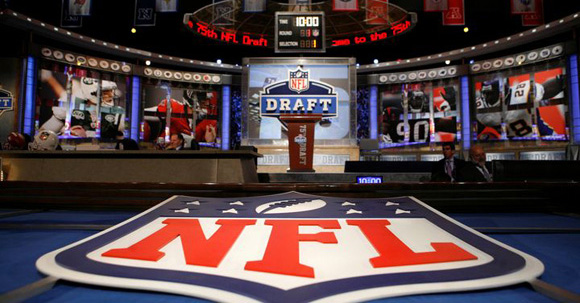 The NFL Draft, first held in a smoky ballroom at the Ritz-Carlton Hotel in Philadelphia in 1936, has developed into a rite of spring, on par with Opening Day for baseball and The Masters in terms of fanfare. Now a made-for-TV event, more people gather to view the draft than World Series games. Millions of football-crazed fans that have been deprived of the NFL for nearly three months will tune in tonight simply because it's football.
Ohio State supporters have a similar relationship with the game they so love. At the start of spring practice, the anticipation is palpable. Once the spring game arrives, one might think the opponent is wearing maize and blue, not scarlet and gray. 
With a program that's been highly successful for the better part of a century, hearing names rattled off with "Ohio State" in connection comes as no surprise. In 1938, James McDonald became the Buckeyes' first ever first-round draft pick. Seventy others have followed. In all, Ohio State has had 327 players selected in the draft.
That number will grow in the coming days, but the Buckeyes' stranglehold on the first round could be nearing its end. Ohio State has 66 first-round picks – including three No. 1 overall selections – second only to USC's 73. Dating to 2000, the Buckeyes have had an NCAA-best 82 total players drafted, 17 in the opening round.
When Johnathan Hankins declared for the draft in December, there was little doubt which round he'd be drafted in. But that surefire first-round pick has now slipped into the second round in many mock drafts. His stats during the 2012 season were less impressive than the year before, but Ohio State was also a vastly improved team last season.
Hankins has taken his downgrade in style.
"If you watch the tape from here, you can see I can play the game," he said. "I expect to be a first-rounder. That's one of my goals. If it happens, it happens. People have their opinions and what they think. But if you sit there and watch the film, you can see it."
If Hankins or Purdue's Kawann Short is not taken in the first round, the Big Ten is almost certain to be shut out. In every draft since the AFL-NFL merger in 1967, the conference has had a player taken in the first round. You have to venture all the way back to the 1953 NFL Draft to find the Big Ten strikeout in the first round.
It's been three years since the conference had a player drafted in the top 10. Last year's draft was a precursor of what was to come in 2013, with the first Big Ten player taken all the way down at No. 23.
Fans of Big Ten universities argue that the gap between the SEC and Big Ten is not near as big as perceived. But if you look at the results on the field and on draft boards, the arguments stop. Even Urban Meyer has been outspoken on the topic, saying the Big Ten has a ways to go in its game of catch-up. There are already built-in advantages for the SEC – high rate of success, warm climate, uber-talented high school players in the South and an ability to oversign. 
The 2006 draft was one of the Big Ten's shining moments. It wasn't too shabby for the Buckeyes, either. The conference had eight players taken in the first round, five of whom hailed from Ohio State.
It's been all SEC ever since, which coincides with the league's unprecedented seven consecutive national championships. From 2007-2012, the SEC had 51 players taken in the first round, almost 50 percent more than the Big Ten's 28.
That number is set to balloon Thursday night with the SEC having anywhere from 11 to 14 players projected to go in the first round. All told, it could be 40 picks before a Big Ten school's name is called. Since 2000, a staggering 528 SEC players have been drafted, 73 more than the Big Ten.
It starts with recruiting, and then moves to development. Meyer is doing his best at overturning a recent trend and imploring his colleagues to do the same.
"It's not only important, it's essential," he said in February. "It has to happen. And I don't know enough about what goes on in the other programs. I know I have a lot of respect for the tradition and their historical success they've had, but we do need to, as a conference, keep pushing that envelope to be better.
"Our whole conversation needs to be about how do we recruit? When you see 11 of the SEC teams are in the top 25 in recruiting, that's something we need to continue to work on and improve."
Evaluating the Buckeyes
Johnathan Hankins
Big Hank saw his tackles go from 68 to 55, tackles for loss decline from 11 to four and sacks dip from three to one last season. But his quality of play was not diminished. Hankins was solid at the Combine and Ohio State's Pro Day, but he wasn't able to improve his draft stock.
What he can do that NFL executives like is clog the running lanes and shed blockers. Despite his girth, which has slimmed from 350 down to 320 during his three years in Columbus, Hankins is quick and could be a dominant pass rusher.
John Simon
Simon, who will likely move to outside linebacker in the NFL, will need some time to develop the requisite skills to be effective at the position. What he brings immediately, though, is a dose of leadership that was without equal at Ohio State.
Simon was the Big Ten's defensive player of the year, so a change of position should not be a huge detriment, especially with his athleticism. He was lackluster in Senior Bowl drills and did not partake in the Combine due to an injury. The last time Simon was on a football field was when he had a school-record tying four sacks at Wisconsin.
Reid Fragel
Fragel moved from tight end to the offensive line in large part based on his future. There's no doubt it was the right move, as Fragel developed into one of the top right tackles in the Big Ten. His upside is huge. With raw talent, Fragel has the ability to become a starter in the NFL.
Travis Howard
Howard had a fine career at Ohio State that ended with All-Big Ten honors. He finished the season with impressive stats – 39 tackles, five passes defended and four interceptions – but his showing at the East-West Shrine Game didn't leave scouts enamored. His size and skillset will result in him being drafted, however, possibly as a safety.
Jake Stoneburner
Stoneburner is versatile with great size. In the present-day NFL, those are two good qualities to have. He was OK at the Combine and even better at Ohio State's Pro Day. Stoneburner can play tight end, wide receiver and H-back. After a stellar high school career, it always seemed like he was on the brink of breaking out in college, but it never quite happened.
Zach Boren
Boren can provide teams with quality play at several positions – fullback, linebacker and special teams. He's a workaholic that will give his all for whichever team drafts him. Boren possesses an extremely high football IQ, which also makes him attractive to GMs.
At Ohio State, Boren almost literally had zero chances to flash his skill on offense until Meyer arrived. But in his six games at fullback during his senior season, Boren had 11 carries for 40 yards and two touchdowns and five receptions for 42 yards.
Etienne Sabino
Sabino was highly regarded coming out of high school, but never reached his potential until his fifth season. Sabino did develop into a leader that Meyer praised. He's a solid but not spectacular linebacker and must improve in all areas to be viable in the NFL.  
Nathan Williams
Williams had microfracture surgery in 2011 and was limited much of the 2012 season. He's said it's not an issue anymore, but NFL teams are leery. In 2010, Williams showed how high caliber a player he can be. Even coming off knee surgery he had 40 tackles and two sacks.