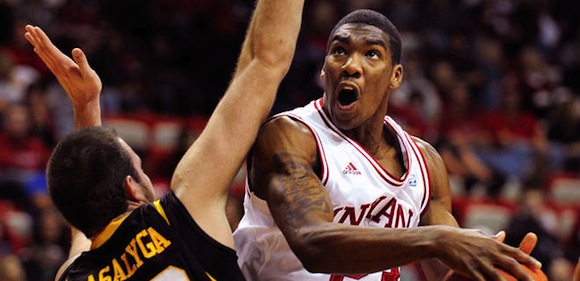 Victor Oladipo and Cody Zeller declaring early + three graduating seniors = five open spots. IU's incoming class has six players, so this wasn't a matter of when - just who:
Indiana University men's basketball coach Tom Crean has announced that sophomore guard Remy Abell will transfer to a school where he can increase his playing time.

"Remy has been an outstanding citizen and a solid player for us the past two years," said Crean. "He indicated to us that he would like to look to go to a program that has a different style of play and one where he can get more playing time."

During his career with the Hoosiers, the Louisville Eastern High product has averaged 3.5 points in 10.7 minutes of action per game.
Crean isn't denying that IU deliberately oversigned - again - either:
Tom Crean admitted as much when he spoke with assembled media in Bloomington, Ind., Thursday afternoon.

He knew he might have two guys leaving early, in addition to three seniors (Jordan Hulls, Christian Watford, Derek Elston) which is, Crean told the Indianapolis Star, "one of the reasons we oversigned."
So Crean knew that IU would have attrition, so he recruited accordingly. But what if he was wrong? Like last year?