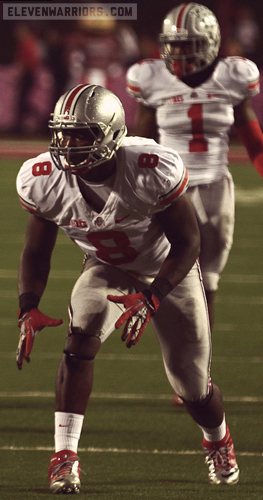 Braxton Miller and Carlos Hyde have cemented their places in the Ohio State backfield. Quarterback and running back are coming off a season in which they combined for more than 4,000 total yards and 45 touchdowns. That's ended any debate about who might be occupying said positions. 
But if the spring is any indication, another Buckeye may be spending a lot of time in the backfield. Defensive end Noah Spence has turned heads since the Buckeyes' first practice on March 5.
He's made life miserable for offensive lineman Jack Mewhort who, according to head coach Urban Meyer, has already secured a spot as team captain. Mewhort and his fellow linemen proved to be an effective unit last season and were considered by most observors to be the Big Ten's best, but even they have no answer for Spence.
"I'm glad he's on our team, that's all I can say," offensive line coach Ed Warinner said. "His speed off the edge is amazing. He'll make (the offense) better because he gives us something every day to work on."
Said Mewhort: "Noah Spence has gotten a lot better and has more confidence since the last time I played against him." 
Spence presented glimmers of that potential last season, when he appeared in 11 games and finished with 12 tackles, including a 20-yard sack in his first career game against Miami (Ohio). He spoke of a learning curve when he arrived on campus, and it was evident during fall camp.
Linemen that resembled tree trunks were far different than the twigs he outmuscled and maneuvered around during a five-star high school career. It helped shape expectations of immediate success. But Spence stayed realistic and just sought daily progress.
"Any time was good for me," he said. "But I'm never satisfied with anything. I don't think I did as well as I could have been. I want to do a lot better."
Advancement came quickly and it equipped Ohio State with depth at a valued position. That depth disappeared, though, the moment the game clock hit 0:00 against Michigan. Gone are John Simon, Johnathan Hankins, Garrett Goebel and Nathan Williams. For the first time in more than a quarter century, the Buckeyes are tasked with replacing their entire D-line.
Spence, along with Adolphus Washington and Michael Bennett, are aiding in the rebuilding of Ohio State's line. The goal is to have little drop off from last season's unit that ranked 14th nationally in rush defense and second in total defense for the month of November. Carrying the mantle is the gifted sophomore from Harrisburg, Pa.
"I would know pretty much what I was doing, but if somebody changed the call right before the play, then I wouldn't know what was going on."
"I think it's a process," defensive line coach Mike Vrabel said. "I try to tell all our guys that are younger, first- or second-year guys, this is a process. It's tough. I think they come from really, really successful high school careers and it doesn't happen overnight.
"You have to gain the confidence of your players and coaches to go out there and play. Every time (Spence) goes out there, we know he's going to play hard. We just hope that his development continues and that role can expand a little bit."
The likes of Bill Willis, Jim Marshall, Jim Stillwagon, Van DeCree and "Big Daddy" Dan Wilkinson have called the Ohio State defensive line home, stalking opposing offensive linemen, quarterbacks and running backs. But the gold standard remains Spence's own position coach.
Vrabel still holds school records for sacks in a career with 36 and tackles for loss with 66. Spence would like to replicate the havoc Vrabel induced on Big Ten defenses in the '90s. 
Developing his raw skills into a bona fide nightmare for other teams is the path Spence is currently on. For now, it's his own team that is terrified. An offseason filled with workouts – Spence added 15 pounds of muscle to an already impressive 6-foot-3 frame – and absorbing the playbook has paid instant dividends.
"I know more about schemes and where other people are going," Spence said. "That messed me up a lot last year. I would know pretty much what I was doing, but if somebody changed the call right before the play, then I wouldn't know what was going on."
Problem solved. Spence has been so effective that it's caused the Buckeyes' O-line to become frustrated and left Warinner flustered. The term "unblockable" is thrown around loosely in the college football lexicon, but it can be taken in a literal sense in this case.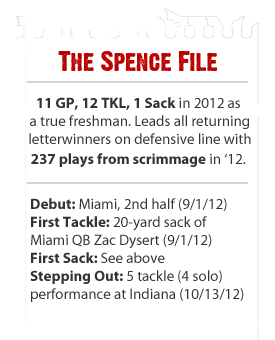 "They are one of the top offensive lines in the country," Bennett said. "When you go against talent like that every day you are going to get better as a whole group. That's experience a lot of D-lines are not going to get."
Which better paints the picture of the potential greatness Spence exhibits. Coming off the edge, he has faced little resistance throughout the spring. There have sacks of Miller, including a highly publicized takedown that left the quarterback shaken up, as well as tackles for loss on Hyde, Rod Smith, Bri'onte Dunn, Warren Ball and whoever else dared to test Spence's quickness.
"There's not a day we come out to practice that Noah doesn't get better or he doesn't learn a new technique," Vrabel said. "Noah's got a lot of ability, a lot of God-given athletic ability. You blend all of those together and you've got a pretty good product."
But it isn't finished yet. And Spence is mindful of that.
"I'm still not as good as I want to be," he said. "I'm learning every day. I'm getting better."