Things are starting to pick back up after a bit of a slow period in the world of recruiting. This means we will see the Buckeyes start scoring more commitments for the 2014 class.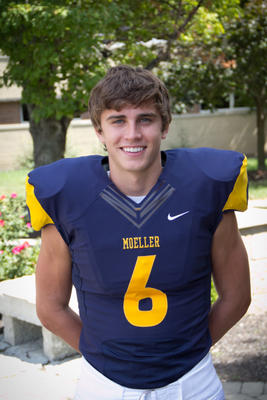 They did just that this past Friday when Cincinnati (OH) Archbishop Moeller athlete Sam Hubbard gave Urban Meyer his verbal commitment.
The 6-6/225 athlete can play all over the field. He plays safety in high school, but could play any of defensive end, linebacker, safety, and "STAR" at the college level. He has also mentioned there's a chance he could line up some on the offensive side of the ball at tight end.
In addition to his offer from Ohio State, Hubbard held offers from Boston College, Illinois, Louisville, Miami, Miami (OH), Michigan, Michigan State, Ohio, and Stanford.
Hubbard had been committed to Notre Dame to play lacrosse since January of last year, but started to think about playing football after his visit to Ohio State a month ago.
He liked the visit so much that he returned this past Friday and committed to Ohio State on the visit.
We caught up with Sam to get the scoop on his commitment to Ohio State. Keep reading to learn more about the newest Buckeye, Sam Hubbard.
You committed to Ohio State Friday. Why did you decide to become a Buckeye?
I was previously committed to Notre Dame to play lacrosse, but after I talked to Coach Meyer and Coach Fickell and visited with my dad a couple of weeks ago, I knew this is where I wanted to be. I just had to visit with my mom before deciding and my sister tagged along, too. We all had a great day in Columbus and I finished the day off by committing to Ohio State.
How did you commit to Coach Meyer? How did he react?
I think he knew it was coming. My family had been telling him how much they loved Ohio State all day. At the end of the visit I had a meeting with Coach Meyer in his office. He asked me what I thought of the visit and I told him I had made my decision and wanted to be a Buckeye. He stood up, gave me a hug, then we took a lot of pictures and looked around campus a little more.
Why did you decide to play football instead of lacrosse?
It was a really early process. I committed to Notre Dame for lacrosse January of my sophomore year. Then I had a great junior season on the football field and started to get a lot of offers. Football has a much bigger stage. You're playing in front of 100,000 people, where in lacrosse, you're playing in front of about 2,000 people.
What did you get to see on your visit? What were your favorite parts?
The Woody Hayes Athletic Center is awesome. I love the weight room and they have a lot of food for the players. They also showed me where the players live on campus and where upperclassmen live off campus. I loved getting to see the stadium too. I also got to meet with the dean of the business school and I got to meet President Gee.
Did you get to hang out with any other recruits?
I talked to Jabrill Peppers a little, but he was just getting there and I was about to leave. Damon Webb and I talked over Twitter and Kyle Trout congratulated me on my commitment. It's a great group of guys and I'm really looking forward to getting to know them all.
What were the biggest factors in your decision?
My grades and SAT scores are hopefully good enough to get me direct admission into the business school. They also have great tutoring support for the athletes. It's also one of the best football programs in the country. They have a shot to win a championship every year. I also have really good relationships with the coaches.
What kind of relationship do you have with Coach Meyer?
I have a great relationship with him. At first Coach Coombs was my primary recruiter, but recently Coach Meyer took over my recruitment. He loves my family and I talk to him on the phone every two or three days.
What position are you expecting to play at OSU?
The thing the coaches love about me is my versatility. They said they can see me at the 5-tech, player a little linebacker/safety hybrid (STAR), linebacker – if I gain enough weight – or even tight end.
What do you have to say to Buckeye Nation?
I'd just like to say they're getting a guy who will do anything to win and also someone who will represent the school well.