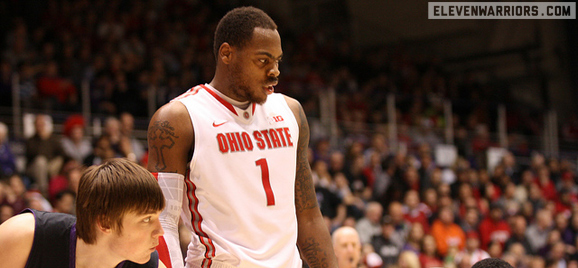 One year after spurning the NBA, Ohio State forward Deshaun Thomas figures his time has arrived. The 6-foot-7 junior who can seemingly make a basket from anywhere on the court with multiple people in his face announced his decision on Friday.
Thomas, the Big Ten's leading scorer (19.8 ppg) this past season, is projected as a late first- or early second-round draft pick. He averaged more than 22 points in the Buckeyes' NCAA Tournament run that concluded Saturday with a loss to Wichita State in the Elite Eight.
He was honored as a first-team All-Big Ten performer and third-team All-American.
"My three years at Ohio State have been the best years of my life," Thomas said. "I have grown tremendously as an individual and as a basketball player. I intend to return to finish my degree, but I believe that now is the best opportunity to pursue my dream and begin my career as a professional basketball player. I will always be a Buckeye and am blessed to be a part of the Ohio State University family."
One possible impact on Thomas' decision was his 1-year-old son, Deshaun Jr. He was born last season, during Ohio State's Sweet 16 win over Cincinnati. Thomas scored 24 points that night. For an encore, Thomas scored 24 points again in an NCAA Tournament game, this time against Iona, on Deshaun Jr.'s first birthday.
Thomas came to Ohio State as a ballyhooed high school recruit from the talent-rich state of Indiana. He scored 3,018 points during an historic high school career that left him third all-time in scoring in the Hoosier State.
Those high offensive numbers led to high expectations his freshman season. But during the Buckeyes' 35-win season, Thomas only played 14 minutes a game and averaged 7.5 points. With a team full of veterans, a freshman that had no use for defense had trouble getting playing time.
But Thomas honed his craft on defense between his freshman and sophomore seasons and became an all-around player. During last season's Final Four run, Thomas put up 19.2 points and 7.6 rebounds per game. In particular, he became a force on the offensive glass. Jared Sullinger's presence down low contributed to Thomas' numbers rising.
"To see Deshaun grow into the man he has become has been amazing," said head coach Thad Matta. "His accomplishments on the floor speak for themselves but I am just as proud of him and what he has done off the floor. We recruited him offering the opportunity to grow as a person and player and that is exactly what happened. I know there is much more in store for him in the future and I am proud to have been able to coach him."
Thomas scored 1,630 points in his career – 466 shy of Dennis Hopson's school career record and ninth all-time – an average of 14.4 per game. He shot 47.9 percent from the field and 34.2 percent from three-point range. He was a part of a Final Four, Elite Eight and Sweet 16. Ohio State also won two Big Ten regular-season and tournament titles during his career.
Thomas is one of 25 players in Ohio State history to record 1,000 career points and 500 rebounds. His total of 733 points last season is third-most in Ohio State history.
Rookie contracts were a key negotiating point in the NBA's last collective bargaining agreement. First-round picks get four-year contracts – two years guaranteed and club options for the final two. Second-round selections have a much harder road. Nothing is guaranteed. It's a trip to the Summer League and hoping you make the final roster cuts – and get a multi-year contract.
Thomas plans to finish the 2013 Ohio State Spring Semester while splitting time between Columbus and Indianapolis preparing for the NBA Draft.