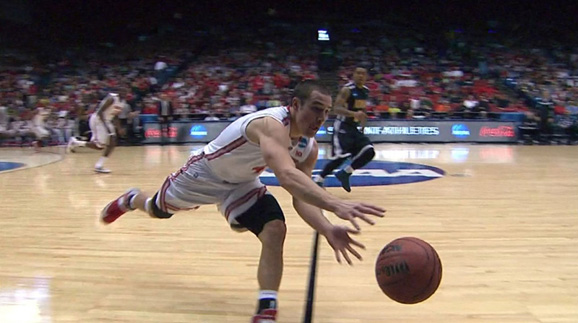 DAYTON – Urban Meyer has been lobbying for the services of Aaron Craft during Ohio State's recent surge. After Craft's exploits against Iona, Vince Panzano might be the next coach on campus after the point guard.
During a first-half outburst that gave Ohio State a significant lead, the defining play was Craft diving headfirst, legs splayed into the scorer's table to corral a loose ball. He flipped it to Shannon Scott who found Evan Ravenel open for a dunk.
It was one of six shining moments in a game full of steals for Craft. As the West Region crumbled all around them, Ohio State stayed on the script higher seeds have authored for years – resounding victories – dispatching Iona, 95-70.
"I just got a hand on it and was able to get it before it went out of bounds," Craft said. "Luckily, Shannon was running behind me or else it probably would have ended up as a layup for Iona. It was a team play."
Iona scored the first four points before the Buckeyes got into a rhythm, and when they did the Gaels' moment of opportunity was slammed shut. Ohio State scored 20 of the next 22 points – a stretch that included a 15-0 run – to take a commanding 30-13 lead. Iona missed nine consecutive shots as the Buckeyes were flexing their muscle at both ends of the floor. 
But just as quick as the game looked out of hand, Iona fought back. Scott retired to the bench with his second foul. The absence of one of the Buckeyes' best defenders allowed the Gaels to lock into its up-tempo offensive system. Iona outscored Ohio State, 20-9, with Scott on the bench and got as close as four. The Buckeyes scored the final six points of the half to lead by 10 at the break.
"We lost our focus and our concentration a little bit," Ohio State head coach Thad Matta said.
During the first half, Ohio State outscored Iona by 16 points with Scott in the game. The Buckeyes were outscored by six without his on-court attendance.
The talk entering the game was about Iona's offense, complete with the third-leading scorer in the country, Momo Jones. Instead, it was Ohio State that set the pace and had the high-scoring backcourt.
Deshaun Thomas scored 24 points, breaking out of an eight-game slump that had Buckeye Nation worried about his focus entering the NCAA Tournament. For now the bad thoughts have been put at ease. Thomas was 8 of 12 from the field, including a perfect 3-of-3 mark from long range. 
"He was much more relaxed, much more engaged," Matta said.
The showstopper of the night, however, was Sam Thompson. If ever there was a night he earned the nickname Slam, it was March 21 in Dayton. Thompson finished the night with three alley-oops, a career-high 20 points and 10 rebounds.
"An alley-oop is a great team play," he said. "It shows two guys on the same page offensively. Shannon and Aaron did such a great job getting into the teeth of the defense, having the defense collapse, and just letting me do the easy part and finishing it.
"It really gives our team a boost offensively and defensively and definitely gives the other team something to think about."
It got Tim Cluess thinking nights on end early in the week. After the draw on Sunday night, the Iona head coach peeked at some Ohio State game film and wasn't exactly comforted with what he saw.
"I said to my coaching staff and our players that if (Ohio State) ever played at our pace, they may just really, really give us a problem because I thought they could run in transition better than we can with the athletes they have," Cluess said.  "When they're making shots on top of that, they're really good, and they were doing both tonight, and we were sloppy with the basketball."
Give the assists to Craft on that. The theme is tired and overused, but it's unavoidable. Simply put, Craft is one of the best defensive players in the past decade in all of college basketball.
He finished with a season-high six steals and seven assists. Scott added a career-high 10 assists. The Buckeyes had 25 assists compared to 34 made baskets. Many of those came on fast breaks, where Ohio State held an overwhelming 34-11 advantage over Iona.
Jones had a horrific end to his college career. Averaging 23 points per game, he was limited to nine, tying a season-low, on 3-of-14 shooting.
"You could see (him get frustrated) a little bit," Craft said. "He missed a couple shots and missed a wide open one late (in the first half). That's going to frustrate anyone, especially when you're used to scoring a lot of points."
Said Jones: "Give credit where credit is due. I think (Craft) played good defense. I think I took some bad shots. Things just didn't fall tonight. Can't knock the guy. He played some good defense."
Ohio State forced 19 turnovers, which translated into 29 points. Iona only shot 35 percent for the game. The Buckeyes are now winners of nine consecutive games.
"We have a lot of confidence," Thompson said. "We know that if we come out and do the things we're supposed to do on both sides of the ball, we could beat any team in the country."
Another test awaits Sunday afternoon. Notre Dame and Iowa State have played with and beaten some of the best teams in the country this season. If history has any part in the proceedings, Ohio State will struggle. UD Arena has been a house of horrors for Matta's Buckeyes. Even the lone victory, in 2006, was a grind-it-out win over a 15 seed.
On Friday night, he could breathe easy for once.
"Great thing is, we're playing again on Sunday," Matta said.