When you look at the Iona sideline on Friday night, you might think it's a Casual Friday. That is not the case, though, as the Gaels' coaches will be decked out in sweatsuits and tennis shoes. There's a method to their madness.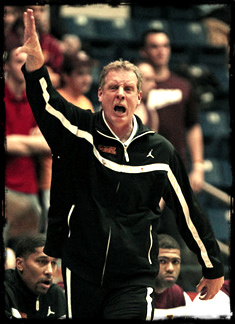 Winning is one part of the equation, but with head coach Tim Cluess, the game is not defined by wins and losses. A salt-of-the-earth native New Yorker, Cluess was a head coach at the high school level for 14 seasons, leading Saint Mary's, on Long Island, to six championships. Those experiences taught him to have a broader outlook on the game and its influence.
He never had much desire to coach the college game, but moved from a community college to a Division II school, before ultimately finding a place at Iona. When Cluess reached the New York City-area school, he knew he wanted to make a difference – and not just on the basketball court. 
"I was a high school coach for 20 years, so I'm all about doing things for the right reasons," Cluess told Eleven Warriors in a phone interview. "I've lost a lot of family members to cancer, so I'm very involved in fundraising."
That got Cluess' mind working. Now working a high-profile job, he could help make an impact for a good cause. One of the program's biggest boosters, John Judge, and his wife Monica have a nephew who was diagnosed with cystic fibrosis when he was eight months old.
"We have sneakers for cancer and last year they did blue bow ties for prostate cancer awareness," Cluess said. "I said, 'why don't we try sweatsuits for CF?'"
So sweatsuits it was for all of Iona's coaches. Hovering at 15-13 and lumped in the middle of the Metro Atlantic Athletic Conference, the Gaels had a date with first-place Loyola (Maryland) on March 1 when the attire was unveiled.
"I turned to my athletic director (Eugene Marshall) and said, 'Listen, you know we're playing the first-place team tonight. If we win, we're keeping these on.' He said, 'OK.'"
Forty minutes later, Iona had a 90-86 victory, putting an end to a dreadful stretch where it lost six of seven games. Being superstitious and going on the word of their AD, the casual wear continued to be a constant on the Iona bench. 
What followed was a memorable run through the MAAC Tournament that culminated in a championship and berth in the NCAA Tournament. Iona will play Ohio State at 7:15 p.m. Friday in Dayton.
"It's been great to help get some devotion to the cause. I think when people know why we do it they enjoy it."
"I don't think it would have happened had we not been doing this for something more than the game," Cluess said. "I think that's the reason why the team got behind it, and I think we're blessed to be able to win and continue on to help somebody. It's been great to help get some devotion to the cause. I think when people know why we do it they enjoy it. Those who don't know are like, 'what are you guys doing?'"
Fans, and even Iona's president, Joseph E. Nyre, have joined in on the craze.
"We were watching the girls' game at the conference tournament and he walked down with his family and he yelled down at us and pointed at his sweatsuit," Cluess said. "We thought that was really cool. A lot of people have been trying to get them on our website, but our Iona website doesn't sell them. You have to go to Nike – that's where we got them."
Friday's game will be another nationally televised contest where cystic fibrosis is able to gain more notice. That's what spurred the movement in the beginning. The Loyola game was aired on ESPN2, heightening the attention the sweatsuits would receive. And that's exactly what happened.
That night, people on Twitter were asking why a Division I college had coaches dressed like Al Davis. The queries led to 17-year-old Alex Tarletsky, the Judges' nephew.
"The (Judges) were really behind it and excited about it," Cluess said. "They mentioned it several times on TV and got a great response back about it. I obviously never expected any big deal to be made of it. We're hoping to get some publicity for CF, and it's worked out better than any of us could have imagined.
"(Monica) came back all excited and I told her if our administration allows it we'll wear them for the next game. Sure enough, we wore them for our Senior Night and got more attention about it and won again. It just grew on its own."
"We're coaches, not GQ models."
The coaches have taken a liking to the arrangement. Suits aren't the most comfortable choice of clothing, especially in a hot arena when you're moving frantically shouting out instructions.
Instead of ripping off a suit jacket, Cluess must now unzip his mesh sweatsuit top.
"I'm not a big suit guy," he said. "I really don't think college coaches should be wearing suits. We're coaches, not GQ models. Do we wear a suit to practice every day? No. For me, it's definitely more comfortable, but I enjoy more the reason why we do it."
The same holds true for spectators who have learned about the movement Iona has started. The effort has gone worldwide, attracting attention in far reaches of the globe.
"We've gotten more letters from people, not just in the country, but outside the country, whose children have CF thanking us for what we're doing and wanting to wear the same sweatsuits.
"It's been really neat."