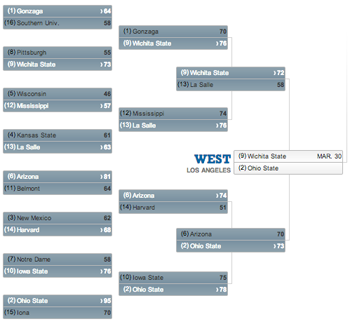 No. 2 Ohio State will tip off at 7:05 p.m. ET Saturday in the West Regional final against No. 9 Wichita State. At stake is a berth in the Final Four.
The Buckeyes beat six-seed Arizona 73-70 Thursday night on a LaQuinton Ross three with time winding down to advance. Ross scored 14 of Ohio State's final 17 points, none more important than the final three.
Deshaun Thomas led all scorers with 20, his third 20+ point game of the tournament, while Sam Thompson chipped in with 11 points and 8 rebounds and Aaron Craft turned in 13 points, 5 assists and 5 boards.
Wichita State knocked off No. 13 La Salle 72-58 in the late game at the Staples Center to advance to the Elite 8. The Shockers knocked off the region's top seed, Gonzaga, 76-70 in the round of 32.