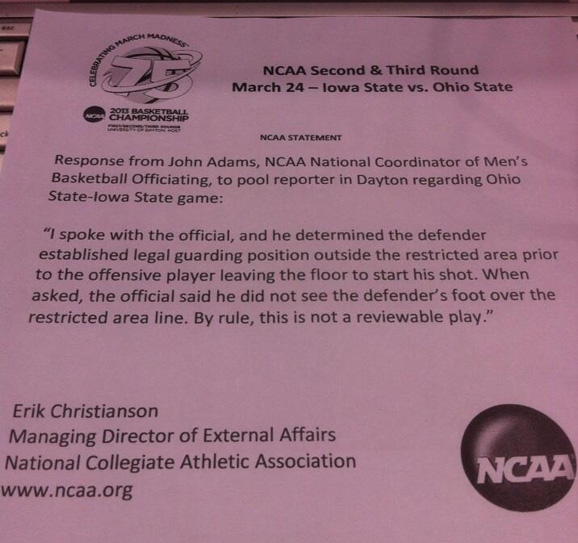 Courtesy of FOX-59/Indianapolis sports anchor Chris Hagan comes the official NCAA response to what some are calling a controversial late charging call on Iowa State's Will Clyburn.
The statement, from John Adams, NCAA National Coordinator of Men's Basketball Officiating:
I spoke with the official and he determined the defender established legal guarding position outside the restricted area prior to the offensive player leaving the floor to start his shot. When asked, the official said he did not see the defender's foot over the restricted area line. By rule, this is not a reviewable play.
The funny thing about the "charge that wasn't" – Craft missed the front end of a 1-and1 and Iowa State had the ball in a tie game with :58 to go and... turned it over.
Then, Iowa State allowed Ohio State to grab an offensive rebound and play for the last shot. That call didn't cost Iowa State the game. Iowa State cost Iowa State the game. 
---
For more, here's video of John Adams on the CBS set following the game.