It's been six seasons since Ohio State last had a Heisman Trophy winner. For a school that's won a record seven bronze stiff-arm trophies, a six-year hiatus seems like a lifetime. Fear not, the Buckeyes already have a frontrunner for the 2013 award. And the 2006 winner – Troy Smith – believes something magical is in the air.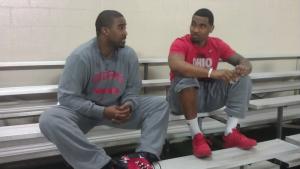 "I can't rave enough about the kid," he said, referring to Braxton Miller. "I would be doing him a disservice if I didn't give him everything I know, which I will. I want him to be the best because we have a chance to do something very, very special here. We have to help the guys. We have to constantly let them know this is real and it's achievable."
During his five years at Ohio State, Smith was a part of 55 wins. Four were against Michigan, including three as the starting quarterback. Smith's performances are three of the best individual acts in the history of college football's greatest rivalry. But it's that 56th win that eluded Smith and leaves a void in an otherwise notable list of accomplishments.
Jan. 8, 2007 was the date. The game itself was supposed to be a coronation. Smith would lead Ohio State to the national championship and be among the most beloved players in the program's storied history, resembling the awe shown toward two-time Heisman winner Archie Griffin. When Ted Ginn Jr. returned the opening kickoff for a touchdown, it appeared the script would be followed.
Instead, Urban Meyer's Florida Gators ran roughshod over the Buckeyes. The loss was a gut-punch to Ohio State and set in motion a chain of events that would actually lead Meyer to Columbus. But it also extinguished a proper and deserving sendoff for Smith.
He spent parts of six seasons bouncing around the NFL and UFL. Now an employee in the athletic department, Smith is back at Ohio State. He won a national title as a redshirt freshman, but the Florida loss denied him the opportunity to win a national championship as the starting quarterback.
Now Smith can help the man who deprived his glory – Meyer – someone he's grown to admire and the signal-caller that mimics his game.
"He's a sponge," said Smith, describing Miller's eagerness to learn. "I want to try and help him, but I don't want to take away anything special that we have here. I want him to stay entrenched into the Buckeye lore. When Urban and those guys need me to give him a little tutelage, I'll be there."
Paying forward is as ingrained into the culture at Ohio State as "Hang on Sloopy" and Script Ohio. It was a movement Woody Hayes started more than a half-century ago that has since been carried on by Buckeye Nation.
Smith is just the latest former player to return to Ohio State and lend a helping hand to the football program. His latest act of outreach came last week at Ohio State's Pro Day, an event Smith took part in six years ago. He dusted off the arm and took to the Woody Hayes Athletic Center once more.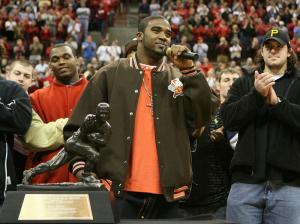 "I can roll out of bed and throw spirals, what can I say," said a grinning Smith last Friday, where he served as the personal quarterback for Jake Stoneburner, as well as tossing passes to Ohio State's defensive backs.
Personnel from 28 NFL teams were present for the drills, and it came as no surprise that some scouts sought out Smith after he was done throwing. He had an anonymous role among potential first-round draft picks and quickly, though unwillingly, injected himself into the theme of the day.
His passes were crisp and his mechanics impressive. But even at 28 years of age, Smith has no plans for an NFL comeback.
"That was for Jake Stoneburner, that was for those guys," Smith said. "I've always loved the Cleveland Browns, but I love the Buckeyes even more and I love Columbus even more. The opportunity these guys have given me around here, it doesn't come often. And I have to cultivate it.
"But you never know. I've always loved the Cleveland Browns."
Smith's not-so-subtle mention of his beloved Browns has been a trend for the Cleveland native since his senior year in college. He famously donned a Browns jacket when the 2006 Buckeyes were honored at a basketball game and spoke openly about his desire to play in Cleveland during the lead up to the 2007 NFL Draft.
The hated Baltimore Ravens pulled the trigger instead. Smith was in line to be the starter until a bout of mononucleosis sidelined him. Joe Flacco took over and never looked back. In 2010, Smith went to San Francisco, where he compiled a 3-2 record as a starter. The 49ers, however, chose not to resign him.
Two seasons later, the Ravens beat the 49ers in the Super Bowl.
One could say Smith entered the league a few years too early. His style is now running rampant with success to back it up. Mobile throwers like Colin Kaepernick, Robert Griffin III, Russell Wilson and Cam Newton are all the rage.
Aside from his on-field production, Smith's leadership skills were legendary. His Ohio State teammates responded to him immediately when he took over the starting job midway through the 2004 season. The Buckeyes never looked back. They lost four games over the next two and a half seasons.
"I can see why he won the Heisman," Stoneburner said. "I can see why he was a captain. He motivated me better than anyone I've ever seen. Having him out there certainly made me look better. And I think he was more happy for me than I was for myself.
"That guy's incredible. I was running fast as I can 40 yards down the field, and I didn't have to take one single less stride. He hit me right in stride. I absolutely believe he could be in the NFL, and I think he believes it, too."
Said Smith: "I totally have accepted the next stage of my life."
But if a call comes from the North Coast, he'll be taking it.