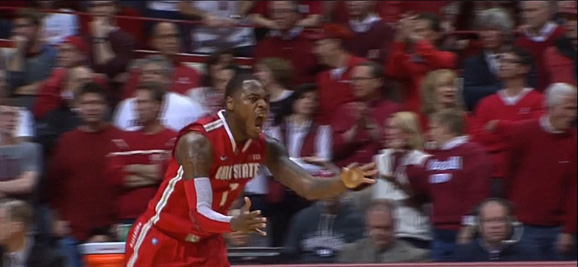 BLOOMINGTON, Ind. – The Big Ten hasn't followed the script all season. So why would it begin during the final week?
Assembly Hall was filled – balcony included – nearly an hour before tipoff on Tuesday night. Indiana fans were brimming with excitement and confidence, awaiting a raucous celebration to recognize the Hoosiers' first outright Big Ten championship in 20 years.
But the team on the other side of the court was also playing for a title. Ohio State's chances may have been slim, but they grew exponentially after a stunning 67-58 upset that left all of Bloomington quiet on a snow-filled evening. It was the Buckeyes' first win ever over a top-five Indiana team on the road.
"I'm proud of this basketball team," Ohio State head coach Thad Matta said. "We were knocked down and kicked to the ground and they've picked themselves up and responded to a pretty high level. We aren't done yet. We have to continue playing at this level.
"This was a tremendous win for our basketball team."
Entering the closing week of the regular season, all Indiana had to do was win once. For the second-ranked team in the country, that didn't seem like a tall order. Now the Hoosiers have to beat No. 7 Michigan at Crisler Arena, where the Wolverines are undefeated this season.
If Ohio State beats Illinois on Sunday and Michigan tops Indiana, the Buckeyes have their fourth straight Big Ten title.
When Ohio State and Indiana played in Columbus during February, Victor Oladipo, Cody Zeller and Christian Watford each scored at least 20 points and combined for 70, two more than the Buckeyes' entire team. That output was decidedly different on Tuesday.
Indiana's "Big Three" was limited to just 36 points, and Oladipo attempted zero shots in the first half due to foul trouble.
"We were just much more active tonight," Matta said. "There was no secret what they were trying to do. They wanted to go inside. We felt like we knew where they were going to go."
But it wasn't just scoring where they were neutralized. Zeller finished with four rebounds and only had one until the final two minutes.
"I didn't know anything like that," said a wide-eyed Shannon Scott. "I knew we had great help defense and boxed out Zeller. He's a great player. We knew if we came off the boards we could achieve anything, so we really focused on that."
The 14th-ranked Buckeyes outrebounded Indiana, 37-32 for the game and 19-12 in all-important second half. It helped lead to a 14-2 advantage in fast break points. The Hoosiers didn't help themselves with 12 turnovers that contributed directly to 16 Ohio State points. Craft and Scott each had four steals.
"The ability to push the basketball was huge," Matta said. "We got some easy baskets off our defense. We haven't always been able to convert on those. Shannon had a great rhythm tonight."
The stifling defense Ohio State employed to corral Indiana was nowhere to be seen a month ago in Value City Arena – or anywhere for that matter. During its current four-game win streak, Ohio State has used its defense to overwhelm opponents. For Indiana, getting into a consistent rhythm was nearly impossible. 
Oladipo and Zeller missed large stretches of the first half because of the foul trouble. With Zeller sending Amir Williams and Evan Ravenel to the bench, as well, with two fouls, Matta decided to go with the small lineup that played at the end of both games against Northwestern.
Ohio State took advantage, scoring 12 points in the paint during the half and taking a three-point lead into the locker room. It outscored Indiana, 9-3, in the final six minutes with Zeller out of the game. 
The Hoosiers converted on just one-third of their field goal attempts in the first half.
But Indiana came out and scored on its first seven possessions of the second half – part of a 14-6 run – to take a five-point lead. The Buckeyes, like they've done against elite opponents all season, refused to go quietly.
Instead, they quieted the crowd with a comeback.
A 14-4 spurt put Ohio State back on top, and it never trailed again. The closest Indiana got was 50-48, and then the Buckeyes went on an 11-2 run to go up 11 – Indiana's largest deficit of the season – and make it a free-throw shooting contest at the end.
"We did a good job staying in our offense," Craft said. "We all set good screens, everyone knocked down a shot we needed to make. It wasn't just one guy. We did a good job sticking together, and that's what it takes."
During the Buckeyes' final sprint to the finish line, Craft and Thomas scored nine of the 11 points. Time and again, Craft hit big shots in the second half with the shot clock nearing zero. More often than not, it was thanks to deft touch and a friendly kiss off the glass.
"Anyone on the floor wants the ball in their hands at that point," Craft said. "You just have to not think it's different than any other time on the shot clock. That's when you get tight and miss shots you should probably make. You have to be relaxed and think there's a lot more time on the clock."
Said Matta: "It was huge. You want the ball in his hands."
Craft finished with 15 points on 7-of-10 shooting, four rebounds, four assists and four steals. Thomas led Ohio State with 18 points and Ravenel had eight rebounds and six assists.
It was Ravenel who helped guard Zeller so effectively.
"He was big, there's no question about that," Matta said. "The best thing about him was he made a couple mistakes early and he played on."
Playing on is what Ohio State will do Sunday. And it won't be for naught. It's win and then root for Michigan.
"I just want to take care of Illinois," Matta said.
---