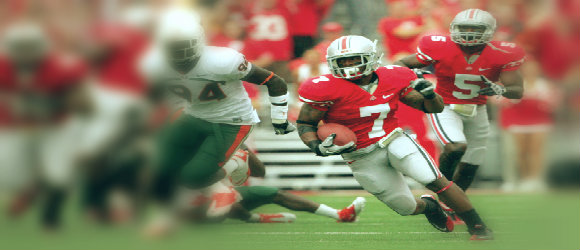 Jordan Hall begins his final season with Ohio State today, the first day of spring practice. 
Hall has always been one of the most interesting players throughout his five years as a Buckeye.
From his commitment as a sleeper recruit following his high school teammate Terrelle Pryor, his surprisingly promising freshman season when he averaged over 5 yards per carry, the annual calls for a position change, to his freak foot and PCL injuries last year, Hall has always kept us interested. 
This time last year – in the midst of our whirlwind romance with newly hired Urban Meyer – we could barely contain our excitement over the possibility of Hall in the newly created "Percy Harvin position." 
Jordan Hall was a Buckeye analogous to many of Urban's familiar shifty and versatile running backs at Florida – Chris Rainey, Percy Harvin, and Jeff Demps. 
Hall, like these three Florida players, has unique attributes compared to the prototypical Ohio State running back: shiftiness and agility, great vision, acceleration (if not top-end speed), and the all-important ability to make defenders miss. 
Furthermore, Hall is roughly the same size as Rainey, Harvin, and Demps. Hall is 5-9/195, while Rainey is 5-9/175 and Demps is 5-7/175. It's easy to see why Meyer saw a lot of those former players in Hall last spring, enough for Meyer to call Hall the only guy "we had to make somebody miss."
While the "Bollman and company misused Hall" argument is overplayed, I think it's absolutely fair to predict that Hall would thrive in a new offensive system (or anything resembling an offensive system). It is easy to see why many expected great things out of Hall in 2012.
Yet due to an aversion to slippers, here we are in 2013, once again predicting big things for Hall after a potential position change. 
Hall will finally take over the hybrid "H-receiver" – the infamous "Percy Harvin" or "pivot" position – along with incoming freshmen Dontre Wilson and Jalin Marshall. The athletic department's official spring football release confirms this move: 
Misfortune - a cut foot in the summer and an injured knee in his third game - thwarted Hall's initial senior season, one that had him serving as one of five team captains. A red-shirt season ensued and Hall is expected to shine in the dual purpose H-back role. He has 1,032 career rushing yards (and six touchdowns)...His 2,765 career all-purpose yards lead all current Buckeyes and rank 20th at Ohio State.
The pivot position is designed for motions between slot receiver and the backfield, wide receiver screens, and option plays. This is ideal for a guy like Hall who is capable of this: 
While we've heard the same praise and expectations for Hall each spring, I sincerely expect this season to be different. Hall will finally be moving to a position that plays to his strengths as a runner and pass-catching threat in the open field. 
Well, we at least think it plays to his pass-catching abilities: Hall has just 24 receptions for 233 yards and 4 touchdowns in his four-year career. I expect this number to improve significantly in 2013, but it will be interesting watching just how he performs in his new role during spring practice. 
For instance, will Meyer begin to implement the jet sweep game (with corresponding play-action) with Hall from the slot? Or the speed option with Hall as the pitchman in motion? While Meyer gradually added some of these lesser-called plays last season with Corey Brown, Hall will allow Meyer the potential to use all of his constraint plays and offensive wrinkles.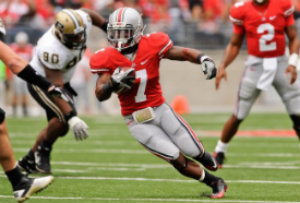 Stan Drayton is particularly excited about Hall's move, saying, "It really adds to the versatility of what we can do, both personnel-wise and formation-wise. It's a very integral part. He's so versatile. He's a physical ball-carrier and he's got great hands. He's a very smart football player."
While this won't be an issue during spring practice, Hall must hold off freshmen Wilson and Marshall at the H receiver position.
Even if Hall doesn't possess elite speed, he brings a combination of elite vision, balance, and veteran leadership on offense. Meyer has called him one of the hardest-working guys of the offseason as well as a vocal leader for the team. 
Hall was one of the five team captains last season – the only player on offense – and looks to reprise this role in the fall. With none of the other four captains returning, Hall will provide immediate offensive leadership along with seniors (and potential captains) Corey Brown, Kenny Guiton, Corey Linsley, and Jack Mewhort. 
With spring practice starting today, Hall is finally at a position that maximizes his unique talents while allowing him to lead both vocally and by example.