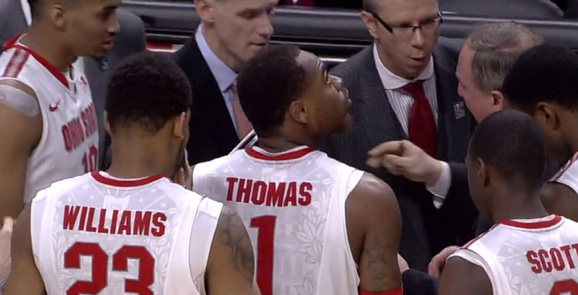 Confidence is defined as the feeling or belief that one can rely on someone or something, or a firm trust. Those 16 words perfectly encapsulate the state of the Ohio State basketball team. 
What was once a team in disarray just one month ago has evolved into March's darling. The Buckeyes, unbeaten since a Feb. 17 loss at Wisconsin, are a trendy Final Four pick. That's what an eight-game win streak will do, along with arguably the best offensive and defensive duo in the nation – Deshaun Thomas and Aaron Craft.
The season has been a steady progression for the Buckeyes, from unproven youth to an entire roster gelling and reaching a potential that seemed to go unnoticed until the past month. As Ohio State lost closely to elite teams, Matta's patience was tested, especially during practices that needed drills done time and again. Now, with the NCAA Tournament looming, the reward for staying within the circle has validated Matta and his philosophy.
"I'm so proud of this basketball team and what they accomplished," he said. "What we've been through - 21 straight games in the Big Ten and to stand alone as conference tournament champions, this team has done a tremendous job staying together."
It's not often that a Final Four favorite twice was on the receiving end of a whipping that left them bloodied and blistered. Add Ohio State to that infamous group. The Buckeyes were listless in road losses at Illinois and Wisconsin. Each time they responded with a stretch of improved play and big wins. 
"Obviously you want to win every game, and I hate to say you have to lose to learn a lesson, but sometimes we've had to do that," Craft said.
Forgive Ohio State for the ups and downs. It had to replace two starters from a team that won 30 games and advanced to the Final Four. And Jared Sullinger and William Buford weren't your average starters. Sullinger was a two-time All-American and Buford departed as the program's third all-time scorer.
Keeping a program humming is no easy chore in college basketball. One only needs to look at Kentucky and Florida in recent seasons for the realization that winning at the highest level isn't just putting five guys on the court together.
"Every team develops," Matta said. "Some get it quick, some don't get it at all.
"When you lose two great players, the next year is extremely challenging, especially when you've gone so far. Kids can take things for granted. They can assume things are going to happen because they have the scarlet and gray on. From the day the season ended in New Orleans last year, they've done a great job."
In the buildup to the season, players and coaches spoke of unchanged expectations. It was surprising considering the makeup of the team. Deshaun Thomas' scoring ability was a known commodity, but who would be his sidekick? As it turns out, that question has gone unanswered the entire season. But it hasn't mattered.
"We have a brotherhood here. Everyone likes being around each other."
Balanced scoring, superb defense and an unfailing bond has spurred the Buckeyes to the soaring heights currently being experienced. 
"We have a brotherhood here," junior guard Lenzelle Smith Jr. said. "Everyone likes being around each other."
One player, aside from Craft and Shannon Scott, that's elevated his game is sophomore forward LaQuinton Ross. The Mississippi native's first two seasons at Ohio State have been nothing short of adventurous. He took a detour last year, enrolling in the summer and then being ruled a non-qualifier by the NCAA before practice started in October.
The snafu was cleared up, but Ross' year was lost nonetheless. Flashes have been evident this season, though it's mixed in with moments of confusion at both ends of the floor.
In Michael Jordan's house, Ross was a key component in Ohio State's run to the Big Ten championship. In the title game, he had multiple rebounds and baskets in a decisive sequence in the second half.
"I thought he was tremendous," Matta said. "He's turning the page. He's more engaged and starting to see the benefits of hard work."
Ohio State not only carries momentum into the tournament, it also takes a Big Ten schedule's worth of hard knocks along for the ride. The talent level in the league is one thing, but the style of play is the ultimate preparation for the slog through March Madness.
"It was a brutal season, just all the bumps and grinds of the Big Ten," said Ohio State sophomore Sam Thompson. "But I think it's prepared us well. There aren't too many styles we haven't seen or too many types of players we haven't seen."
That well talked-about loss was the other form of preparation. The message wasn't getting through, so it was up to the team's leaders to crack the code.
"We just looked at each other, and we didn't have anyone else to lean on," Craft said. "It was us. No one believed in us. We wanted to take ownership as a team. It was on us as players. We haven't played perfect, but we've definitely grown and stayed poised in tough situations.
"The mentality has to be the same."
The second definition of confidence is the state of feeling certain about the truth of something.
"We're feeling pretty good, hopefully not too well," Craft said. "The worst we could do is get complacent. This is when the fun begins. All the hard work we put in all year comes down to this. If you're not ready to play in the NCAA Tournament, you probably shouldn't be there."
From the sound of things, it appears Craft is fairly certain the Buckeyes are primed for success.