Good morning and welcome to the glorious day after Michigan became the first B1G basketball team to lose to Penn State in almost 54 weeks.
Last night's most excellent upset ended the Lions' conference losing streak at 19 games, killed any chances of Michigan landing a #1 seed in the Dance, and, at least for now, slots Ohio State in the 4-seed spot for the upcoming conference tournament, a jump that would give the Buckeyes a first-round bye. 
Now tied with Michigan with a 10-5 record in conference action, behind Indiana (12-3), Michigan State (11-4) and Wisconsin (11-4), the Buckeyes could most definitely hang on to the 4 seed considering the remaining schedule features two very winnable games in the trio of @ Northwestern, @ Indiana and Illinois at home on Ravenel Day.
Meanwhile, the Wolverines face a much stiffer test as they host Michigan State on Sunday before traveling to Purdue ahead of their regular season finale against Indiana. After starting the season 20-1 with their lone loss coming in Columbus, the We On Posse has now lost four of their last seven. 
As it should be, the homestretch of the conference race is going to be all kinds of cray. 
@DT1UpNComin...BACK? Deshaun Thomas was named one of thirty finalists for the Naismith Player of the Year Award yesterday, one of six B1G ballers to make the cut. Victor Oladipo and Cody Zeller lead the B1G fleet, joined by Tank, Jared Berggren, Trey Burke and Andre Almeida Brandon Paul. 
Also yesterday, Chad Ford ($) updated his list of the Top 30 NBA Draft prospects and Thomas is not among the five B1G players named. Further, looking at the freshly updated Top 100 prospects on Draft Express, Deshaun is sitting in the 56th position, and ranks as the 16th-best college junior. 
While it has long been assumed by most that Thomas will undoubtedly turn pro after this season, that might not necessarily be a done deal. On one hand, Thomas has a young son and could feel the pressure to financially provide for him. On the other, a few folks including Dave Biddle, have heard Thomas would absolutely consider returning for his senior year if he's not expected to be a first-round pick and unless he has a super-freak performance in the Dance and in pre-draft workouts, the first round doesn't appear realistic. 
With the lack of complementary scoring punch serving as an albatross all season, falling into a situation where Thomas comes back for one more year would do wonders for a 2013-14 squad that would otherwise be counting on fairly significant points from one of two incoming freshmen in Marc Loving and Kam Williams.  
I'm not counting my chickens but stranger things have happened.
PAGING DONNA SHALALA. Last week, University of Miami President Donna Shalala made love to many microphones after her school received the NCAA's Notice of Allegations which included the dreaded LOIC charge, reminding everyone how the school had already punished itself enough and that the NCAA conducted a dirty investigation. Just as quickly, most of us remembered the adage "two wrongs don't make a right" and started licking our chops in anticipation of the NCAA potentially dropping the multi-year bowl-ban hammer along with the no-doubter punishment of multi-year scholarship losses. 
Yesterday, the AP reported the NCAA's Notice of Allegations asserts former UM booster and Ponzi scheme mastermind Nevin Shapiro spent over $170k on gifts to coaches, players and recruits. Of course the Miami-Herald led with the fact Shapiro claimed to have spent millions on the UM community, going with the sub-headline: "Ex-UM booster Nevin Shapiro's claim that he spent millions on the UM community was way off..."
Whether Shapiro exaggerated or not, we're still taking real money, though $90k of the total was allegedly given to Vince Wilfork and Antrel Rolle in an effort to coax the pair into signing with Shapiro's fledgling sports agency. 
Another 56-large was spent on:
"...meals, entertainment, clothing, jewelry, travel, lodging and cash" to 72 football players, three recruits and a dozen "friends and family members" of those either on the team or being recruited."
That's only a little over $640 per person so what's the big deal? John Infante has your answer: 
"Once you get over $100,000, it's pretty much a lot of money."

"Now, it's really just a matter of how many postseason bans and how many scholarships you are going to lose. Assuming those numbers stay the same, you're still looking at something that looks a lot like the USC case with two athletes receiving the bulk of it and the rest of it spread among a larger group of athletes."
"For an extra benefits case, that's definitely up there. It's one of, if not the biggest. I think you would have to go back to the Pell Grant case with UM or SMU's case to find instances where this many athletes received a significant amount of benefits."
Hey Donna, don't hold your breath thinking the NCAA agrees the poor Miami Hurricanes have suffered enough, no matter how badly they hosed up the investigation.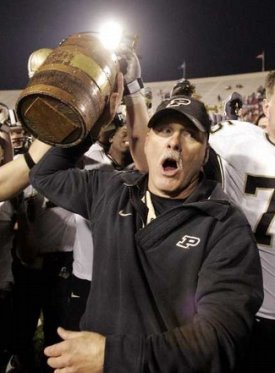 THE CURE FOR OVERSIGNING. Nick Saban dropped his scholarship total by four yesterday after booting D.J. Pettway, Tyler Hayes, Eddie Williams and Brent Calloway from the team following their arrests connected to a pair of campus robberies.
Saban broke down the dismissals as such:
''Their actions do not reflect the spirit and character that we want our organization to reflect. 'It's obviously very disappointing and unacceptable what happened. I also think I'm really proud over the last five years that our team has done a very good job with their personal responsibility and how they've represented the university. Some people learn by words, some people learn by consequences, some people can't learn.''
The foursome allegedly beat up two students in separate incidents, before robbing one of his MacBook Pro and lifting a credit card from the other. 
All of the players were reserves last year so it's hard to fathom Saban losing much sleep over freeing up some roster space. 
HOPE IS NOT A STRATEGY. Having had some time to digest his firing as head coach at Purdue, Danny Hope thought it best to go on television and spew his butthurt. In an interview with a local West Lafayette TV station, Hope played the victim, choosing to ignore his 22-27 record while touting the fact the Boilers made it to two straight bowl games:
"It came down to ticket sales. But ticket sales have been dropping here since 2000. It's not all about what happens just behind the whistle. You have to have some accountability behind the necktie as well.

"How they went about doing it (the firing), I really didn't appreciate. I thought it was handled unprofessionally. I don't need to elaborate on that, I don't think. I thought we had done enough, made enough commitment to retain our jobs."
I want to clown on Hope a little harder but I'm sure four years in West Lafayette is enough to break the spirit of any man. 
GRAB BAG. Check out the excitement in East Lansing after the Bollman story broke... Even better, the comments/gifs in the Bollman buckshot yesterday reign supreme... Tight End Tim headed to Tallahassee... Tre Day cleared for spring ball... That one time Bo Jackson ran up the outfield wall... This is bananas... Map of the United States made of skillets... Average wanker length around the world by country... Sports Fan Glamour Shots... Chamique Holdsclaw indicted... The Ultimate Fictional Baseball Team... Nebraska expanding capacity of Memorial Stadium.