Good morning, ladies and gentlemen. This week, with only one game on tap — Thursday at Northwestern, whose first tourney bid is a mere 55 years away — is basically our calm before the March Madness storm.
Although, Kansas' OT win against Iowa State last night, featuring incompetent officiating and Elijah Johnson's impersonation of Brandon Paul, had a March-like feel to it, if only for the craziness factor. 
For the first time in a while, I have no Ohio State basketball or Oscar-nominated movies to watch this weekend, so I think it's finally time for me to be productive catch up on House of Cards.
Netflix has presented us with a dilemma by releasing all the show's episodes at the same time, something that will again happen in May when Arrested Development chicken dances its way back into our lives. I have somehow avoided spoilers for House of Cards, but I imagine that will be more difficult for AD. 
Admittedly, I'm not the biggest fan of binge-watching TV because I like to sit with an episode and mull it over for a bit until I move onto the next one. As much as I love football, I wouldn't want to watch Ohio State's entire season over the course of one weekend and then have no more Ohio State football until a new season begins. 
Obviously, though, that doesn't count Ohio State-Michigan1 being a one-game season in its own right. 
FIRST POSITION. While we're on the subject of the greatest rivalry in all of sports, ESPN Recruiting ranked the class of 2013 by position groups, and Ohio State and Michigan2 came away with top marks at a few spots.
Ohio State cleaned up in the secondary and wide receiver/athlete categories, with both groups ranked No. 1 thanks to the likes of DB Vonn Bell and WR Jalin Marshall. (If you would like to better know Marshall, I have it on good authority that Vico will be profiling him later today on the site.)
So the position that Urban Meyer most lamented about a year ago — receiver/athlete — is the same one that the new class is loaded in. Guess the guy knows how to recruit or something?
To the north, the Wolverines were recognized for their approximately 19 incoming offensive linemen. Both programs also received honorable mentions for the defensive line (Ohio State) and running back (UM) positions.
Meanwhile, it's on to the 2014 class, where the rivals are battling each other for new recruits, including RB Elijah Hood3 and LB Kyle Berger.
I KNOW JIU JITSU. Both Ohio State and UM hauled in highly rated recruiting classes this month and while the best one will eventually be settled on the field, if it came down to a physical fight, I'd take Ohio State's recruits and more specifically, safety Jayme Thompson. 
The Blade's David Briggs chatted with the four-star recruit and Central Catholic senior about practicing jiu jitsu and how it helps him become a better football player:
For football, he said the sport helped develop his agility, mental discipline, and confidence.

Think the 6-foot-2, 185-pound Thompson is afraid of bulling into a tackle on a blitz off the edge? He was fighting opponents twice his age in middle school.
Jayme learned the discipline from his father, Deon, who is a jiu jitsu instructor — hopefully one with better luck than Chiwetel Ejiofor in Redbelt. Although Deon is a black belt while Jayme is a blue belt, the son believes he can finally take down his father once he's spent some time with the Ohio State strength and conditioning staff. 
No offense to the man with the black belt in jiu jitsu, but I think I like Jayme's chances after a summer with Mickey Marotti.
MIND GAMES. Despite what his extremely misguided critics may say, I don't think anyone can dispute Aaron Craft's intelligence. The Academic All-American has proven he's got the smarts off the court, but for those of us who have watched him play more than once or twice, he's clearly got the same smarts on the court.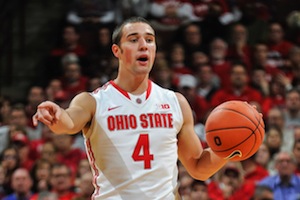 Lori Schmidt took a look at Craft's stats the first time he's faced off against a B1G opponent vs. the rematch. Unsurprisingly, his numbers are way better the second time around, with the exception of the dumpster fire that was the game at Wisconsin. Craft seems like a hands-on learner, so once he's seen an opponent up close and knows their tendencies, it makes sense for him to take charge a little more. 
More importantly for the team, Craft has been a bigger offensive presence in those second games, most notably this past weekend against Michigan State. As Jeff Borzello reminds us, the Buckeyes need that Craft:
Craft has scored 15 or more points on five separate occasions this season, and Ohio State is 4-1 in those games. In the team's seven losses, he scored seven or fewer points three times -- and averaged just 2.5 assists in those games. When Craft is being an effective playmaker, drawing defenders and either kicking out or finishing, Ohio State is a far better offensive unit.
Of course Deshaun Thomas is Ohio State's No. 1 scoring option, but Borzello pointed out, "When Thomas scores 15 points or fewer, Ohio State is 4-0", which is why the "someone besides Thomas needs to score for Ohio State" topic has been discussed ad nauseam this season. All the better if that can be Craft as we welcome March.
THE EXPANDABLES. It was rumored a while ago, and more recently a week ago, that when the Big Ten was ready to expand again, it would most likely be with some combination of UNC, Virginia, and/or Georgia Tech.
But Gene Smith denies that the conference is making any sort of move right now:
"We're not doing anything right now. We'll sit and evaluate Rutgers' and Maryland's transition. We don't want to screw that up. Right now we're not aggressively pursuing anyone."
That seems like a carefully worded phrase to me. Like, maybe the Big Ten isn't Lloyd Doblering a boombox, but you can't tell me that Jim Delany's not sending them secret texts in the vein of "I can't stop thinking of your sexy AAU membership."4
No matter what Delany or any of the B1G athletic directors say, more expansion — and not just in the B1G — is on the horizon, though who and when are still up for debate.
SOARING EVER HEUERMAN. While Reid Fragel has been busy impressing NFL scouts, he still took the time to make Ohio State fans excited for the emergence of tight end Jeff Heuerman:
Looks like the expectations for Heuerman next season are now higher... man. #nailedit
TO THE HEART CLICK TOCK YOU DON'T STOP. Ohio State women's BB team followed the lead of the men's team and beat Michigan State last night... Saban is already starting on the class of 2017 because of course he is... Potential NCAA financial aid changes... The ACC's 2013 football schedule has been released; somehow Virginia Tech plays only one Thursday night game... John Harbaugh gives Te'o the SMH treatment... Greatest turnover ever?... B-1-G!... 10 Great Songs with Gospel Choirs is a pretty good list, though nothing from the Sister Act soundtrack is included... This pencil is literal and perhaps nihilistic.