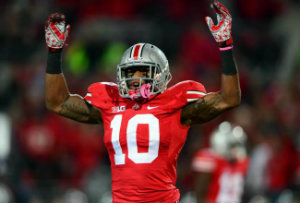 While we may be eager to see the addition of Urban's incoming playmakers on offense, the most important spring practice depth chart battles might be at linebacker. 
With Etienne Sabino and Zach Boren both moving on to bigger and better things, there is a lot of opportunity for young guys to step up and seize a starting position. Shazier may have one linebacker spot firmly locked up, but that leaves roughly five other slots in the two-deep completely up for grabs. 
There is undoubtedly a lot of talent at the three linebacker positions (Will, Mike, and Sam), but there is little game experience. Below is a chart of the scholarship linebackers on the roster for spring practice: 
| | | | |
| --- | --- | --- | --- |
| Curtis Grant | 6-3 | 235 | JR |
| Jamal Marcus | 6-2 | 225 | SO |
| David Perkins | 6-2 | 220 | SO |
| Josh Perry | 6-4 | 238 | SO |
| Luke Roberts | 6-1 | 226 | FR |
| Ryan Shazier | 6-2 | 230 | JR |
| Camren Williams | 6-1 | 225 | SO |
| Tyquan Lewis (LEO) | 6-3 | 223 | FR |
The linebackers made roughly 31% of the defense's total tackles in 2012. Excluding Shazier, the returning Buckeye linebackers combine for just 4% of the defense's 2012 tackles and 12% of the linebackers' total tackles. To make matters worse, most of those tackles were made by guys like David Perkins and Jamal Marcus on special teams! 
The 2013 linebacker corps will be extremely talented and extremely green – perfect for spring competition. Below I examine how the battle might play out for each of the three linebacker spots. 
Will
Shazier has obviously established himself as the only returning starting linebacker on Ohio State's roster, bringing a team-high 114 tackles (69 solo), 17 tackles for loss, and 5.0 sacks over from 2012. 
| | | |
| --- | --- | --- |
| 1 | Ryan Shazier | JR |
| 2 | David Perkins | SO |
| 3 | Jamal Marcus | SO |
It's no exaggeration to say that Shazier enters spring practice as the top player on Ohio State's defense and one of the elite three to five linebackers in the country. 
His likely backup is David Perkins, who was (along with Jamal Marcus) a special teams standout in 2012 with six tackles in nine games. Perkins was recruited by some schools to play running back and brings similar speed to the Will position. While the Mike and Will positions were somewhat flipped under Tressel, "Boom" Perkins and Shazier bring ideal sideline-to-sideline speed to the Will position. 
I don't think the Will depth chart will change very much over the spring, unless one of the Sam guys like Jamal Marcus flips over to Will. The staff won't hesitate to experiment early on, but they also understand that it is important to solidify players' positions as early as possible so that they can get experience with reads and coverages.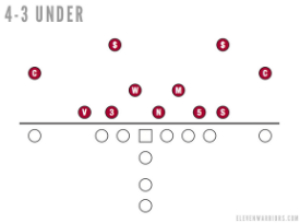 Mike
The most competition might actually be at middle linebacker – specifically between Curtis Grant and Camren Williams.
A 4-3 middle linebacker is typically larger than the outside linebackers and has to be capable of fighting off inside blockers, plugging holes, and stopping bigger running backs on inside zone and power plays.
However, the proliferation of spread offenses throughout college football has meant that even Mike backers must be at least quick (if not fast) and decisive in their reads. Storm Klein and Curtis Grant both struggled with these tasks last season, but all reports are that Grant has done everything necessary to learn the position and play more instinctively.
| | | |
| --- | --- | --- |
| 1 | Curtis Grant -OR- | JR |
| 2 | Camren Williams | SO |
Grant's primary challenger is likely Camren Williams, who is a little smaller and quicker at the position. Williams saw limited time last season, so it's hard to really get a good read on his abilities.
Williams was actually listed by some recruiting services as both an inside linebacker and a wide receiver, which indicates just how much athleticism Williams brings to the linebacker position. While we didn't hear as much about him as the season went on, both coaches and players alike raved about Cam's potential at Mike. 
However, I don't think a clear starter will emerge at Mike by the end of spring practice, so we may have to get used to the "OR" for a while. 
Sam
Josh Perry only recorded five tackles last season, but he stands out as having recorded them while actually playing linebacker rather than on special teams.
| | | |
| --- | --- | --- |
| 1 | Josh Perry | SO |
| 2 | Jamal Marcus | SO |
| 3 | Luke Roberts | FR |
As Ross has argued before, linebackers face a lot of pressure to be one of the top two linebackers overall, because it likely means the difference between playing 100% of snaps to just the 40% that the Sam backer is on the field. This is because Ohio State has gone to their nickel formation – with the STAR coming on and the Sam backer going off – more often than not against spread offenses. 
Ohio State was able to compensate for a deficient Mike by staying in nickel and having Sabino sliding to the middle early last season. When Sabino was injured and Ohio State did go back to its base 4-3 under, Josh Perry was the first guy off the bench. Perry had more experience by enrolling early and is just a physical specimen at 6-4 and 238 pounds according to the official roster. 
Perry's primary challenge might not be fending off the other Sam guys, but just proving that Ohio State should stay in base defense in the first place. If he's one of the top two linebackers then it is possible that he works his way over to middle linebacker, but I think he'll show enough promise to force Fickell and Withers to operate more out of the base 4-3 and stay at Sam. 
Jamal Marcus still has one of the top high school highlight videos I've seen and absolutely tore it up on special teams last season. Special teams were a perfect fit for Marcus last season because he came in a little raw, but Marcus has been described as one of the highest motor guys on the team. Last season Meyer said that 
"We have sayings around here like, 'Point A to Point B as fast as you can go.' There's a kid named Jamal Marcus, he doesn't know which way up is right now, but he knows from Point A to Point B and he'll run over anything in his way to get to Point B. There's a good chance we'll find a way to get him on the field." 
This spring should be a good indication as to whether Marcus has found "which way up is." If he has learned the position – when to drop into coverage, how to read the offense, how to take the right angles – then Marcus has the physical ability to compete for a starting spot at Sam or the backup spot at Will. 
Conclusion
Beyond Shazier at Will, the only absolute is that Ohio State returns an immense amount of inexperienced talent at linebacker. I'm not sure if we've seen such an athletic group of linebackers in years, as evidenced by the amount of guys who were also recruited for offensive skill positions.
This spring will be absolutely key in seeing not only further physical development, but also which guys have been watching film and truly learning their positions over the offseason. That will be the key throughout the spring and summer – all of these guys are athletic, but the most mentally prepared will earn slots in the two-deep. 
The staff won't be afraid to move guys around early on in the spring, with David Perkins, Jamal Marcus, and Luke Roberts all able to switch between Will and Sam. The key will be in identifying the top two guys and then seeing if the starting Sam is good enough to warrant more time in the base 4-3 defense. 
Of course, nothing is guaranteed as even the top two at each position will have to fight off incoming freshmen Mike Mitchell and Trey Johnson, both of whom expect immediate playing time. Urban Meyer recruited elite athletes to fill the defense's biggest problem from 2012. The spring will be crucial for experimenting and learning who deserves more game minutes in 2013.