The most impressive talent at the Core 6 Athletes Showcase this past Sunday was Ohio State target LB Clifton Garrett. The Plainfield (IL) South product proved why he has offers from top programs around the country with his performance.
In garnering MVP honors for his position group, Garrett picked up a few interceptions in 7-on-7 play and blanketed every running back he competed against in coverage.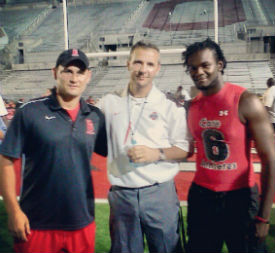 The four-star prospect is now measuring in at 6-2/227 as he continues to develop physically. Evident in his play on Sunday was the added quickness and speed to his game. 
Throw in the junior linebacker's speed to the frame he has built, and it is easy to understand why Urban Meyer and several other coaching staffs would love to reel in the elite prospect.
Florida and Clemson are the latest two teams to throw their hat into the ring in hopes of winning out for Garrett's services, while Ole Miss, Oklahoma, Notre Dame, Michigan, Wisconsin, Michigan State, and others have already offered.
The Buckeyes may be in the best shape to receive a verbal from Clifton, and they hosted the member of the "big 3" linebacker group this past Saturday.
In addition to Garrett on the visit, were his parents. Garrett's father had visited Columbus before, but it was the first such experience for his mother. 
Join us after the jump for more on the visit to Ohio State, what is next for Garrett in the process, and how OSU fits into the picture as of now. 
What did you think of your performance during the Core 6 Showcase?
I just go out and show off what I have been working on at these kinds of events. I'm trying to add on more weight while maintaining or increasing my speed and quickness. The key for me is to always have fun though.
You visited Ohio State before this trip to Cincinnati. I know you had been there a few times already but what was it about this time?
I already know about the program, the tradition, the coaches, the expectations, and the championship attitude for Ohio State. This trip was about seeing what it was like to be a student. I was able to get a feel for the academics, my parents got to see the campus, and I got to hang out with the players on the team. The academics is a big thing to me and my parents wanted to see that aspect of things. It was an excellent trip.
Do you stay in contact with the Ohio State coaching staff pretty regularly?
I think so. Coach Vrabel and I have a great relationship and he keeps tabs on me. I also get to speak with Coach Meyer sometimes. They have one of the greatest coaching staffs for sure. I also stay in contact with other schools like Michigan State, Notre Dame, Ole Miss, and LSU.
What's next for you with your recruitment process? Are there any other visits on tap?
I don't have any exact dates scheduled yet but I do know that I want to check out Ole Miss, Mississippi State, and LSU. The SEC schools have been showing some interest in me so I want to go and give them a look. 
Are any schools standing out at this point?
I don't have any official list of leaders but I know some schools are in better shape than others. It is always changing for me.
Are there schools that have always been near the top for you?
Ohio State and Ole Miss have. 
You've changed your mind a few times on when you would like to make your college decision. Do you have a better idea on that as of now?
The process has been a lot more than I anticipated it ever being. When I am comfortable in making a solid decision without any doubt, I will. There really isn't a set date or time. 
HIGHLIGHTS: