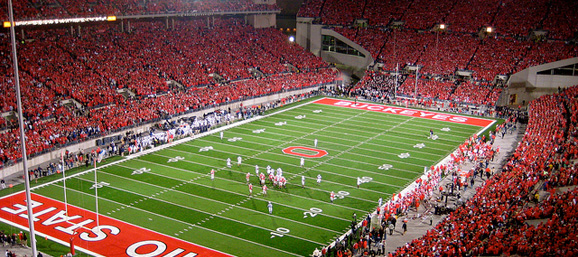 Big news from Chicago today as the Big Ten football coaches, athletic directors and administrators emerged from meetings that covered the possibility of playing a nine or 10-game conference schedule, realigning based on geography and opened the door for primetime games late in the season.
The addition of Rutgers and Maryland (and potentially others) has given the league an opportunity to revisit scheduling and the league has no plans to stick with the current eight game conference slate:
Just talked to Jim Delany. Said ADs and coaches only discussing 9- and 10-game league schedule models. No support to stay at 8 games.

— Rittenberg/Bennett (@ESPN_BigTen) February 11, 2013
Moving to 10 would leave just two non-conference games on the schedule and may impact schools' desire to take on marquee matchups. Ohio State has been particularly aggressive on that front, lining up games against Oregon and Texas as Gene Smith attempts to position the program for the upcoming college football playoffs.
To his credit, Smith said schedule changes won't impact his approach to securing games fans want tos see:
Ohio State AD Gene Smith told me school won't change non-league scheduling approach regardless of whether B1G adopts 9- or 10-game sked …

— Rittenberg/Bennett (@ESPN_BigTen) February 11, 2013
… of future Ohio State series with Oregon, Texas, TCU, Smith said, "We're going to hold onto those." Good to hear.

— Rittenberg/Bennett (@ESPN_BigTen) February 11, 2013
Nine would seem to be the sweet spot from a flexibility perspective and is not unfamiliar territory with the Big Ten last playing nine-game conference slates in 1984. When Nebraska was admitted to the league in 2011, the Big Ten announced a move back to the nine-game format, but that setup was scrapped before it was implemented as a deal with the Pac-12 for non-conference games fell apart.
One concern with moving to a nine-game schedule is that teams would play five conference road games every other season, leaving little room for schools to host seven home games in a season, coveted for the money that configuration brings in. To do so, schools would have to schedule all three of their non-conference games at home and when your'e doing that, chances are you're not playing the kind of high level competition that would demand a home-and-home agreement.
Also on the agenda was the topic of realignment. Delany told ESPN that ongoing alignment talks have centered on geography with consideration for competitive balance:
Also as expected, division alignment talk centered on geography. It'll be some type of geographical split, but also need competitive balance

— Rittenberg/Bennett (@ESPN_BigTen) February 11, 2013
Thankfully, the death of "Leaders" and "Legends" appears to be imminent (we hope), even if it wasn't discussed today:
One thing not discussed today was division names: "That would probably be the last issue." Don't know divisions yet.

— Rittenberg/Bennett (@ESPN_BigTen) February 11, 2013
Changing those awful division names has been rumored for some time now and we still insist that the addition of Rutgers and Maryland to the Big Ten is worth it on that basis alone.
The Big Ten is also open to primetime games in November, something Urban Meyer spoke at length about last week as sort of a recruiting equalizer between the conference and schools, most notably in the SEC, that can show off the full game day experience to prospective recruits under the lights:
Here's big one for fans: If schools want to play primetime games in November, B1G won't stand in their way. Coaches want more night games

— Rittenberg/Bennett (@ESPN_BigTen) February 11, 2013
All said, these are very positive developments for the league, and coming on the heels of the Big Ten issuing a statement reflecting concern over new recruiting rule proposals, Urban Meyer got exactly what he wanted to out of these meetings.