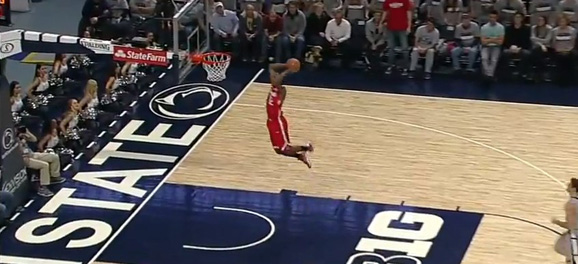 STATE COLLEGE, Pa. – Maybe Santa Claus finally gifted Thad Matta. Three days before Christmas, a disgruntled Matta revealed his holiday wish list after Ohio State went ice-cold in a loss to Kansas. 
Jump shooters. That's all the Ohio State head coach had on his list.
Nothing formulated in the month since, until the Buckeyes ventured to its own personal home away from home – State College. Ohio State had won six straight games at the Bryce Jordan Center prior to Saturday's game, part of a 17-game win streak over the Nittany Lions.
Those marks grew by one game as Ohio State dispatched Penn State, 65-51. The 14th-ranked Buckeyes limited the Nittany Lions, still winless in the Big Ten, to 36 percent shooting from the field. In the first half, Penn State went almost 11 and a half minutes without a field goal.
But it was Sam Thompson that turned heads. He made 6 of 7 field goal attempts, including two 3s, on his way to a career-high 16 points. Thompson also tallied six rebounds.
"Sam was tremendous today," Matta said. "I challenged Sam to play his best basketball. He was very instrumental in our success today."
Thompson even added a nifty behind-the-back pass to Shannon Scott, feeding him near the three-point line in the corner during the first half. It was one of Thompson's two assists.
"I did the easy part," he said. "I had two guys on me, and I just dropped it off to Shannon."
Finding an alternative scoring threat to Deshaun Thomas has been a season-long task for Matta and his assistants. Thompson is the latest Buckeye to provide hope, and he did it in a variety of ways – jump shots, driving the baseline, three-pointers. Thompson's arsenal rendered Penn State defenseless.
"We need Deshaun to play well," Matta said. "It definitely makes us a better basketball team. But the more the merrier in terms of giving us a flow. Today guys made plays off of him."
Thomas scored 11 points. He sat out the final eight minutes of the first half due to foul trouble and was held to four field goals in 29 minutes. Lenzelle Smith Jr. had 11 points and eight rebounds, with seven of his points coming at the free throw line.
"Deshaun is such a great scorer. He's the best scorer in the country, bar none," Thompson said. "Any help that we can give him in the scoring category is a big boost for our team."
Said Smith: "The more guys we get stepping up and knocking down shots, the better this team is going to be."
The Buckeyes outrebounded Penn State, 39-25. Despite all the missed shots, Penn State was only able to secure two offensive rebounds.
DJ Newbill paced the Nittany Lions with 15 points and four rebounds. 
Ohio State grabbed a big lead midway through the first half thanks in part to superb shooting and a plethora of Penn State offensive miscues. The game was tied at 11 with 13:34 tied in the first half. The next time Penn State scored a field goal, the Buckeyes had opened up a 27-13 lead.
During the period of ineptitude, Brandon Taylor missed four 3s, but it wasn't just him that led head coach Pat Chambers to turn red-faced. The entire roster was firing up misguided shots, several of which were wide-open looks. Penn State had four airballs on the day.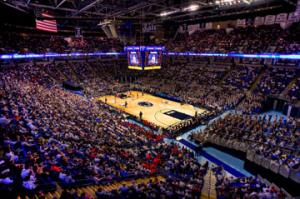 The margin at halftime could have been far greater, though. Ohio State only led by 11 despite Penn State's shooting woes, which included making just 29 percent of their shot attempts. Once Thomas went to the bench, the Buckeyes' offense went stagnant, making just one field goal. Ohio State scored five points in their final nine possessions of the half.
The second half played out much like Ohio State's 72-63 win on Tuesday over Iowa. In that game, Ohio State led by 24 until Iowa roared back. Running on empty 30 minutes into the game has been a theme for the Buckeyes this season. Penn State was the latest opponent to creep back into a game that appeared over.
"We need to put teams away," Thompson said. "To get where we want to go as a team, we need to have that killer instinct. We have to put teams away when we have them down."
A change in defensive strategy from the Nittany Lions threw Ohio State off. Twice the Buckeyes had two long scoring droughts in the half that added up to nearly 10 minutes. A 17-point lead with six minutes left was trimmed to 10 barely three minutes later. But Penn State, like Iowa, could not take full advantage of Ohio State's miscues. Iowa made 50 percent of its free throws; Penn State upped that to 59 percent, still nowhere near what it takes to beat a ranked opponent.
"I never had this problem when we played five guys," said Matta, in reference to Ohio State's foul-committing issues. "They didn't foul, but I got my ass ripped about it. Now everyone fouls. We have to play smarter and have better positioning."
It was Ohio State that provided the outstanding free throw shooting. After halftime, Ohio State had more free throws than field goals. Ohio State made 15 free throws in the second half, including 11 straight to end the game. The Buckeyes converted 19 of 23 free throw attempts on the day.
"That's what finished the game off for us," Matta said. "It was very important. It really helps your cause."
Winning games on the road also provides a boost. Ohio State has two conference road wins to its credit. At 5-2 in the Big Ten standings, Ohio State's home date with first-place Wisconsin next Tuesday will go a long way in determining the Buckeyes' viability at winning a fourth consecutive Big Ten championship.  
There is still much intrigue surrounding Ohio State. Close losses to Duke and Kansas showed a level of play that puts it among the nation's elite teams. But a no-show loss at Illinois and several second-half breakdowns have stirred whispers of just how good Ohio State really is. 
"With this conference everybody is good. Everybody's got a shot to win on any given night," Smith said. "That's why I like this conference so much – it's a challenge every night. You aren't going to pinpoint a team and say, 'we're going to win,' especially on their homecout. In this conference you have to be prepared to play your best basketball.
"Being Ohio State, everybody wants to knock us off. We're getting everyone's 'A' game. When they come and play us, we know we're going to get their best."