The Big Ten is loaded, right? It's kind of like the opposite of football, right?
It's the sweetheart conference of the college basketball season thus far in large part because it's so deep. There's significant separation in the Sagarin conference ratings between the Big Ten and every other league. Predictably, B1G teams litter the upper echelon of every ranking metric.
Ten of its programs have at least one win over a top-50 team this season – only Purdue and Nebrasketball don't, and both of them have numerous opportunities to rectify that in conference play. As many as nine could make the NCAA tournament.
The conference that spent the entire football season either getting embarrassingly de-pantsed or shamefully barred from postseason competition needed this badly. College basketball is now the Big Ten's pride elixir.
[dramatic music] Or is it?
No B1G program has cut down the nets following March Madness since Sparty did in 2000, back when current freshmen were still watching Aqua Teen Hunger Force. Jim Tressel was still coaching Youngstown State. Thad Matta was an assistant at Butler.
In that span ACC teams have claimed five titles, teams from the Big East and SEC (football conference!) have each won three and Kansas has won one.
Indiana, Illinois, Ohio State and Michigan State have reached the final game in that span, but alas, no national titles for any B1G men's basketball program.
Reasons for tempered optimism abound. The first is that ugly 13-year streak, which isn't the best predictor of the future – but isn't all that encouraging either.
There are also some more current historical warnings – from the current season: Butler beat Indiana. Ohio State lost to both Duke and Kansas. Wisconsin lost to Marquette. Somehow the B1G-ACC Challenge was a draw this year even though the ACC is only Sagarin's sixth-best conference.
The Big Ten has a record of 10-31 against Top 25 teams. On one hand it's faced a whole slew of good squads (battle tested!) but on the other it hasn't come close to breaking even in doing so (good job, good effort!).
Aside from what's actually happened on the court and within the statistical prediction models, there's also the entrenched method for how college basketball's season narrative is shaped in exclusively rosy, overly positive fashion: How do we really know who is good anymore?
Consider lead ESPN screamer Dick Vitale, who doles out gold stars at a frequency that would make the galaxy blush:
Lest one think Dicky V doesn't know any alternative superlative, he also used the following: special (8 times), tremendous (7), unbelievable (6), super (5), superb (5), outstanding (5), phenomenal (3), sensational (3), excellent (2), awesome (2), dynamite (2) and brilliant (1), and when none of those adequately captured the moment, he simply blurted, "Wow!" (13).

On only three occasions could Vitale's comments be described as remotely negative. A sample: "[ Maryland's] half-court offense is really not superb." The result of all this is that the extraordinary gets lumped in with the banal until everything sounds like hype.
College basketball coverage is overwhelmingly skewed toward the praising of absolutely everyone involved, and Vitale is the loudest culprit. By the way, those hyperbolic Vitale metrics above are from a Sports Illustrated article in 1998. They could have been from last week though.
His exceedingly tired schtick – where every coach, player and conference is just awesome, baby – has long been part of the fabric of college basketball coverage. 
The Big Ten returned a lot of great talent and is unquestionably deep. This celebration was planned while Kentucky was still cutting down the nets in New Orleans.
But non-conference play that just concluded at the end of 2012 was, at best, inconclusive. At one point of the college football season, Geno Smith was the runaway Heisman winner. Things change. The Big Ten is now busy beating up on itself.
We've also been dragged unwillingly into a college sports realm where the media, most notably ESPN, has shrewdly aggregated its audiences by marketing conference matchups instead of teams (with classic rivalries overriding that practice). ESPN didn't create the S-E-C chant, but you know it would have by now.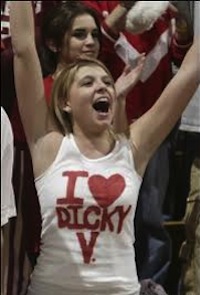 Beyond program marketing, conference pride is generally regional – it's not really a Big Ten quality. Remember that decade when Michigan sucked and didn't make the tournament? Remember how Penn State and Nebraska are perpetual works in progress?
Remember the anguish you felt when Jadeveon Clowney beheaded Vincent Smith and "the SEC beat a Big Ten team" in a bowl game? Yes, you only just finished being sad about all of that...never.
The Big Ten being the best conference in basketball also helps promote Big Ten basketball broadcasts better, the way that gimmicky aircraft carrier games are used to promote a sport that begins way too early – and even worse – when college football's regular season is reaching its crescendo.
This all sets up the best part of the college basketball season: The Tragedies of March. Anything less than one Big Ten team in the Final Four will be viewed as a letdown, even if the conference superiority might have been embellished all along.
And if this century of Big Ten basketball has been defined by anything else, it's a letdown.
You can already see the jersey collars being yanked up above the eyes of benchwarmers, slumping into their own laps in shame, as the first and second-weekend exits mount for what will be an abnormally large pool of worthy combatants from Jim Delany's Death Star.
Everyone also loves a good tragedy from afar. Watching those high seeds – B1G or otherwise – fail in March is spectacular, as long as it's not your team.
But those teams have to get those high seeds somehow. They have to win games, get talked about and bracketologized favorably.
A Big Ten team might finally end the title drought in 2013, but conferences don't actually win titles. Only plucky teams that can win six straight tournament games do that, and the B1G hasn't had one of those for too long.
But there's always a chance, right? It's kind of like the opposite of football, right?