There are only a few hours left in 2012, so it's okay to ask the question: What's hot for 2013?
Fashionistas have already
weighed in
on the look. So have
restaurateurs
 with the food and
career counselors
 with your endless job search. But while their predictions are mixed, we have a consensus on what's hot in college football for 2013: It's the state of Ohio.
How hot is Ohio college football? Major conference coaches are literally getting up in the middle of dinner with recruits and abandoning their non-Ohio posts in favor of stepping-stone jobs in the Buckeye state.
When Tommy Tuberville rose from the table with several recruits and at least half of his coaching staff and abruptly left the restaurant, it wasn't because he didn't like what he had ordered. It also had nothing to do with his assistants, the recruits or his position as Texas Tech's head coach.
He got up and left because Ohio college football came calling. That's all it takes these days.
Tuberville denies that he bailed on that dinner, which is funny because none of the dozen-plus who witnessed his departure have backed up his explanation. Also, it's not like he doesn't already have a track record for lying about bolting for other jobs. He doesn't need to lie. We understand why he left.
Tuberville's exit may have lacked candor, but can you blame him? Cincinnati, albeit a destination primarily for its own high school graduates to discuss and relive high school well into their golden years, is still more livable than Lubbock by a factor of whatever Big XII defenses are allowing these days. 
And it's also (technically) in Ohio, the state chartered with electing the American President on behalf of the other 49 states and the rest of the world.
Novel as his exit was from Red Raiderhood, Tuberville isn't exactly original in taking the leap from a BCS perch to the Buckeye state. If anything, he's a copycat.
Tuberville left the South because Ohio college football came calling.
Ten years ago Frank Solich orchestrated a masterful charade to escape his dead-end job at Nebraska. After a year off to recharge the batteries, he upgraded his career and life in Athens and has never been happier.
Tuberville and current Akron head coach Terry Bowden finished atop the SEC West a combined seven times while at Auburn. Following a lengthy stint in media and then three years at North Alabama coaching kids cut by Les Miles and Nick Saban, Bowden ditched the South in favor of Ohio.
It's become a very common migration path. As you're well aware, Urban Meyer faked a heart condition to escape Gainesville so he could "spend more time with his family."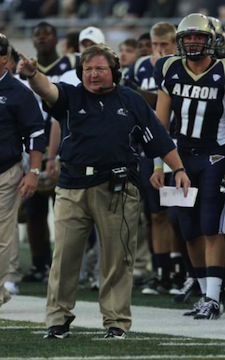 Does that make him Urban Liar? (OMG it rhymes!) On the contrary: After Urban quit his Florida job, he admitted that the last time coaching just felt right was when he was at BG. He just wanted to feel right again. That meant coming home – or at least as close to BG as possible.
Similarly, Darrell Hazell didn't really leave Kent State. He simply took the Purdue job to get the necessary big conference experience required to be a candidate for Urban's vacancy should he decide to retire again for good. It's a calculated risk.
Hazell's successor Paul Haynes left Ohio State for Arkansas a couple of years ago so that he could eventually take the same South-North migratory path back home. Everything went according to his plan.
Even Ohio pro football is hot, with the Bengals in the playoffs. Brian Kelly left Cincinnati for Notre Dame to get experience for the Browns job, which he'll have to pry from Nick Saban's freakishly small hands – if Jon Gruden doesn't come back home to take it first. 
Once his show cause expires, Jim Tressel could end his head coaching career back where it started, in Mother Youngstown. Or he could ride into the sunset as Akron's Fundraiser-in-Chief. Tress is already safely in the kingdom. His destiny is of his choosing.
All of these men are simply chasing what Larry Kehres has in Alliance as Mount Union's head coach: Immortality that's only possible in the state that manufactures coaches who eventually become statues.
Kehres has 11 national titles, a record of 332-24-3 and no promotion available to him. He's already at the top, and that is emblematic of why established coaches like Tuberville hastily scoot away from recruiting dinners before their entrees arrive.
So what's hot for 2013? You don't need a football blogger to tell you. Football coaches are already doing so through their actions.
In the college football's solar system the SEC is Saturn (think: rings), the Milky Way galaxy is ESPN containing and shaping it all, and the Big Ten is Uranus – large, distant and kind of assholish.
But one single state serves as the sun, with gravitational pull strong enough to pluck coaches away from the planets and keep them all revolving around it for a few billion more years.
Ohio is that fiery mass at college football's center providing warmth and light to the rest of the country. And it's burning hotter than ever in 2013.