As I begin writing this recap of the Big Ten Championship Game, there is currently 1:05 left in the 3rd quarter of a game that was well out of hand about two quarters ago.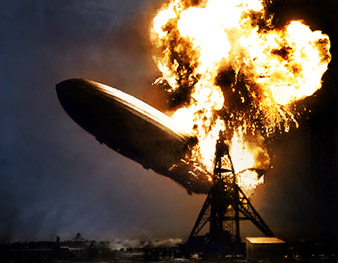 Wisconsin right now has roughly 450 yards of rushing offense alone and 63 points. Bo Pelini looks like he is going to find a warren of rabbits to gas after the game, and Bret Bielema has the same dumb squinty expression that he always does, but there's a hint of "woooo the ladies at the craps table are gonna love this one" behind it.
I'm not just starting this recap early because I know that Wisconsin is going to win and I want to go to bed early, it's also because I've known that this is how this game was going to play out ever since the matchup was decided.
It's a pretty simple plan, but I'll use one of my tweets to elaborate:
1: be completely mediocre in B1G play. 2: destroy opponent in championship, trick people into thinking youre good. 3: rose bowl blowout loss

— Johnny (@Johnny11W) December 2, 2012
So I don't know about you guys, but I am particularly excited for step 3, which will likely involve a 31-17 defeat at the hands of Stanford as their competent linebackers and safeties aren't fooled or confused by Bret Bielema's brilliant "tons of dudes on the line of scrimmage" formation. Step 4 is Bielema sobbing in the bathtub at the Sheraton in Pasadena while eating an entire brick of Colby cheese.
But I'm getting ahead of myself. There was a game afoot tonight (at least for a while), and details must be given, although to be completely honest, any sane person probably shut it off well before the midway point of the 3rd quarter in an attempt to preserve some shred of dignity. With that said, along with maybe a couple of hundred of lazy and/or immobile people from the well under capacity crowd at Lucas Oil Stadium, I decided to forego both sanity and dignity and sat through the entire ridiculous contest.
For a large chunk of the first half, people could probably be forgiven for thinking that this was going to be a game. Nebraska was the clear favorite, the ranked team, and was coming off a six-game winning streak. The only real reason people might've been concerned is because they managed to beat the football team that serves as the front for Kirk Ferentz's cocaine distribution center by only 13-7, but that was quickly ignored in favor of looking at Wisconsin's overall record in the Big Ten.
Which is the other reason most people expected a Nebraska win, because Wisconsin was, as we all know, the 3rd best team in their division. With Ohio State and Penn State both not eligible for the postseason, Wisconsin banana peeled their way to success despite a 4-4 conference record and two consecutive overtime losses to close out the season. Not a great look.
But then the actual game happened and things changed. I mean, it was a game for a little bit, and honestly for a while I thought we were going to get one of those back and forth shootouts that the Big Ten is so famous for in my dreams. Even though Wisconsin took the lead to begin the game after Melvin Gordon ripped off a 56-yard TD run (this would be a theme) and Marcus Cromartie housed a Taylor Martinez interception, Martinez pulled one of those sick runs out of his hat for a touchdown and then Nebraska added a field goal to make the game relatively close.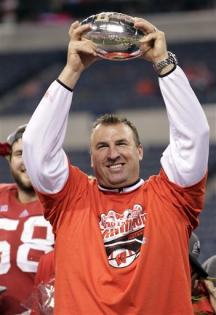 It was all downhill after that. Nebraska displayed absolutely zero ability to stop Wisconsin's rushing game, particularly the sweep plays where Gordon was the primary rusher. At one point the guy was averaging nearly 40 yards on each of his 5 carries, and he ended the game leading everyone in rushing with a grand total of 9 carries.
Not that Montee Ball was slowed down or anything either. He topped 5,000 yards rushing for his career, and also set the record for most rushing touchdowns in a career with 76 en route to a 202-yard, 4-touchdown performance.
Honestly, even if Martinez hadn't turned the ball over 3 times, this still would've been an insane blowout. At no point did Nebraska (who apparently needs Carl Pelini like Bo needs baby seals to strangle) show that they had either the scheme or ability to stop what Wisconsin was doing on the ground. Or maybe it went even deeper than that. I'm sure people will speculate as to why a prohibitive favorite gave up 539 yards of rushing to an unranked team, but it's probably at least partly because it has struggled with physical teams all year.
After the first quarter the game devolved into a beatdown of epic proportions, with Wisconsin racking up long touchdown after long touchdown and ultimately winning, 70-31, at the end of the game Bret Bielema took a Gatorade shower and we all got to see his moobs. Wisconsin goes on to get pasted by Stanford in the Rose Bowl (because, well, despite last night's evidence to the contrary they aren't very good either) and Nebraska might get passed over in favor of Northwestern for a bowl because hell, why not?
As Ohio State fans, we're supposed to be sad and gnash our teeth at the fact that OSU was denied a probable B1G championship win and BCS title game appearance; after all, going undefeated in any conference, even one as bad as the Big Ten, is extremely difficult. But truthfully, I'm past that. If anything, the overall incompetence of the rest of the Big Ten does wonders for OSU's image in that we look like the one employable member of a family of drunken boobs, which is not a terrible place to be.
The rest of the conference will go on and spend all month practicing for a bowl game that they will lose, as is their wont, but in the meantime Urban will be recruiting and evaluating his ass off while solidifying his stranglehold on the conference, as is his wont. So really, I'm not mad the Buckeyes can't play for a national title.
At all.
Not even a little.
Nope.