For 34 minutes, it looked like Ohio State would come into Cameron Indoor Stadium and put a halt to the nation's longest home non-conference win streak. But the young Buckeyes' inexperience caught up with them during crucial periods late in the game.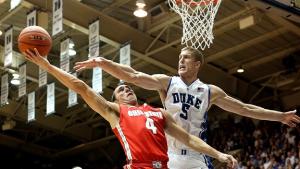 Duke scored 50 second-half points after being limited to 23 in the first half to beat Ohio State, 73-68. Three of Duke's seven wins on the season have come against teams ranked fourth or higher at game time.
Duke's Mason Plumlee continued his torrid start, finishing with 21 points and 17 rebounds, a performance that will only boost his early national player of the year candidacy. But it was two other Blue Devils that delivered daggers to the Buckeyes.
Freshman Rasheed Sulaimon scored all 17 of his points in the second half and six of Ryan Kelly's 15 points came on back-to-back three-pointers that gave Duke a 56-53 lead with 5:42 left in the game. It was part of a decisive 20-7 run. Duke would not relinquish the lead.
"We just didn't do a good job of staying together," Ohio State point guard Aaron Craft said. "They started going on a run and we couldn't weather it."
Following Ohio State's 85-63 win in Columbus last November, Duke head coach Mike Krzyzewski lamented the fact that his team had to fly some 4,700 miles and endure a six-hour time change the week prior after playing in – and winning – the Maui Invitational.
The same complaints arose Wednesday despite Duke winning. The Blue Devils decided to stay closer to game this season, spending the Thanksgiving holiday in the Bahamas. Duke beat three potential NCAA Tournament teams – Minnesota, VCU and Louisville – en route to its tournament title in the Battle 4 Atlantis.
The fatigue was thought to be a factor because of Duke's slow start. Ohio State began the first half Wednesday similar to last season's Duke game – on fire. In its dismantling of the Blue Devils last November, Ohio State scored the game's first 11 points.
"When you play the schedule that we've played, this is not XBox or fantasy stuff where these guys are healthy all the time," Krzyzewski said. "We just played three games, got back Sunday afternoon and go out and play (Ohio State) on Wednesday. That's an effort – that's a hell of an effort."
On Wednesday, Ohio State jumped out to an 18-11 lead and led by as many 10 in the first half. At halftime, the Buckeyes were in front, 31-23, despite playing the final 10 minutes without Deshaun Thomas and the final four and a half without Craft, after each picked up two fouls.
During one stretch in the half, Duke was held without a field goal for more than 10 minutes.
The Ohio State bench, a question mark entering the season, showed up big when it lost its two most seasoned scorers. The Buckeyes' reserves outscored Duke 11-2 in the first half and 18-4 for the game.  All the points came from Shannon Scott, LaQuinton Ross and Amir Williams. Williams added 10 rebounds.
Ohio State outrebounded Duke 22-16 in the first half and 11-3 on offense. But the Blue Devils came back in the second half by holding a three-point rebound advantage on the Buckeyes.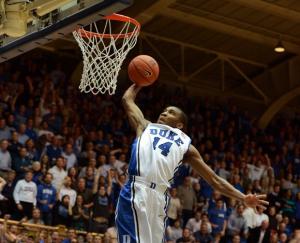 Duke cut Ohio State's eight-point halftime lead to three before the first TV timeout. But the Blue Devils were only able to get within one until Kelly's threes pushed them over the hump.
"Once he hit those threes, it was like, 'Yes, we're here,'" Sulaimon said. "Once we got that lead, we weren't going to give it up."
After making just six field goals in the first half, Duke converted 18 in the second half. Its shooting percentage rose from 30 percent to nearly 60. Ohio State's backcourt defense that stymied the Blue Devils in the first half lapsed after the break.
Ohio State's first-half offense wasn't considerably better – the Buckeyes shot 32 percent – but it attempted 14 more field goals than Duke. Ohio State's second-half average was much the same. It shot only 34 percent from the field for the game.
"If you had told me we were going to shoot 34 percent, I would have said we got ran out of the gym tonight," Matta said.
Deshaun Thomas led the Buckeyes with 16 points, but he was only 6 of 14 from the field. Thomas was visibly frustrated much of the night. Aaron Craft played one of the worst games of his career offensively. He finished with 11 points on 3 of 15 shooting. Craft missed badly on a few shots. The most glaring part of his stat line was one assist and three turnovers. He did limit Quinn Cook to a 3 of 10 shooting night, though Cook did dish out eight assists.
Lenzelle Smith also scored 11 points.
Duke's victory gave the Atlantic Coast Conference its sixth win in the ACC/Big Ten Challenge. The tie score of six games to six games means the Big Ten will retain the Commissioner's Cup.
After last season's loss to Ohio State, Mike Krzyzewski talked about how his butt was sore from the 22-point loss. For Thad Matta, Wednesday night was more heartache than butt whipping.
"I know I haven't forgotten," said Kelly, about Duke's loss last season. "When you lose that badly, you don't feel good for days. I couldn't sleep. Winning is a great feeling, but losing, especially that badly, is worse in the other direction."
If ever there was a moral victory to be had, it was Wednesday. Ohio State was a decided underdog, but almost scraped out a win in arguably the toughest venue in college basketball. Duke's win was its 97th consecutive home non-conference win.
The college basketball season is a process, and the Buckeyes now have a barometer of what type of team they are and what areas need fine-tuned from now until March.
Ohio State was supposed to have early-season tests, but Mother Nature and prognosticating didn't work out. The Buckeyes were set to open the season against perennial March contender Marquette in the Carrier Classic on the deck of the USS Yorktown. Condensation on the court, however, led to the cancellation of the game. It will not be rescheduled.
Ohio State played in the Naismith Hall of Fame Tip-Off Classic the next week in Uncasville, Conn., but opponents Rhode Island and Washington, which have had high levels of success in the past decade, are in the midst of a down season.       
Duke does not fit into that down category. The Blue Devils have staked their claim as the nation's best team just three weeks into the five-month season.