Ohio State fans have been spoiled with good quarterback play in the last decade.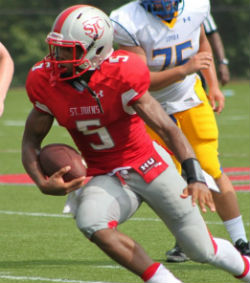 Craig Krenzel helped Jim Tressel win a national title in 2002 and a Fiesta Bowl in 2003, Troy Smith led the Buckeyes to a Fiesta Bowl win in 2005 and the championship in 2006, Todd Boeckman led OSU to the title game again in 2007, and Terrelle Pryor excelled from the day he stepped on campus, leading Ohio State to three BCS games, including two wins, during his time in Columbus.
Of course, fans of the Scarlet and Gray are enjoying Braxton Miller, recently named 2012 Big Ten Offensive Player of the Year, and a front-runner to win the Heisman Trophy in the 2013 season.
Urban Meyer has brought in Cardale Jones in the recruiting class of 2012 and JT Barrett in the recruiting class of 2013, but at this point it is unknown if either will be able to carry the torch once Miller departs campus. For that reason the staff is being very diligent in their evaluation of the class of 2014 quarterbacks and are looking at a number of outstanding players at the position for likely one spot in the group.
One of the players on OSU's short list is QB William Ulmer, a 6-1/190 prospect from St. John's College High School in Washington, DC. Ulmer is rated as a four-star prospect by multiple recruiting services, and 247 Sports rates him as the nation's seventh-best dual-threat quarterback in the class.
Ulmer fits the Ohio State offensive system run by Urban Meyer and Tom Herman like a glove. Not only can he throw the ball with both power and accuracy, but he has been clocked a 4.38 in the 40-yard dash, displaying the speed needed to run the spread up to Buckeye standards.
Ulmer was in Columbus this past weekend for the first time to check out Ohio State's campus, continue to develop his relationship with the coaches, and watch the Buckeyes take on the Wolverines in college football's greatest rivalry.
Join us after the jump to see hear more about how one of the country's best signal callers in the class of 2014 enjoyed his first visit to the Horseshoe.
How was your visit to Ohio State for The Game?
It was good. The game was really exciting. I had a lot of fun on the trip.
What did you do while in Columbus?
I got to town on Friday night and stayed about 15 minutes from campus. We drove over Saturday morning and went up to the recruiting room where I met a lot of the support staff. We then watched warmups on the field and watched the game. After the game I got to walk off the field with Braxton Miller and went into the locker room to celebrate the win with the team.
What did you think of the atmosphere in Ohio Stadium during the game?
It was a very loud atmosphere. The people there are very much into that rivalry.
Did you get to speak to any of the coaches while in Columbus?
Yes, I spoke to Zach Smith, who is my recruiter, and Urban Meyer. They told me they like me a lot, but it's been hard to find time to evaluate my film completely. They said now that the season is over they'll have time to do that. They also told me that they'd be visiting the area soon and plan to stop at my school.
After watching the offense on Saturday do you think you fit in with the system OSU is running?
I definitely can see myself playing at Ohio State. They run basically the same offense that I run in high school. The coaches told me that I can be the next Braxton Miller.
Did you get to meet any of the other recruits at the game?
I knew of Taivon Jacobs since he is from my area and I saw him at the game on Saturday.
Do you have any offers yet? What schools are close to offering?
Yes, I have been offered by Maryland, Boston College, Syracuse, and North Carolina. I think Ohio State, Virginia, and Oregon could all be close to offering.
Do you think you'll make a return trip to Columbus?
Yeah, I definitely will return. It will probably be later in the spring or in the summer.
Ideally, when would you like to make your decision?
It will probably be National Signing Day 2014. If I really like a school it could be sooner, but I think it will be Signing Day.
Do you play any other sports besides football?
I run track in addition to playing football.
How did your team do this season? How did you do individually?
Our team did pretty well this season, but we lost in the semifinals. I had a very good year. I had 21 total touchdowns, passing for over 1,100 yards and rushing for over 1,300 yards.
HIGHLIGHTS:
Other recruiting coverage from the weekend: