One of the most glaring issues for the 2012 Ohio State football team was depth at linebacker.
It got so bad that FB Zach Boren had to shift to the group in the middle of the season, and with his departure, as well as Etienne Sabino's, things aren't looking much better for the 2013 team if young players on the roster and coming in don't step up.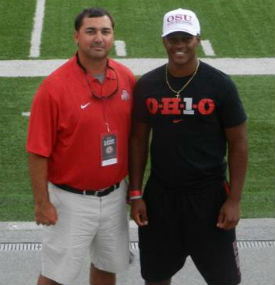 The Buckeyes have yet to land a linebacker in the class of 2013, but have good chances to land Mike Mitchell and Auburn commit Trey Johnson, as well as DB/LB Chris Worley of Glenville. The staff also has a chance at both Florida commit Daniel McMillan and Skai Moore.
Regardless of what happens in 2013, 2014 is shaping up to be a big year in linebacker recruiting for the Bucks. One of the top targets in the class, if not the number one player on OSU's board, is Hinesville (GA) Liberty County LB Raekwon McMillan. 
The Georgia native is up high on Urban Meyer's wish list for good reason. At 6-3/235, McMillan has great size for just a high school junior, and backed up the looks test with an outstanding season where he recorded 152 tackles (22 for loss) after a sophomore season where he had 84 tackles (16 for loss).
McMillan has been to Columbus on two previous occasions, once back in the spring where he received an offer from the Buckeyes, and then again in the summer where he visited to take in the Friday Night Lights camp. It's safe to say McMillan enjoyed both visits, as he named the Buckeyes his leader after the summer trip.
The five-star prospect decided to return to campus this past weekend to take in The Game, the first OSU game he has ever attended. He enjoyed his visit as he got to spend some time with the coaches and fellow recruits, getting more comfortable with the place he may call his future home.
We caught up with Raekwon to get the scoop on his visit to Ohio State, find out if the Buckeyes are still in the lead, what other schools are standing out and much more. Keep reading to learn more about star 2014 LB Raekwon McMillan.
How did you like the visit and game?
It was a great visit. I got to go to one of the best rivalries of all time. The atmosphere for the game was awesome.
Which coaches did you talk to on the visit?
Coach Meyer, Coach Fickell, and Coach Withers. They all gave me great attention even though it wasn't my official visit. Coach Meyer pulled me aside and talked to me three or four times over the visit.
What did they tell you?
They tell me Ohio State is a prestigious university and say they are thin at linebacker and really need to add more linebackers.
How often do you talk to OSU?
I talk to Ohio State every two or three days. I usually talk to Coach Pantoni and Coach Withers.
What kind of relationship do you have with Coach Withers?
I call him all the time. We're building a really strong relationship.
Which schools are standing out?
Ohio State is still in the lead, then Clemson and Georgia. Those two schools are fighting for the number two spot. After that, it's Notre Dame and Alabama.
When would you like to make a decision?
I'll be announcing my college decision at the 2014 Army All-American Bowl.
What will be the biggest factors in your decision?
The university as a whole and the future of the football program.
What's your relationship like with fellow 2014 prospects?
I talk to a lot of the 2014 guys on Twitter all the time. I got to talk to Drew Barker, Thaddeus Snodgrass, Clifton Garrett, Da'Shawn Hand, and others this weekend.
Is there a chance some of you go to the same school?
We all talk about it happening, but it's definitely not a sure thing.
What goals do you have for your senior season?
My goal is to lead my team on a playoff run and to be ranked in the top 10 on every recruiting website.
HIGHLIGHTS:
Other recruiting coverage from the weekend: