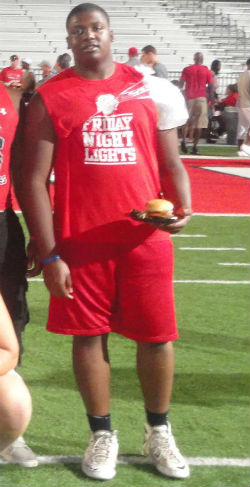 With Reid Fragel graduating this year and Jack Mewhort, Andrew Norwell, Corey Linsley and Marcus Hall all set to depart after the 2013 season, the offensive line is one of Ohio State's biggest needs in the next couple of recruiting classes.
The Buckeyes are in early on many 2014 offensive linemen, including one of the top tackles in the class, Chicago (IL) De La Salle Institute's Jamarco Jones.
At 6-5/290, Jones boasts offers from every school in the Big Ten, except for Penn State and Minnesota, while also holding scholarships from Florida, Notre Dame, Ole Miss, Toledo and Vanderbilt.
The four-star prospect was on OSU's campus a couple of times this past summer when he earned his offer in June, and then returned for Friday Night Lights in July.
Jones enjoyed his time in Columbus on both occasions, but wanted to soak up Buckeye football once again and made the decision to return to watch the Buckeyes take on archrival Michigan in the biggest rivalry in all of sports this past weekend.
Jones arrived in Columbus on Friday with his friend, teammate, and fellow Ohio State recruit, RB Mikale Wilbon. Both enjoyed their visit and both have the Buckeyes high on their list following their latest visit to Ohio's capital.
We caught up with Jones to get the scoop on his visit, when he would like to make a college decision, what factors will go into that decision, and more. Keep reading to learn more about one of the Midwest's top prospects in the recruiting class of 2014, Jamarco Jones.
What did you get to see on your visit to Ohio State for The Game?
We got to Columbus on Friday. I got to tour campus, go through some of the different buildings, and meet with the academic counselors. Then I got to go to the walkthrough for the Michigan game and after that I got to go to the Ohio State basketball game. Saturday I went to the football game. It was really fun to watch.
How did you like the game?
It was great. Just the whole atmosphere in Columbus was great on game day. The game's environment was awesome. It was really cool to be at a really close game.
Did you talk to the coaches? What did they tell you?
I talked to a lot of coaches. They told me what they could offer me in both football and academics.
What's it like sharing the process with teammate Mikale Wilbon?
I think it's better because you have someone that's experiencing the same thing as you. We're looking at a lot of the same schools so we talk to each other about it a lot.
Are any schools standing out at this point?
There are some, but I want to get out and see all of the schools that I'm interested in before I cut my list.
When would you like to make your decision?
Possibly sometime before my senior season. It will most likely be at the end of next summer, right before football season starts.
What will be the biggest factors in making your decision?
First off, academics is key because there's life after football. I want to go to a school where I can earn a good degree. My relationship with the coaching staff will also be important.
Do you have any upcoming visits planned?
I'm going to try to get out to Notre Dame and Wisconsin for bowl practices. Other than that, I'm not sure. I'll have to check my basketball schedule to make sure nothing conflicts.
What goals do you have for your senior season?
To win our conference and win a state championship.
HIGHLIGHTS:
Other recruiting coverage from the weekend: