For months Buckeye fans have followed Ohio State recruiting waiting for this week.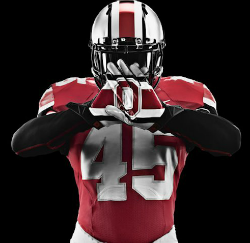 While there were many big weekends that brought in big time high school football prospects to Columbus, there is none that will be bigger than this upcoming Friday through Sunday when the Buckeye coaching staff hosts not only a large quantity of visitors, but also those of the highest quality.
Players hailing from all over the state of Ohio in the 2013, 2014, and 2015 classes will be present at The Game, while out-of-state players from those respective classes will also be in attendance to represent at least 15 different states.
Miles, Derek, and I have been preparing all week to ensure we bring you the best coverage on the interwebs of the big recruiting weekend on tap for the Buckeyes, to go along with what we feel will be the best game day and postgame coverage that you all are already used to at Eleven Warriors.
We already have interviews lined up with the majority of players on the list that are expected to come to the game and will be cranking out stories, blog posts, and forum posts throughout the weekend and next week to make sure you all have the scoop on what is going on with OSU recruiting.
In this edition of the 11W Recruiting Notebook we take a look at some buzz on the trail, as well as dive deep into analysis on the visitors expected to attend the Ohio State-Michigan game this coming Saturday.
Join us after the jump to hear the latest news on Ohio State recruiting as Buckeye Nation prepares for the most exciting time of the year, The Game.
The Buzz
One name that became popular amongst Ohio State fans and recruiting analysts alike when it came to predicting the class was Belle Vernon (PA) Area OT Dorian Johnson.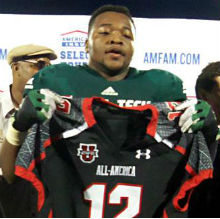 Johnson originally committed to Penn State, but after sanctions were handed down to the Nittany Lions' football program, Johnson decided to open things back up, primarily considering Pittsburgh, Ohio State, and Virginia Tech.
Johnson maintained throughout the whole time that the Panthers had a lead over the Buckeyes and Hokies, but a trip to Columbus for the Nebraska game vaulted OSU up Johnson's list. In fact, just a couple of weeks ago, Johnson announced he would take an official visit to Pitt the weekend of 11/17 and then an unofficial visit to Columbus for The Game on 11/24 and a return for an official visit the weekend of 12/8, leaving many to believe the Bucks were the team to beat.
Unfortunately many believed wrong, as Johnson took his trip to the hometown school last week and left as the newest member of Pitt's 2013 recruiting class. There was thought that the four-star prospect could still make his visits to Columbus, but that apparently will not be the case and Urban Meyer is "forced" to move on to his next target.
While names from the past such as Kyle Meadows and even some committed players have emerged this week, the player to keep an eye on is David Dawson. The Bucks were already recruiting the former Michigan verbal hard, but the heat will be turned up even higher now that Johnson is off the board and the coaches really want to add another offensive lineman to a group that includes Evan Lisle and Timothy Gardner. 
Dawson was supposed to visit for The Game this weekend, but his Detroit (MI) Cass Tech team is playing for a state title on Saturday and he won't be able to make it. The 6-4/280 four-star will still be making a trip to Columbus though, most likely the weekend of 12/7-12/8 when he has expressed interest in spending time with the committed Ohio State prospects, most of whom will be taking their official visits to campus that weekend. Stay tuned to see how this one develops.
Another player whose attendance at The Game was being highly anticipated was Plano (TX) Prestonwood Christian Academy LB Mike Mitchell. Like Dawson, Mitchell has a playoff game this weekend and will not be able to make the trip to Columbus.
Also like Dawson, no date has been set to reschedule the trip, but 12/7-12/8 looks like the target date for both Ohio State and the Mitchell family. Mike still claims the Buckeyes are his leader despite never visiting and he maintains he would like to make a college decision in December, sooner rather than later.
My guess is after spending time with the OSU commits on campus when he makes his official visit, Mitchell will decide to be a Buckeye and announce shortly after. Certainly another situation to keep an eye on.
Vonn Bell was always tentative for a visit this weekend and now it is certain he will not be in the Horseshoe on Saturday as his high school team is still in the playoffs. Bell has listed a top three of Tennessee, Ohio State, and Alabama, and it has been thought the Vols lead as long as Derek Dooley is still head coach in Knoxville.
Well, as you know already, Dooley was relieved of his duties as Tennessee's coach on Monday and the early returns are good for Ohio State. Bell will likely wait to see who Tennessee brings in as their next head coach, but with little time to build a relationship with said person, this situation is trending up for the Buckeyes, who are thought to be above the Crimson Tide on Vonn's list.
A Bell official visit could also come 12/7-12/8, but we will bring that news to you here at Eleven Warriors when it comes.
Finally, one more prospect who had to bail on plans to come to OSU this weekend is Fort Lauderdale (FL) University School LB Skai Moore. Moore and the Suns will be playing in the playoffs on Friday night and there were no flights that would work out to allow Moore to get to Columbus in time for the 12 p.m. kickoff against the Wolverines.
Moore came out this week and listed his favorites in order as Rutgers, Wisconsin, Vanderbilt, and Ohio State, but has only been to the former three on visits. He will indeed reschedule his visit to check out Urban Meyer and the Buckeyes, with that 12/7-12/8 weekend being the target date.
While the Scarlet Knights lead and news of them joining the Big Ten certainly helps their cause, I look for Moore to be a Buckeye if Meyer and the staff dial up the intensity on his recruitment. While on his trip to Madison last weekend to check out the Badgers-Buckeyes game, Moore was heard raving about how he loved OSU's style of play, and even took to Twitter to voice his opinion on his possible future big brother and fellow Floridian, Ryan Shazier. 
Weekend Visitors
The aforementioned visitor list is not only a long one, but also a very talented one, for both the recruiting classes of 2013 and 2014. Of course this list is subject to change right up until the start of The Game, but we feel pretty confident in the majority being accurate.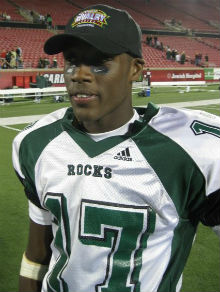 A number of 2013 Ohio State commits will be in attendance on Saturday and they will play a big part in the success of the recruiting weekend. Expected in town are QB JT Barrett, RB Ezekiel Elliott, TE Marcus Baugh, OL Timothy Gardner, OL Evan Lisle, DT Michael Hill, DT Billy Price, DL Tracy Sprinkle, DL/LB Tyquan Lewis, CB Cameron Burrows, CB Eli Woodard, DB Jayme Thompson, ATH Darron Lee, ATH Jalin Marshall, and P Johnny Townsend.
These players are going to be expected to be leaders in recruiting the uncommitted prospects in attendance, as well as serve as an extension of the coaching staff's eyes and ears during the day.
Speaking of those players in the class of 2013 that are planning to be in town this weekend, there are plenty of them.
On offense the names to know are RB David Williams (tentative), WR Shelton Gibson, WR James Quick, WR Demorea Stringfellow (tentative), WR Zach Yousey, WR Corey Smith, TE Mike Heuerman, ATH Ryan Timmons.
Williams is a native of the Philly area and has always had Ohio State in his top 10 despite many believing the Bucks were done recruiting running backs in the class. With Derek Dooley getting canned, Williams has canceled his trip to Knoxville and says he wants to be in Columbus. The only thing that may stop him from coming is the OSU coaches, who apparently have not given Williams word yet if they are willing to host him on an official visit. 
Gibson is as close to a Buckeye as you can be without actually committing. He originally wanted to pledge back in June, but grades/test scores held that up. Apparently all is in check and I would be surprised at this point if Gibson doesn't end up in an Ohio State uniform next season. Visits may follow for Gibson, but I wouldn't be completely shocked if a verbal pledge came this weekend.
Quick broke his ribs in last week's playoff game and will likely sit out as his team plays on Friday. Regardless he is planning to drive up from Louisville to Columbus on Saturday morning for The Game and will stay until at least Sunday, possibly into Monday. With Charlie Strong rumored to leave Louisville for Arkansas or Tennessee after this year, this one continues to trend up for OSU.
Stringfellow, like Williams, has expressed interest in visiting this weekend but it is unknown if the staff will host him on an official visit. He is a current Washington commit and I don't see him ending up in OSU's 2013 class.
Yousey and Smith are two Ohio natives who will be in town for the game. Yousey is an under-the-radar prospect who has a lot of MAC offers, but has been shown interest by Wisconsin and OSU. He is a Plan D option right now, but I know the staff likes his potential and they continue to invite him back on unofficial visits.
Smith is a JuCo star and former Akron Buchtel product who will be making an unofficial visit. He has a return trip planned for an official visit in January so don't expect any movement this weekend.
Heuerman will be in town with his family for Thanksgiving to watch his older brother Jeff go to work against the Wolverines. Mike is committed to Notre Dame and is slated to room with a former OSU commit in Alex Anzalone, but he has stayed in touch with the Buckeye staff and you can bet the house that Urban Meyer isn't going to let him leave town without having a word.
Finally, Timmons has been waiting a long time for an offer from Ohio State, but I don't think he'll get one just yet. It appears he is Plan B at this point, only because there may not be room for him with Quick and Gibson, as well as Corn Elder, above him on the pecking order. Timmons is extremely gifted as an athlete and I would like to see him with an offer, but will need to see how the dominoes fall.
On defense, the expected visitors are DL Donovan Munger, LB Daniel McMillian, LB Trey Johnson, LB Auston Johnson, LB Martrell Spaight, DB Christopher Worley, ATH De'Niro Laster, and ATH Gareon Conley.
Munger has always been high on Ohio State, but it's odd he hasn't pulled the trigger yet. He wanted to take visits and has done just that, including one to UCLA last weekend, and it appears the Bruins could now be OSU's biggest competition, with Michigan State pushing hard for the Shaker Heights product as well. If Munger waits any longer there may not be room for him in this class, so I look for his visit this weekend to be a telling one in terms of how much pressure the staff puts on him to commit.
McMillian confirmed to me yesterday that he will be in town for The Game and he is very excited to get his first taste of Buckeye football. A Florida commit, McMillian is really only looking at the Bucks as another option with former Gators linebacker Ryan Stamper, who now works for OSU, leading the show, as he went to McMillian's high school. I don't think the four-star prospect ends up flipping, but this is Urban Meyer we are talking about and getting him to visit is a big first step.
Another linebacker committed elsewhere coming for a visit is Auburn commit Trey Johnson. Johnson seems more likely to flip, as Gene Chizik's days in charge of the Tigers could be numbered and he has multiple visits planned. Trips to USC and Florida are supposed to follow his Columbus trip, but Meyer and the staff will try to end the recruitment this weekend. A source has told us they think USC is the team to beat with OSU as the next in line, but Keith Niehbur of 247 Sports who covers the region feels the Buckeyes are the team out in front at this point.
Johnson and Spaight are JuCo linebackers who do not have an offer at this point and seem to be a back-up plans behind McMillian, Johnson, Mitchell, Moore, and Worley. They do have some quality BCS offers and are talented players, but I don't see them as a part of this class.
Worley was supposed to announce his commitment yesterday, but talked it over with the Glenville coaches and will hold off a bit more. I don't need to go into too many details here, but I think he is all Buckeye and is a matter of when not if.
Laster is an athlete who can play on either side of the ball, but word is the Bucks may be looking at him at linebacker. He is another kid who has some solid potential, but the only way I see him in Columbus next year is as a preferred walk-on and I doubt he would take that route as he has some quality offers.
Finally, Conley's situation is still up in the air. He is currently committed to Michigan and knows if he takes any visits that will no longer be the case. Oregon and Ohio State are the players in this game if he does take those visits, and getting him to come to The Game this weekend would be a big step in landing an outstanding prospect in the secondary or at wide receiver.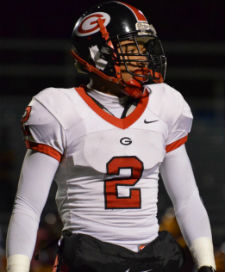 As talented as the 2013 visitors are, the 2014 list might be even more impressive.
On offense the players being anticipated on Saturday are QB Drew Barker, QB Will Ullmer, QB DeShone Kizer, RB Mikel Horton, RB Mikale Wilbon, WR Thaddeus Snodgrass, WR/ATH Marshon Lattimore, WR Derek Kief, WR Josh Malone, WR Avonte Maddox, WR Dominique Booth, ATH Myles Autry (tentative), ATH Marcus Boone, ATH Jalen Hurd, TE Ethan Wolf, OL Nathaniel Devers, OL Jamarco Jones, OL Kyle Trout, OL Marcelys Jones, OL Jimmy Byrne, OL Nick Richardson, and OL Demetrius Knox (tentative). 
Barker is a familiar name to OSU fans, as he has been to campus multiple times and shined at various camps this summer. He is in the top three on the Buckeyes' big board for 2014 quarterbacks and while an offer isn't expected this weekend, one could come in the next few months. Barker originally wanted to make a commitment immediately following his junior season, but now says he will wait until spring or early summer, which bodes well for Ohio State as they want to continue to evaluate their options for the spot in the class.
Ullmer is a new name to fans, but the Washington, DC St. John's star is highly rated as a four-star prospect and says the Buckeyes have been showing serious interest in him lately. Ullmer is ranked as the nation's seventh best dual-threat quarterback by 247 Sports and currently holds offers from Maryland, Boston College, UNC, and Syracuse, yet maintains the Terps, OSU, and Oregon are his top schools.
Kizer, of Toledo Central Catholic, will make the trip down to Columbus with his teammate and current OSU commit, Jayme Thompson. Kizer had a very good junior year and continues to be considered amongst the top choices to land a Buckeye offer, but I don't see that coming anytime soon. I feel that players like Barker, DeShaun Watson, and Kyle Allen are higher on Ohio State's list at this time, but Kizer isn't looking to make a decision anytime soon, so the more he is around Columbus, the better if you are in his camp.
Horton may be Ohio's top back in the class of 2014 and was very impressive this year after shedding about 20 pounds to improve his speed, quickness, and agility. Horton frequently talks to the OSU coaches and thinks an offer could come this winter.
Wilbon is making the trip in from Chicago with an offer list that includes Illinois, Iowa, and Purdue, as well as serious interest from the Buckeyes, Michigan, Notre Dame, and Michigan State. An offer is likely not coming this soon, but Wilbon coming to The Game on Saturday is a smart move and allows the coaches to further build their relationship with him and let him know where things stand.
Snodgrass almost pulled the trigger for Ohio State a few weeks ago, but that decision has been delayed. The thought here is that the coaches wanted to see his grades in a few months before they allow him to commit, but I think they want to buy time to not advert 2013 and 2014 receivers from gaining interest. Either way Snodgrass wants to be a Buckeye and the Bucks want him, so this one will fall to OSU in time, just not anytime soon.
Marshon Lattimore will be in town with the Glenville crew and he might just be the best overall player in the state for the class. Lattimore can shine at both receiver and defensive back at the next level and is getting national attention with offers from OSU, USC, Georgia Tech, Cincinnati, Illinois, Indiana, Michigan, Michigan State, Penn State, and Toledo. Bigger offers are on the way, but it will be tough for anyone to beat Urban Meyer here.
While Snodgrass and Lattimore are cream of the crop when it comes to Ohio receivers, Derek Kief is right up there with them. The 6-5/190 receiver from Cincinnati LaSalle is a fast rising prospect and the good news for Zach Smith is that he grew up as a Buckeye fan. Kief is quiet and keeps things to himself, but that will be hard to do as he is about to explode on the national scene this offseason.
Malone (Tennessee) and Booth (Indiana) are both four-star out-of-state prospects who will be there on Saturday and get plenty of attention from the staff. Malone has an offer in hand already, while Booth is trying to earn one, but both are fantastic players. Maddox (Michigan) is also an out-of-state prospect, but is kind of a sleeper and is flying under the radar at this time.
Autry is a player many fans are excited about as he wears his Ohio State fandom proudly, but he told Derek he is not likely to make it to The Game this weekend as he couldn't get logistics worked out. There is still a chance he makes it in, but don't hold your breath. Either way, the Bucks are still the team to beat.
Boone comes in from Virginia with his teammate Da'Shawn Hand and the pair will be making waves. While Hand is the top prospect in the nation, Boone is pretty solid in his own right, and could project on either offense or defense at the next level.
Hurd currently lists Ohio State as his favorite, which is good news for Urban Meyer as the Tennessee native is rated as a five-star, eleventh overall, and the top running back in the country by 247 Sports. Hurd seeing the environment on Saturday only helps the Bucks extend their lead over Florida, Alabama, Georgia, Michigan, Notre Dame, Tennessee, South Carolina, and many others who have offered.
Wolf is making his second visit to Columbus this season and while he doesn't expect an offer to come on this trip, he maintains serious interest in the Buckeyes. The Minster standout holds offers from Pittsburgh, Illinois, Indiana, Cincinnati, and some MAC schools, but programs like OSU, Notre Dame, Michigan State, LSU, Wisconsin, Michigan, and Louisville are showing major interest.
Finally, the offensive line group might be the best of any on the entire list on that side of the ball. Jamarco Jones, Marcelys Jones, Jimmy Byrne, and Demetrius Knox all hold offers, while Trout, Richardson, and Devers all could in the next few months. The big fish to watch this weekend are Byrne and Knox though, as this visit could have a big impact on their recruitment.
Byrne had OSU as his leader all spring and summer, but then went to a game in South Bend earlier this year and has had the Irish on top since. He has never been to a Buckeye home game, so this is the hometown program's chance to make a big impression and claim the top spot back.
Knox is tentative for the trip and he refuses to tell me or any other reporter if he is actually making the visit. He is supposed to make his college decision on Monday and doesn't want to let people know if he's going to be in Columbus this weekend, as it could give away his decision. I expect him to choose Texas on Monday, with OSU coming in second, but I think regardless of who he picks (if he even makes a decision) this is one that could play until NSD in 2014. Remember, Knox is originally from Springfield before moving to Texas, so the Bucks have a real shot here.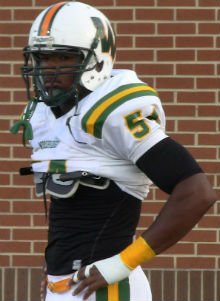 On defense the visitors include DT Jaleel Fields, DL Da'Shawn Hand, DL Joe Henderson, DL Lawrence Marshall, LB Raekwon McMillan, LB Clifton Garrett, LB Nile Sykes, LB Carl Fuller, LB Tinashe Bere, LB Kyle Berger, LB Davonte James, CB Darius West, CB Jalen Embry, DB Erick Smith, DB Alonzo Saxton, DB CJ Reavis (tentative), DB Quin Blanding (tentative), and ATH Dravon Henry.
The defensive line group is a solid one, but is headlined by Hand, who is the country's top player. The five-star, all-world prospect will be making the trip in with his teammate Marcus Boone, as well as his coach. We were told he spoke to Urban Meyer on the phone this week and told the coach he was so excited for The Game that he felt like he was actually playing in it. Meyer responded saying he could visualize Hand holding up the crystal ball in a Buckeye uniform. This one should get exciting.
If the 2014 offensive line group is the best on that side of the ball, the linebacker group for both 2013 and 2014 is the best on the defensive side of the ball. Raekwon McMillan, Clifton Garrett, and Nile Sykes are ranked amongst the best at their position in the entire country, while St, Ignatius's Kyle Berger is coming to town after picking up an OSU offer late last night. This is a great opportunity for these star prospects to all spend time with each other and get along and I can see three of the four aforementioned names ending up in Columbus comes NSD next year.
At defensive back the star power depends a lot on the tentative visits of Blanding and Reavis, but getting Darius West and Alonzo Saxton on campus allows the staff to host two of Ohio's best for 2014. West is my personal favorite and I could definitely see him getting an offer from OSU this offseason.
Finally, Dravon Henry is an outstanding athlete from the Pittsburgh area and the four-star prospect is a touchdown machine for Aliquippa Senior High School. I am of the opinion Henry ends up on the defensive side of the ball in college if he picks Ohio State, but right now he only holds offers from Rutgers, Pittsburgh, Maryland, and West Virginia. Henry is really excited to be in the Horseshoe on Saturday and meet the OSU coaching staff.