"I'm honored to be the coach of an 11-0 Ohio State Buckeye team, especially one that's very deserving. We played a great defense in a great environment and their offense, to keep that running back somewhat in check, I thought our defense did a fantastic job. That one drive was painful to watch at the end where they got a score to the tying touchdown. Another overtime win and that's good to see from the Buckeyes." - Urban Meyer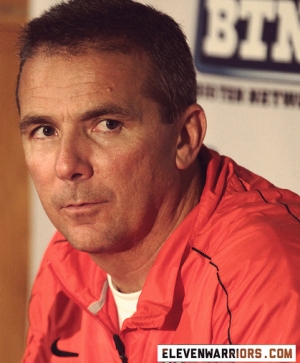 On a night when the Buckeye offense was stymied by Braxton's worst effort of the year and, at times, some curious play calling that took an otherwise rumbling Carlos Hyde out of the game, Ohio State took advantage of a huge play on special teams and some gritty defensive performances highlighted by John Simon and Ryan Damn Shazier to leave Madison with a 21-14 overtime win over Wisconsin. 
The victory improved the Buckeyes to 11-0 with only The (Bowl) Game standing in the way of an improbable perfect season. 
With losses suffered by Kansas State and Oregon, the Buckeyes also vaulted to #4 in the AP Poll behind Notre Dame, Alabama and Georgia. 
It really has been an amazing ride in year one of the Urban Meyer Experience and to potentially cap off an unbeaten season against That Team Up North on Senior Day in the 'Shoe would be downright orgasmic. 
But before you dive headfirst into Hate Week, let's take a quick look at Five Things from the big win over Mr. Buzzcut's Badgers. 
Braxton Blues
For the first time all season, Braxton failed to find the end zone either through the air or on the ground and struggled to get anything going against a Badger defense that committed at least one, if not two, spies to slowing the catalyst of the Buckeye offense.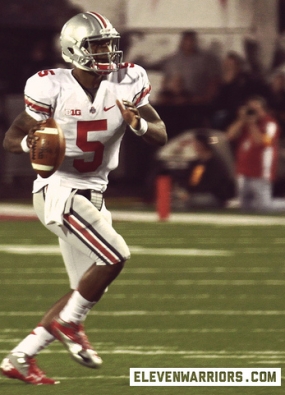 Miller was held to a season-low 97 yards passing on 10/18 and was just one yard shy of tying his worst rushing effort of the year with just 48 yards on 23 carries (2.1 per). 
Beyond the numbers, it was the way he went about struggling that was often painful to watch. 
His first half wasn't much to write home about but he engineered an eight-play, 67-yard TD drive that gave OSU a 14-0 lead as he connected on 4/4 passes for 37 yards, including a 12-yarder to Philly on 3rd and 5. The toss to Brown was one of his best plays of the night as he looked right before shifting his eyes left and finding Brown just beyond the sticks. 
For the half, he completed 8/12 for 78 yards but ran for only 36 yards on 13 carries, but that mediocre production dwarfed his miserable 2nd half (not counting OT) as he went just 2/6 through the air for 19 yards with eight carries for exactly zero yards, though two of those carries were sacks for -14 yards. 
He did bounce back briefly in overtime with two carries for 12 yards including a nifty scamper left on 2nd and 6, giving the Buckeyes 1st and goal at the two. 
In the pocket, he either had trouble finding an open receiver, or else none of his targets could gain separation as he continuously held the ball way too long against a physical Badger front. 
Even with his struggles in the passing game, it was his decision-making in the ground game that proved the most frustrating. With Herman/Urban continuing to dial up the zone read, Braxton often misdiagnosed the Badger front. Not only did this stifle his personal ability to gain yards but it took the ball out of Carlos Hyde's hands, who was having little trouble finding running room when given the opportunity. Give the Badgers some credit obviously but I bet Braxton won't be thrilled with his reads upon watching the tape.
After the game, Braxton was still at a loss for exactly what Wisconsin was doing to slow him down. As such, you can expect Mattison to employ similar spy tactics to keep Miller from getting outside. That said, it wasn't all on Braxton. Too often, Wisconsin stacked the box and even in cases of audibles, Braxton and the staff failed to exploit what was often a vacated middle of the field with screens, slants or crossing routes. 
I have to believe the Buckeyes will be much more prepared for such schemes should Michigan try to replicate Wisconsin's success. 
That said, looking at Braxton's individual production, his numbers have dropped sharply over the last four games. Amazingly, he's completed just 49% of his passes going back to the overtime win over Purdue and on the ground, he's averaging just 3.8 yards per carry (78/302). 
A bounce-back effort against Michigan sure would be a nice springboard to 2013. 
Touchdown Philly's Back Again
It's not often that a play occurring so early in the game is considered to be monumental but Philly's 68-yard punt return touchdown giving the Buckeyes a 7-0 lead with 1:58 left in the 1st quarter was absolutely gigantic.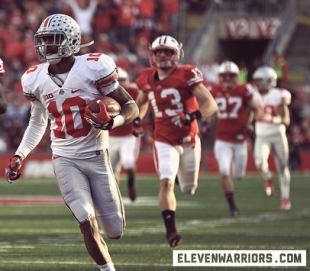 Philly will be the first one to tell you it wasn't the most difficult or electrifying punt return of all time thanks largely to a line drive punt from Drew Meyer, but he showed great awareness in allowing the initial wave of gunners to fly by and reading one chip block before he juked Meyer to coast into the end zone for six. 
The return was big in that it gave the Buckeyes an early lead on the road and the score only increased in value as it was clear the Ohio State offense was having a tough time getting anything going. 
Even bigger, this didn't seem to be the night to ask the Buckeye offense to overcome a deficit and playing with house money like that took a little pressure off. 
Additionally, the score sucked the life out of what would later become the usual insane atmosphere in Madison. 
Coming into the year, I figured Brown would be a top two receiver but I was far from convinced that he would be that third playmaker the Buckeyes could count on to complement Braxton and Hyde. 
As it turns out Philly is leading the team with 52 catches and 574 yards with two scores and he now has two punt return touchdowns to his credit, with both serving as key plays in big wins over the two toughest opponents on OSU's schedule to date (unless you prefer PSU over Wisconsin). On 14 punts, Philly is also averaging an impressive 13.6 yards per return. 
And he'll be back next year to produce and also help groom guys like Marshall and Elliott. I can't imagine he won't be a captain in 2013. 
Just Win Baby
How lucky are we to have Urban Meyer in Columbus?! 
I could write a few paragraphs every week on what he has done to re-energize the program and shift the culture to not just winning but being confident about it and making no bones about wanting to kick people's asses. 
Complete Game Coverage
It's just such a different mindset as a fan watching the game. Even when Tress was cranking out wins, we didn't always feel confident about how things would unfold or if the team would take the opportunity to try and rip out the heart of the opponent, goodwill be damned. 
Urban Meyer is simply one of those special personalities that young players gravitate toward and want to give their all for. He exudes a belief that failure is not an option but that winning only comes with being willing to put in the work. 
Coming off a bye week, I was a little worried about how the Buckeyes would look until I got a glimpse of how Urban has handled such scenarios in his career. Once Kyle told me Urban was 12-1 following off weeks during the season and 32-2 when having more than one week to prepare for a game, I felt more at ease. 
Sure, the bye week didn't seem to do much positive for Braxton and there were other breakdowns but as usual, Urban found a way to win the game. 
If he and his team can find a way to prevail at home next week to cap one of the best honeymoons in the history of Columbus, I can't even imagine the momentum this team will take into the offseason, to spring to fall camp. The intensity the team will play with knowing they'll be in the postseason hunt is going to be off the chain. To think 2012 could just be an appetizer is unreal. 
Curious Play Calls
For one of the rare times this year, there was a ton of chatter during the game about the offensive play calling. Typically, such banter has been reserved for Fickell's schemes on defense though that group also drew the ire of fans, mostly late in the game as Wisconsin reached the two on their second-to-last drive in regulation before scoring a touchdown with :08 on the clock to force overtime.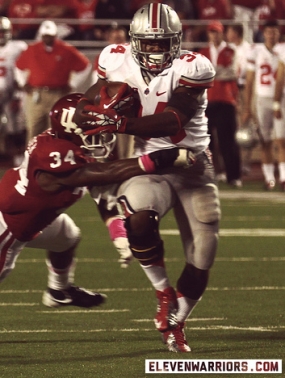 Two of the more curious offensive calls occurred on 3rd downs on Ohio State's first two possessions of the game. 
On OSU's opening possession, they had marched from their own 16 to the Wisconsin 37 before facing 3rd and 7. Against a seven-man front, Braxton audibled at the line and despite having only five blockers and an empty backfield, dialed up a QB keeper for no gain. A puzzling decision to say the least. 
After the Bullets forced a Badger punt and the Buckeyes had moved from their own 20 to the Wisconsin 38, OSU again faced 3rd and 7. With the play clock almost exhausted and the Buckeyes again in shotgun with an empty backfield and five blockers against a seven-man front, Urban called timeout. 
Interestingly, still outnumbered with six Badgers at the line and OSU still with an empty backfield, Miller stuck with the original play call which was a doomed QB keeper. The play went for a loss of four and the Buckeyes were forced to punt it away. 
In addition to those questionable decisions both by Braxton and the staff, it was also easy to take exception with the number of zone read plays that were called considering Miller was either often struggling to properly read the play or the Badgers simply had a favorable alignment on a particular play. 
Those calls were frustrating not only because of Braxton's apparent misreads but also because Hyde was making hay out of the power sets more often than not. 
He was only given the ball five times in the first half but was averaging almost seven yards a pop. With Miller unable to reach the edge, it seemed like plowing straight ahead, especially when Wisconsin often had their LBs at the line of scrimmage, meant Hyde just needed a small crease to reach the back line of the defense. 
Hyde was given twice as many carries in the 2nd half/OT and still averaged 5.3 a carry, finishing with 15 for 87 and two touchdowns on the night. 
Don't get me wrong, this isn't meant as a knock on Tom Herman (nor Urbz obvi) because he's a beast in a headset that I believe has the chops to be a head coach at a power conference school someday. I just think coaches, like players, can have an off moment here and there. 
Simon Says Sack
John Simon was an absolute beast yesterday. The senior hasn't quite grabbed the headlines some envisioned heading into the season but he's still the inspirational leader of this team and is having a fine overall season highlighted by his four-sack performance last night.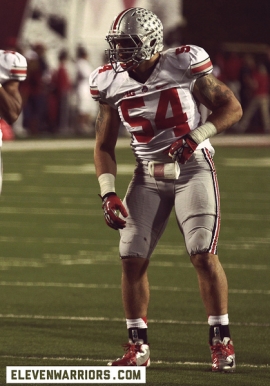 The four sacks not only tied a school single-game record already shared by himself, Jason Simmons, Big Vern and Bobby Carpenter, but the four TFLs moved him up to 8th in the history of Ohio State.
Simon was solely responsible for -36 yards on the day via the sacks and he threw in two other stops and a pass breakup taboot. 
The pass breakup was a sensational play as he quickly diagnosed a 3rd and 5 pass to his side. Off the snap, he took two aggressive steps to pressure the pocket but reading the quarterback's eyes, he quickly settled his feet and was able to jump and knock down the pass thanks to his impressive awareness. It sounds simple but it was truly an outstanding individual effort. Even better, the ensuing punt he forced was taken to the house by Philly to give the Buckeyes the early 7-0 lead. 
On the next series, Wisconsin was hoping to stifle the OSU momentum but Simon would have none of it, immediately bringing down Phillips for a six-yard sack on 1st down, putting the Badgers in a hole they couldn't get out of as the Buckeyes forced a three-and-out. 
Early in the 3rd quarter, with Ohio State nursing a 14-7 lead, Simon forced another three-and-out as he again got pressure and sacked Phillips for a loss of 13 yards, pushing the Badgers back to their own 25. 
His two other sacks came on the missed field goal drive that ended on the first play of the 4th quarter and during Wisconsin's touchdown drive that tied the game at 14. At the time, with Wisconsin taking possession at the OSU 41 with 1:33 left in regulation following a 34-yard shank by Buchanan, Simon's 11-yard sack on 1st down looked like an enormous play but to Phillips' credit, he responded with five straight completions (minus a clock-killing spike) including a five-yarder to Jacob Pederson to tie the game with eight seconds left.
Overall, it was an outstanding performance by Simon and with just one game left, at home against Michigan, you can expect he'll play lilke his hair is on fire next week for 60 minutes.
I look forward to Simon putting a nice cap on a terrific career.  
Thing 5.1: Matt Millen is a turd. Reid "Fraggle"? Ryan "Shayzurr"? He's an embarrassment at everything he's done since he hung up the cleats. 
Thing 5.2: Montee Ball is one hell of a football player. Love watching him play. 
Thing 5.3: It'd be nice to see Linsley work on his shotgun snap accuracy. Those things were higher than Snoop all day long.