Much was made of Ohio State putting the band back together. No, not TBDBITL - the Ohio State linebackers. It only took the Buckeyes 11 games to get three top-flight linebackers in the starting lineup together.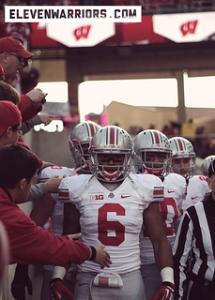 But it certainly wasn't the unit linebackers coach Luke Fickell had in mind.
Senior captain Etienne Sabino missed the past four and a half games with a broken lower-right leg. While he was gone, fullback and fellow captain Zach Boren moved to linebacker to help alleviate the attrition. Ryan Shazier has been Ohio State's leading tackler throughout the season and has two conference defensive players of the week awards.
"Having Sabino back gives you a sense of stability that we haven't had there in a while," Ohio State head coach Urban Meyer said earlier in the week.
On Saturday, the linebackers proved that stability was present by combining to make 30 tackles and four tackles for loss. Boren and Shazier each had 12 tackles, while Shazier and Sabino teamed up to make one of the biggest plays of the game, knocking the ball loose from Wisconsin running back Montee Ball late in the fourth quarter before he crossed the goal line.
"What those guys are doing out there is showing great chemistry," safety Orhian Johnson said. "(Sabino) is a great leader, (Shazier is) going out there and being a playmaker, and Boren is just tough-nosed. We definitely have confidence in them."
It wasn't all good news on the defensive front, though. Ball gained 191 yards and the Badgers scored in the final seconds of regulation to force overtime. The touchdown pass, from Curt Phillips to tight end Jacob Pedersen, went against Boren.
"It was frustrating," Boren said. "You just know they're going to go to him. He's their go-to receiver. I hit him coming off the line. I was getting physical with him, trying to beat him up a little, because that's what linebackers have to do to tight ends to hang with them.
"I thought I was in great position, but Curt Phillips threw a great ball."
Wisconsin took that momentum into overtime. But that's when the Silver Bullets clamped down. On 3rd-and-4, Sabino stuffed Ball in the backfield to force a less manageable 4th down play.
Moments later, Ohio State was 11-0.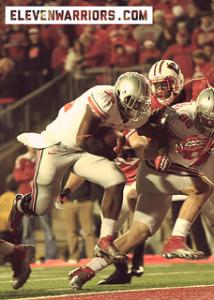 Ground Game
Carlos Hyde carried the ball 15 times and gained 87 yards. That's an average of nearly six yards per carry. Yet, in the second half Saturday, Ohio State went away from the running back.
"Carlos Hyde has got to get the ball a little more," Meyer said.
Said Hyde: "I was trying to tell my coach, 'Come on, let me run some power or something, let me get this going, let me get this spark going for this offense.' I just felt like if they would have given me the ball more, I could have gotten the momentum going."
Complete Game Coverage
In the second quarter, Hyde went untouched, 15 yards for a touchdown. But his biggest carry of the night was the 11-yard run he had on the first play of overtime. It helped halt Wisconsin's momentum and acted as a springboard for an offense that floundered late in the game. Hyde scored the game-winning touchdown in overtime.
"They're the No. 1 team in the Big Ten versus the rush, and we couldn't get that going," Meyer said. "We are certainly not a finished product on offense and it showed.
"I can't stand watching it, and I'm sure people can't stand watching it."
Fading Dream
Braxton Miller's Heisman hopes had already taken a hit. But on Saturday, his chances of being a finalist were put on life support.
Miller was the victim of multiple spies and could never get to the level of production that has been seen throughout the season. He had 70 total yards after the first quarter but only tacked on 75 yards in the final three stanzas. Miller was averaging nearly 300 yards of total offense per game.
"I have no idea what they did, but they did a good job at it," Miller said.
Miller averaged 2.1 yards per carry. He completed 10 of 18 passes for 97 yards with zero touchdowns or interceptions.
"I couldn't get to the edge," Miller said. "Whenever I tried to cut back there was somebody shooting the gaps. They had a good game plan. It was frustrating."