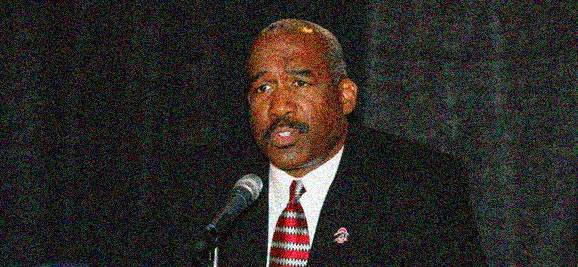 When the NCAA handed down its verdict to Ohio State last December, which included a one year bowl ban and the loss of nine scholarships over three years, athletic director Gene Smith told the New York Times that he was "surprised and disappointed" at the decision and that he was thankful for parking his car shortly after receiving the news because he was "livid."
Despite an investigation that turned up improper benefits for eight players and a head coach failing to bring forward information about his players, Smith, Gee and the Ohio State brain trust, which included star consultant Chuck Smrt, had already accepted an invitation to the Gator Bowl instead of self-imposing a postseason ban for the 2011 squad that stumbled to a 6-7 season.
They were counting on precedent—even mentioning more egregious cases that avoided a bowl ban—but what they received from the NCAA was, in Urban Meyer's words, "a sucker punch that hit me right in the stomach."
This was Mark Emmert's NCAA and it's an organization hell-bent on doing whatever it can to clean things up after 18 months of scandals had rocked the sport.
You could argue that Ohio State didn't account for this change in posture and that left a lot of fans frustrated. The Buckeyes are 9-0, after all, and their season will end in three weeks, regardless of finish. If Smith had only taken the ban last season, maybe the worst Buckeye team in a generation would have been grounded for the holidays instead of the undefeated and getting better by the week edition Urban Meyer has mowing down the Big Ten.
This will be a decision that haunts us for a while, but we'll never really know what the correct play should have been. It's entirely possible that had Ohio State imposed a bowl ban in 2011, the NCAA would have responded by tacking an extra year on, not impressed with a .500 team voluntarily ducking out of a mid-tier bowl. Looking at what Penn State received—and I'm not comparing the violations, just the notion that the NCAA pimp hand is heavy these days—is that an unreasonable assumption?
Maybe not.
It's kind of like a Monty Hall problem and it's not an easy one to solve. Miami is playing the game again after self-imposing a postseason ban last season:
Being atop the Coastal Division this late in the season is both thrilling and thorny for Miami, which is expected to soon decide whether to self-impose a postseason ban for the second straight year, a move that would be related to the ongoing NCAA investigation into the Hurricanes' compliance practices.

Such a decision would be an attempt to lessen the impact of whatever sanctions ultimately get imposed against Miami. Those sanctions are likely to be handed down early next year, based on the expectation that the Hurricanes will receive their notice of allegations - in essence, the end of the investigation phase and start of the penalty phase - from the NCAA in the next few weeks.
Does self-imposing a ban on a BCS bowl season look better in the NCAA's eyes than opting out of Jacksonville? Miami athletic director Blake James doesn't think so. Publicly, at least:
''It's a situation where you just have to look at what's best for your program and institution and that's the decision you make going forward,'' James said. ''I don't think you necessarily weigh all sorts of different variables. You have to look at the whole picture and decide what's best.''
The school of thought has traditionally been to come in a little under on the penalty front because if you do, you have two outcomes: the NCAA agrees with you or adds to your penalty. If you over-penalize yourself, you weren't able to count on the NCAA saying, "You might have been a little too hard on yourself. Here, let's roll some of these sanctions back."
The NCAA is attempting to standardize both violations and punishments, but until schools get a feel for how these new initiatives will actually play out, perhaps it is smarter to cut off your bowl to spite your season.
---
Here's your full slate of relevant or otherwise interesting games for today:
| Time | GAME | TV | INTERNET | FAVORITE |
| --- | --- | --- | --- | --- |
| 12:00pm | Michigan at Minnesota | BTN | BTN2GO | MICH (-12½) |
| 12:00pm | Missouri at #7 Florida | ESPN2 | WatchESPN | UF (-16) |
| 12:00pm | #14 Oklahoma at Iowa State | ABC | ESPN3 | OK (-10½) |
| 12:00pm | Temple at #12 Louisville | ABC | ESPN3 | LOU (-13) |
| 12:00pm | #16 Texas A&M at #17 Mississippi State | ESPN | WatchESPN | A&M (-7) |
| 3:00pm | TCU at #23 West Virginia | FOX |   | WVU (-6½) |
| 3:30pm | Illinois at #8 Ohio State | ESPN | WatchESPN | OSU (-27½) |
| 3:30pm | Iowa at Indiana | BTN | BTN2GO | IOWA (-2½) |
| 3:30pm | #21 Nebraska at Michigan State | ABC/ESPN2 (Map) | WatchESPN | MSU (-1) |
| 3:30pm | Penn State at Purdue | ESPNU | WatchESPN | PSU (-2½) |
| 3:30pm | Pittsburgh at #4 Notre Dame | NBC | nbcsports.com | ND (-18½) |
| 3:30pm | Texas at #19 Texas Tech | ABC/ESPN2 (Map) | WatchESPN | TTU (-2½) |
| 7:00pm | #3 Oregon at #18 USC | FOX |   | UO (-6) |
| 8:00pm | #1 Alabama at #5 LSU | CBS | cbssports.com | BAMA (-8) |
| 8:00pm | Oklahoma State at #2 Kansas State | ABC |   | KSU (-7½) |
| 10:30pm | Arizona State at #13 Oregon State | ESPN2 | WatchESPN | ORST (-3½) |