Around The Oval is our daily look-in at the Ohio State sports that don't always get the coverage they deserve.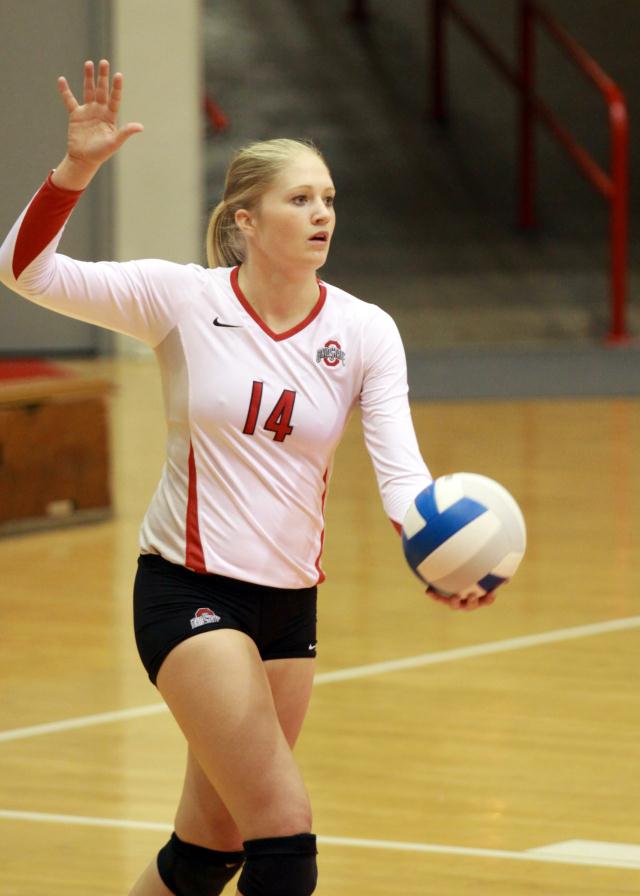 We say this every week in this column – but yet again, it's another weekend, another victory for Urban Meyer and the boys. They had a very successful trip down to Happy Valley, walking out with a 9-0 record. They weren't the only OSU athletic team to have some success this weekend, though.
We'll start off with a big upset by the Ohio State women's volleyball team, which went on the road to Lincoln, Nebraska, and defeated the #4 ranked Nebraska squad at the NU Coliseum on October 26th. They won, 3-1 (25-21, 26-24, 19-25, 25-23), and this was OSU's first victory over the Cornhuskers since 1991. Four Buckeyes notched double-digit kills in the win, including senior Mari Hole (20), senior Emily Danks (10), senior Mariah Booth (10) and junior Kaitlyn Leary (14)
The next night, the Buckeyes swept Iowa (25-17, 26-24, 25-12), improving their record to 17-7 (8-4 Big Ten). Hole and Leary finished with 14 kills each to lead the squad, while Booth finished with 11 kills. Davionna DiSalvatore and classmate Julianne Mandolfo had 16 and 11 digs, respectively.
The Buckeyes are now ranked #15 in the country, and next return to action November 2nd, hosting Wisconsin in a 7 p.m. match at St. John Arena.
Women's Soccer
The Ohio State women's soccer team closed out their regular season by defeating Indiana, 5-0, Oct. 26 at Armstrong Stadium in Bloomington, Ind.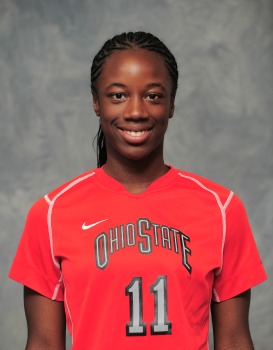 Senior forward Tiffany Cameron broke the Ohio State career goals record, previously held by Lisa Collison and Lara Dickenmann, in the 38th minute with her 36th career tally before adding her 37th career tally in the 55th minute. With six points on the evening, Cameron passed Dickenmann for first on the Buckeyes' single-season points list with 41. 
The senior also passed Dickenmann for second on the Ohio State career points list with 90, five short of Lisa Grubb's 95. Ohio State moved to 29-1-1 all-time when Cameron has scored a goal.
The Buckeyes return to Bloomington, Ind., for the Big Ten Tournament. Ohio State begins tournament play against Nebraska at 4:30 p.m. on Wednesday, Oct. 31.
Men's Hockey
The Ohio State men's hockey team skated to a 1-0 win over CCHA opponent Bowling Green Oct. 26, using 25 saves from senior goalie Brady Hjelle and an unassisted goal from sophomore forward Ryan Dzingel to earn the win. 
Hjelle was named CCHA Goalie of the Week with his performance – the shutout was Hjelle's third collegiate whitewash and second at Ohio State. He blanked Alabama-Huntsville on the road Nov. 4, 2011 and shut out Minnesota Feb. 27, 2010 while playing for Minnesota Duluth.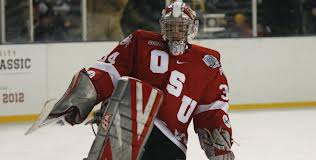 The Buckeyes returned to the ice against Bowling Green again the next night, and they rallied from a two-goal deficit en route to a 3-3 overtime tie. Sophomores Matt Johnson and Tanner Fritz and freshman Tyler Lundey all scored for Ohio State, with rookie Anthony Greco adding two assists. Freshman goalie Collin Olson got the nod, and had a career-high 36 saves in the victory.
Ohio State next faces Alaska in a series at the Schottenstein Center Nov. 9-10. Game times are set for 7:05 p.m. both nights.
Men's Soccer
After last week's crushing 1-0 loss to #2 Akron at Jesse Owens Memorial Stadium, the Buckeyes needed to rebound. Although they didn't come away with the win, they battled back from a two-goal deficit in the second half to force overtime and come away with a 4-4 draw at Jeffrey Field in University Park, Pa., against Penn State.
Sophomore forward Kenny Cunningham, senior forward Chris Hegngi and freshman forward Louie Berra accounted for the Buckeye scores, while sophomore midfielder Brady Wahl added a pair of assists in the first half. The four goals tied Ohio State's season high and the eight combined tallies stand as a single-match high in any game with a Big Ten team this season.
Ohio State concludes the regular season at 1 p.m. Nov. 4 against Wisconsin at Jesse Owens Memorial Stadium. The game will be Senior Day for the team's four-year players.