In May, Ohio State head coach Urban Meyer said talent alone can lead teams to eight- or nine-win seasons. Discipline gets you a few more, but something special and magic has to take place for 11 or 12 wins.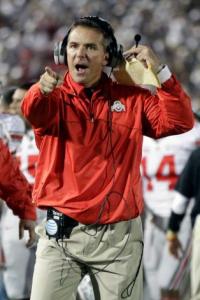 Nine game into his first season at Ohio State, Meyer has the Buckeyes entering that special territory at 9-0. Whichever way they've needed to do it, the Buckeyes have won. The season started with a rout of Miami (Ohio), but it wasn't a trendsetter. The main theme of the year has been the closeness of many games.
The defense has bent plenty, though it's starting to become more upright, and quarterback Braxton Miller has evolved into Ohio State's do-it-all force on offense and an escape artist. Even backup quarterback Kenny Guiton has gotten into the act.
"This is a special team," Meyer said. "They're fighting for each other. It's a refuse-to-lose type atmosphere. Some of us have seen teams that play really well and they're blowing teams out all the time. We're not that type of team and I can give you 150 reasons why.  However, we're a bunch of guys that work really hard, blue-collar approach, that show up every Tuesday and want to get better. You don't want anything else as a coach."
Uncertainty surrounded Ohio State as it entered a season that includes the lack of a postseason. Not only that, but the Buckeyes would be implementing a new offense. A soft schedule meant eight or nine wins was probable, but with three games to go, Ohio State is now favored to end the season undefeated. 
In March, Meyer referred to the offense as a "clown show." The offensive line was not transitioning to the spread well, the quarterback was still playing like a freshman and no wide receivers were becoming a legitimate deep threat.
My, how times change.
Seven months later, Ohio State's offensive line has turned into one of the best in the Big Ten and the Buckeyes' top line in several years; Miller has eclipsed the 1,000-yard rushing mark, run for 12 touchdowns and thrown for an additional dozen; a year after 14 receptions led the team, that number has been achieved by three different receivers who have 11 touchdowns between them. 
The veterans on the team have been big contributors in Ohio State's return to national prominence after a one-year hiatus. They saw in the early part of their careers how winning teams operate and experienced that success. Knowing what it takes to build a winning product, the Buckeyes set out to do just that.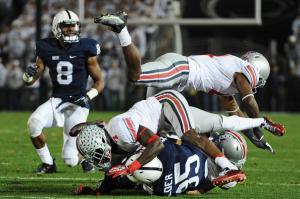 "We put in so much work during the offseason and became so close," fullback-turned-linebacker Zach Boren said of he and his teammates. "Things were so hard and miserable at times that you just came together as a team. Late in games when we're down, someone makes a play. We have that fighting mentality that great teams have. I don't know what it is. It's remarkable."
It has led some to compare the 2012 Buckeyes to the same Scarlet and Gray-clad bunch that won the national championship a decade ago. The biggest similarity is the knack for finding a way to win.
It started against California, when Miller connected with his favorite late-game target, Devin Smith, as the Buckeyes eked out a victory. The same duo hooked up in East Lansing for the game-winning touchdown. But the Purdue win served as a miracle that no one saw coming.
"It's much easier for players and coaches to believe in something when they can actually see those results," defensive line coach Mike Vrabel said. "We did it this way, we played this way, we prepared this way, and guess what? It worked. So it's real easy to say let's continue to do it. When you don't have the success, it's harder to say let's keep doing it."
Ohio State can't play for a national championship and technically isn't even in line to win the conference title. It can capture the Leaders Division championship, however. With three games left in the regular season, it appears that the Buckeyes will win at least a share of the championship.
For some, though, the postseason ban is inconsequential.
"We feel that if we go 12-0, we're the best team in the country because no one beat us," defensive back Adam Griffin said.
Anyone that's seen Alabama and Ohio State play this season would think otherwise, but without them playing each other, there's little in the way of Ohio State's claims.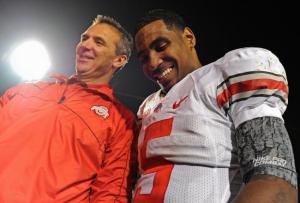 Saturday night in State College was the Buckeyes' biggest test of the season: a road game in a hostile environment against a team that was victorious in five consecutive games. Penn State's momentum and confidence level led many to pick the upset. But once the scoring began, Ohio State had no problem dismissing the Nittany Lions.
"To go on the road, to face adversity, face injuries, to have an offense on your team that's not doing very well, and your defense just scores and hangs in there, you're dealing with special teams woes because new guys are playing new positions every darn week," Meyer said. "I see some of the intangible locker room conversations, and I see a team that is a special team."
Meyer's past success spoke for itself. But to be in this position with three games to play may be his best coaching job yet. It's already turning into one of the most fun seasons Meyer has had in 11 years as a head coach.
Losing affects few coaches in a more negative manner than Meyer, as evidenced by his health concerns at Florida. The pressures that come with the job overwhelmed Meyer and led him to stepping back and reevaluating how he went about things.
At Ohio State, Meyer has kept that appropriate balance between football and family – keeping it in centerfield as he says. With nothing but wins on his resume, it's been almost all smiles from the head coach.
"I try to live in the moment," Meyer said. "I love coming to work. I love walking in the team meeting room. I guess that's rewarding. You really enjoy what you're doing. I see development. 
"There is nothing better. Other than winning a game, I'm putting that right there, and I'm seeing it happen every day here, which is why we all love to do it."
There are no stragglers on the team anymore – the players have bought in. The offensive system works and the defense has continued to improve. Move a senior captain from offense to defense – no problem. Boren has now developed into one of the Buckeyes top defensive threats. In three games at linebacker, he already has 20 tackles. The memories of yesteryear and all the troubles that came with it now seem so far away.
"I think it's a testament to the commitment of a group of guys that refuse to lose a game," wide receivers coach Zach Smith said. "There's a lot of stuff we can improve at every position in every phase. But what you love to see is that teamwork and that cohesion of players that go out and win the game because they have the passion for each other and this university and ultimately the team."