Happy Tuesday all. I hope everyone has recovered from their Halloween-themed gameday party. Sometimes you've got to dress up as a character from TLC's Breaking Amish while you watch Braxton breaking ankles. Amirite? 
Let's jump right in.
A SPECIAL BUNCH. As Kyle reported, Meyer had this to say about his team in the Monday presser:
"This is a special team. They refuse to lose. They fight for each other. It's a bunch of guys who show up each week and work hard."
The AP's Rusty Miller helped frame that quote in the context of this incredibly unique season, ultimately helping fans appreciate how far this team has come.
Humor me for a moment and transport yourself back to the early spring when you were hearing things like this:
"Meyer called [the offense] "a clown show,'' with players running into each other, missed assignments and the ball frequently squirting loose."
Now, far from a circus, this Buckeye squad is 9-0 and beginning to look a lot like the 2002 team that found any way to win. A lot of that magic stems from a unique bond many teams describe, but few have.
This from WR Evan Spencer: 
"I wish that everybody in the world could see the kind of camaraderie that we have between all of us. It's unbelievable. We haven't played perfect. And we haven't really played good at times. But at the end of the day we'd give our right arm for the guy next to us and that's what making us win.''
In any other season, that type of talk might sound like media lip-service, but in 2012, winning for one another is truly all this group has. In the offseason many opinions were formulated regarding the effect of a bowl ban, and few speculated it would be a team-builder.
Well, nine games in it seems the NCAA's fire has forged an incredibly strong will to succeed.
This from senior Zach Boren:
"We put in so much work during the offseason and became so close. Things were so hard and miserable at times that you just came together as a team. Late in games when we're down, someone makes a play. We have that fighting mentality that great teams have. I don't know what it is. It's remarkable."
Remarkable indeed.
KEY ENDORSEMENT. The Braxton Miller Heisman hype train has been running full-steam since late September, but there was one very important passenger who had yet to board: Urban Meyer. The head coach continually deflected Heisman talk, often replying with something akin to "Braxton's got a long way to go."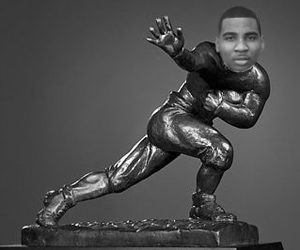 Well, that stance changed as of yesterday (sort of):
"I've always tried not to [talk about it], but when I'm asked a question about it, I try to give my honest answer. Do I believe he's a Heisman candidate? I do. I didn't say that before, but I do believe Braxton is a Heisman candidate."

"He has to play much better, however, just from sheer production for a team that is 9-0, that puts him in that category -- and that's without knowing all the other candidates."
It's great to hear Meyer finally come out and say this. If Miller's numbers continue to shine I believe you'll see the head coach campaigning outright for his sophomore signal caller over the last three games.
What do you think? Is Miller a lock for an NYC invite?
OH YEAH? In perusing the interwebs for pieces to include for the Skully, I came across this Comcast SportsNet article by Chris Davies. I clicked on it only because the title seemed so mind-numbingly obvious: "Key for Illinois: Contain Braxton Miller."
Forgive me Davies, but…duh. Anyhow, in scrolling through the story a quote from defensive tackle Akeem Spence caught my eye:
"He's a lot better than Pryor. He gets in the open field and he makes guys miss and he's one of the best in the conference as a sophomore. Braxton's gonna make you miss, he's going to run you over – he's going to do it all."
Wow, what do you think of that? Better than Pryor?
Statistically Braxton is the better runner, amassing 1,093 yards on 166 attempts in 2012. To put things in perspective, in 2009 (arguably TP's most successful rushing year) Pryor had 162 rushes for 779 yards, leading the Buckeyes to a Rose Bowl win.
In terms of passing, Braxton is on pace to best Pryor's sophomore numbers, but Pryor made quite a leap between his sophomore and junior year when it came to slinging the rock. 
You've got to believe under Nick Siciliano's Tom Herman's tutelage, Braxton's progression will be greater than or equal to that of Terrelle.
So what do you think? Is Braxton better than Pryor? Both have shown they can step up on big stages. Who would you take for a must-win game as your signal caller?
ROBYVILLE: POPULATION ONE. According to Meyer, CB Bradley Roby got his hands on seven passes Saturday night, more than any other defensive back during his coaching career.
Apparently Meyer isn't the only one noticing Roby's abilities. Yesterday the sophomore was named one of 15 semifinalists for the Thorpe Award, handed out to the country's best defensive back.
"One of only two sophomores on the list of semifinalists and the only one from the Big Ten Conference, Roby leads the nation with 18 passes defended, a total that includes a nation's-best 16 pass break-ups and two interceptions."
Roby has been getting better all season and according to cornerbacks coach Kerry Coombs, it's because of his work in the film room.
"A kid like Bradley, whose film study is extraordinary, hours and hours of film study, he'll know his opponent. He understands the route that's coming, he's prepared for the ball when it comes and then you go to finish those plays."
Coombs has said a first-round pick could be down the road for #1. Adding a Thorpe award couldn't hurt the resume.
Thorpe Award finalists will be chosen Nov. 19th and the winner will be determined on Dec. 6th. Here's hoping Roby can decorate his island with a little hardware.
SAUSAGE LINKS. Hurricane Sandy sank a replica ship, 14 people were rescued but the captain is still missing... Meanwhile blizzard conditions hit the Appalachians... Protect your mustache... If you're not sold after reading this, I don't know what to tell you (f-bombs ahead)... I think this is how Terminator started.