It looked like it might be a typical B1G low-scoring slugfest with both Ohio State and Penn State committing mistakes amidst a punting exhibition for much of the first half but once Braxton Miller finally got a feel for things late in the first half, the floodgates opened.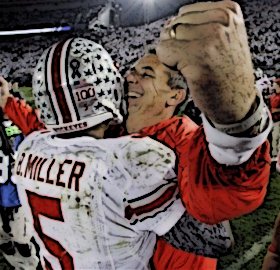 In what felt like a spurt by a basketball team where momentum is clearly seized, the Buckeyes used a 28-3 run over the last six minutes of the first half and the first 15 minutes of the 2nd to run away from the Nittany Lions, 35-23, last night in a raucous Beaver Stadium. 
The net 25-point blitz by the Buckeyes saw them completely take over the line of scrimmage, allowing Braxton, Carlos Hyde and Rod Smith to find running lanes while the Bullets picked up a pick six and excepting a 73-yard field goal drive, held the Lions to two total yards in their other three 3rd quarter possessions. 
Another impressive takeaway from Beaver is how the Buckeyes once again received contributions from the non-headliners on the roster. Evan Spencer was huge. Rod Smith did work. Adam Griffin made a key play. Nick Vannett had another 20+ yard grab and on and on. 
At 9-0, with a bad Illinois squad coming to town it's a great time to be a Buckeye but before we turn our attention to the Illini, let's take a quick tour of Five Things that stood out in a truly Happy Valley. 
One to Grow On?
As usual, Braxton put up another gaudy stat line last night with 277 total yards – 73% of the team total – highlighted by 134 on the ground despite -25 yards on four sacks amidst a tough night throwing the football.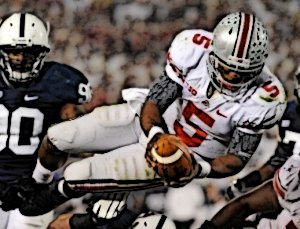 Miller connected on just four of his 12 throws in the opening half and looked bad doing it.  
After an opening three and out featuring what looked like a bad decision on a 3rd and 2 read/option, Miller nearly threw two pick-sixes on Ohio State's second possession. After a Penn State punt gave OSU the ball back, Miller killed another drive with a poorly thrown ball intended for Devin Smith on 3rd and five. I'll spare you the rest of the details. You get it. He was all over the place throwing the football and though I think Spielman grossly over exaggerated it, Braxton did look a little tentative in the pocket. 
Of course, he would soon shake the on-field doldrums and start exposing a pretty talented Penn State defense, but what impressed me the most about Braxton last night was his leadership. 
Often a reserved guy on the sidelines, it seemed to me Braxton went out of his way to demonstrate more leadership in a tough environment. He was consistently in the ear of teammates in between possessions and even when he was staging his tribute to Bauserman in the 1st half, he had the same stoic look on his face as he did when he was breaking Lion ankles in the 3rd quarter. 
And what about that throw to Stoneburner? Up 28-16 in the 4th quarter, looking at 3rd and 4 from his own 28 and just 6/18 through the air to that point, Miller confidently stepped into a perfectly thrown ball to Stoney over the middle. Stoneburner only had a half step on his man and Miller's ability to thread the needle allowed Jake to keep on stride and outrun the four Lion defenders for the 72-yard score. It was an incredibly confident throw from a kid who looked like Ricky Vaughn for much of the night. 
Another example of what could a moment of growth was his willingness to slide or step out of bounds to avoid unnecessary hits. It definitely looked like last week's trip to the hospital got his attention. It's often tough for a young, elite competitor to realize that not always going for that last extra inch of yards is the right thing to do. Sometimes there has to be a seminal moment in order for one to gain clarity and hopefully the ugly fall against Purdue was Braxton's. 
Bullish on the Bullets
Despite the known trouble spots that we discuss week in and week out, the Buckeye defense continues to show a knack for making plays when it counts and controlling the line of scrimmage against the more physical teams.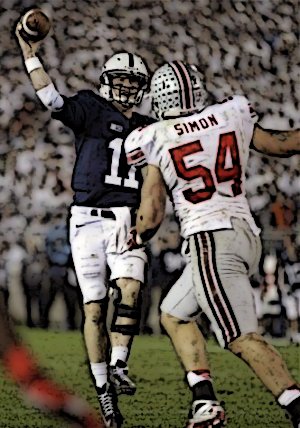 Last night, the Buckeyes put their focus on stopping the run and did exactly that, holding Penn State to 32 net yards rushing on 28 carries, or 1.1 yards per rush. The stats are helped by four Buckeye sacks for -37 yards but even if you throw those out, the Bullets held PSU to 69 yards on 24 carries, or 2.9 yards per carry. 
Along with five stops from Johnathan Hankins, former fullback Zach Boren and Ryan Shazier were spectacular in run support, among others.
The strong night stopping the run – the longest PSU carry was nine yards – helped the Buckeyes put pressure on McGloin to come through, which is something they didn't think he could do coming in regardless of what his season stats looked like. 
With Penn State trailing and unable to move the ball on the ground, Bradley Roby had another All-American type performance with five stops and four pass break ups. Though PSU WR Allen Robinson toasted Travis Howard and Christian Bryant a few times, he couldn't find much room to operate when locked up with Roby. 
Roby was absolutely ridiculous in the 2nd half. He made a fantastic tackle on Penn State's 2nd possession of the 3rd quarter, stopping Zach Zwinak for a four-yard gain on 3rd and goal to force a field goal try that allowed OSU to keep the lead at 14-10. 
Two possessions later, Roby broke out blanket coverage on both 2nd and 3rd downs to force incompletions and a punt. 
His night was still far from over as he successfully defended two more throws two possessions later, including one in the end zone that allowed him to showcase his makeup speed and ball skills. 
With the line doing work, a reconfigured LB unit showing signs of life and Roby assigned to the opposition's top receiving threat, things are starting to fall into place for a defense that clearly has limitations but is getting it done when it counts. 
Legacy Night
Big wins on the road typically see contributions from unexpected sources. 
Last night, a couple key contributions came from Buckeye legacies Evan Spencer and Adam Griffin. 
Complete Game Coverage
Nursing a 14-10 lead midway through the 3rd quarter, a Miller interception gave Penn State the ball at the OSU 44 but the Bullets rose to the occasion, quickly forcing a 4th and 9 at the OSU 43. 
Recognizing a potential fake just before the snap, Griffin turned and raced upfield, catching up to intended receiver Derek Day. Forced to lob the ball over Griffin, punter Alex Butterworth couldn't thread the needle and the incompletion, thanks to Griffin's handiwork, gave the Buckeye offense great field position.
Looking to capitalize on the short field, Braxton rushed for two yards on 1st down to set up 2nd and 8 at his own 45. Rolling left, Miller found Spencer on a short dig route. Spencer did a nice job catching the ball away from his body and quickly turning up field for 13 yards and a 1st down at the PSU 42. 
Five plays later, facing a crucial 3rd and 4 from the PSU 22, Miller again found Spencer, this time on a slant for another 13 yards to the PSU 9-yard line. 
Miller would score three plays later, giving the Buckeyes a 21-10 lead that was aided by the clutch contributions from Griffin and Spencer. 
Stabilizing Force
An already struggling linebacker corps was thrown for a loop following the win over Nebraska when it was learned senior captain Etienne Sabino would be out 3-4 weeks with a broken fibula.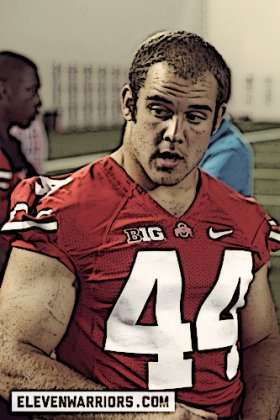 Despite the win, the defense had just given up 437 yards, giving up 13 plays of 10+ yards including two over 70 yards with the culprit often being poor tackling and execution from the linebackers. 
Sensing a need to do something drastic, Urban moved fullback Zach Boren to linebacker and the decision has paid off in spades. 
That's not to say the position group has become world beaters because they are still a patchwork lot, but there's no question Urban's bold move has helped solidify the middle of Ohio State's defense. 
For Boren's part, he's proven to be a solid run stopper, often knifing through traffic to bring down a ball carrier – something Storm Klein just doesn't have the instincts or quickness to consistently accomplish. He's got a long way to go in pass defense but considering the timing of the move and the length of time that's passed without him playing the position, Fickell must do what he can schematically to keep Boren out of coverage whenever possible or at least pay special attention to potential matchup problems. 
What I don't think is a coincidence is how Shazier has really started to blossom since Boren joined him on the defensive side of the ball. 
Shazier seems to play his own position with much more confidence and I wonder how much of that is because he no longer has to worry so much about what his sidekick is doing. 
He clearly wasn't worried about covering for any teammates last night as he terrorized the Penn State offense with seven tackles, two TFL, a forced fumble, two sacks and a pick-six. 
With Noah Spence coming along and Boren giving the staff a solid run-stopping partner with Shazier, Fickell is also now able to insert Nate Williams at various spots off the line of scrimmage in passing situations, which is really putting the second level defenders in position to play to their strengths. 
I guess we shouldn't be surprised. I mean, before the season even began Urban did say he planned to use Boren in ways he hadn't been used before.
Between the Tackles
While the offense is clearly only going to go as far as Braxton takes it, there's no question Carlos Hyde is having a solid season doing dirty work between the tackles.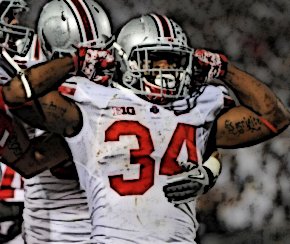 It was tough sledding last night but Hyde did help take some hits off Braxton as he carried it 22 times for 55 yards and a touchdown.
Through nine games, that gives him an even 600 yards rushing on 126 carries, good for 4.8 yards a pop, with 10 rushing touchdowns. I think most of us would've gladly signed up for that to this point, especially when you look back on his strong efforts in key games like Nebraska (28/140, 4TD), @Indiana (22/156, TD) and the OT win over Purdue (19/91, 2TD).
Even on a more plodding night, his ability to run inside not only saves Braxton some hits but also forces the defense to respect the middle of the field, allowing guys like Braxton to more easily exploit the edges. 
Last night, Hyde teamed up with Rod Smith to give Penn State something to think about other than slowing Miller. 
Smith spelled Hyde on a few possessions and tallied four carries for 48 yards, including a key 28-yard run on the scoring drive that put OSU in control up 28-10 late in the 3rd quarter. 
Combined, the duo gave Urban 26 carries, 103 yards and a score from the tailback slot. 
If Hyde can keep grinding and Smith continues to impress, the pair could carve out a very important shared role knowing two B1G slugfests are all that stands in the way of a perfect season, assuming the Buckeyes can dispatch of lowly Illinois next weekend in the 'Shoe.