Another week, another crazy Buckeye win to alternately dissect and make fun of. To a certain extent, of course, because if we're being truly honest, Kenny Guiton is the absolute man and the performance that he pulled right out of his butt was nothing less than completely amazing.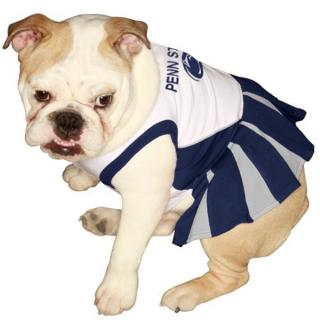 So with that in mind, Sarah and I break down the Purdue game a little bit, and then later we're joined by the excellent Cory Giger, the Penn State beat writer for the Altoona Mirror and also the Sports Central host on ESPN Radio 1450 in State College. So since Cory isn't new to this whole radio hustle, he does a particularly good job at breaking down the Nittany Lions and gives us a little background info to boot. Dude is good at his job.
And more questions! Ask Us Anything remains in full effect (and also you yes YOU! can ask us anything by shooting an e-mail to elevendubcast@gmail.com) and today we get to some silly questions that explore the depths of my nerdiness. Which, to be honest, is like Marianas Trench deep. Anyway, here's how everything shook out:
0:21- Purdue! Kenny Guiton! Us getting Real Mad at people ragging on Braxton Miller for not being hurt enough (???)! It's all here and it is of course spectacular.
16:45- Cory joins us to talk a little Penn State football, and we get into the hows and whys of the Nittany Lion season, namely "how is it possible they look this good?" and "why is Matt McGloin suddenly a good QB in what is supposed to be a just and fair world?"
30:26- Ask Us Anything rolls on, and it is as weird and eclectic as ever. We also wrap things up by talking a little Urbz versus Billy OB for the fakest of all fake awards, the Big Ten Coach of the Year.
46:28- If an Anklyosaur wrote a novel about the Tet Offensive, I'd read it.
Music for the Dubcast this week was "The Wrath of Marcie" by the Go! Team, "Remote Control" from the Beastie Boys, and She & Him doing a little "I'm Gonna Make It Better." And that's it! Please refrain from throwing empties at your buddies.