During the 2002 season, Ohio State used a formula of excellent defense and special teams play, coupled with an efficient offense that made plays in clutch moments to reach a 14-0 record and claim stake on the national title after beating Miami in the Fiesta Bowl.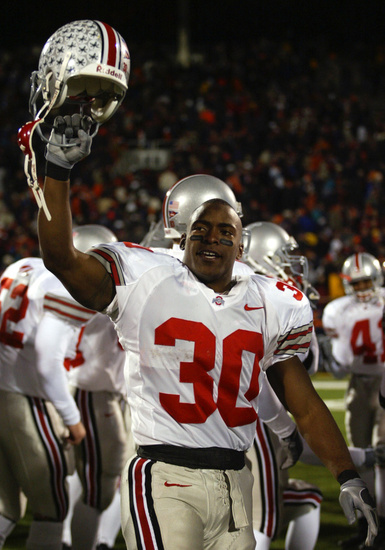 While the leader of the offense was QB Craig Krenzel, most of the production came via the ground. Maurice Clarett was the bell cow that season, rushing for over 1,200 yards and 16 touchdowns as a freshman, but Maurice Hall (370 yards, 2 touchdowns) and Lydell Ross (619 yards, 6 touchdowns) also chipped in to give Jim Tressel a three-headed monster out of the backfield.
You know the story about Clarett and how he is turning his life around, and you heard recently that Maurice Hall is out in Hollywood trying to make a name for himself on the big screen. The man you haven't heard from is Lydell Ross, a player who frustrated many Buckeye fans during his time in Columbus just as many times as he gave them joy.
Ross came to Ohio State in 2001 out of Gaither High School in Tampa, Florida, and was one of the more highly regarded prospects at his position in the nation. During his first season in Columbus, he rushed for 406 yards and 6 scores before following up that performance in his sophomore year with another 6 touchdowns and 619 yards in the aforementioned three-headed monster.
The Florida native set the bar high in his junior season when he compiled 826 yards and 10 scores on the ground during the 2003 season, leaving many to believe he would break through during his final season in Columbus. It was in 2004 when the team would need him the most, as many of the leaders of the 2002 and 2003 teams were departed and a youth movement took over the OSU football program.
Ross disappointed many when he couldn't follow up on an excellent junior campaign. He mustered only 475 yards and 4 scores, watching Maurice Hall continue to cut into his carries, as well as freshman Antonio Pittman emerging as the top playmaker out of the Buckeyes' backfield. 
He finished his career with a solid 2,326 rushing yards and 26 touchdowns, as well as 31 receptions for 230 yards, but his on-again, off-again performances and lack of development, especially in his last season, left him open to criticism by most of Buckeye Nation. Nonetheless, he was certainly a productive player for the Buckeyes during his four years with the program, going all in for the team, and of course providing important contributions to the 2002 national title run.
Ross' days as a football player are over and you would now be surprised to hear what he's up to. We caught up with the former Buckeye to hear about his life post-OSU, his memories of the 2002 season, how he looks back on his career in Columbus, and more.
Join us after the jump to find out what is going on with former Ohio State running back, Lydell Ross.
Walk us through what you have been doing since you left Ohio State after the 2004 season up until now.
I was invited to camp in fall of 2005 with the San Diego Chargers and was with them for the pre-season. I decided after that experience I didn't want to pursue that path [bouncing around practice squads] so I came back to Columbus to finish my degree.
I graduated in spring of 2006 and then moved back home to Tampa. When I got back there I joined the Fire Academy and got state certified. I was hired by the Tampa Fire Rescue and have been there ever since.
How did you decide you wanted to be a firefighter?
When I came home to Tampa I was hanging out with a bunch of my friends who were all athletically minded like myself. They were all in the field and talked to me about what it entailed and really got me interested in doing it.
What lessons learned at Ohio State have helped you in your career as a firefighter?
I think just being able to make mature decisions and being proactive in planning my life and job have helped me the most. I learned to take all aspects of a situation into consideration and come up with the best solution possible. Also, from playing football I learned how to be part of a team and how important having your teammates' backs is, so that has helped me a lot. The physicality of the game of football also prepared me for the physicality of what it takes to be a firefighter.
You were a member of the 2002 national championship team. Will you be at the Michigan game to be honored with your teammates? Do you think Coach Tressel will be there?
I sure will and I think Coach Tressel will too. This is an event to honor the 2002 team. We're not talking about anything else, especially what has happened recently. Ohio State made a commitment to Jim Tressel and Jim Tressel made a commitment to Ohio State. I fully expect OSU to open their arms and honor him and in turn I expect Coach Tressel to be there to be honored.
What was your most memorable moment from the 2002 season?
I think just how we approached all of the games that season, especially the Miami game. We didn't let any of the hoopla get to us and we were just so focused on the task at hand and accomplishing all of our goals.
Is there an individual play you made that stands out?
Getting the first down in the second overtime against Miami in the Fiesta Bowl stands out to me. That was a really big play for us.
With Maurice Clarett and Maurice Hall splitting time in the backfield with you in 2002, was that ever difficult mentally?
Never was I flustered during the entire season or think it was a difficult situation. I had a clear mind and whenever my name was called, I gave 100% of my effort. Whether that time came in a big moment at the end of the game or in the middle of the second quarter, I did the job that was asked of me. That was just the type of player I was.
Headed into the national title game against the mighty Miami Hurricanes what was your mindset?
The mindset was just like any other game. We understood the stage we were on. We understood how far we had made it. We needed to keep a clear head and just focus on the task at hand and that's what we did. We just went out and played football like we had our entire lives.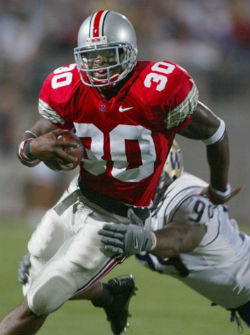 You guys had a pretty nice season in 2003, but in 2004 there was disappointment early in the year. After starting off 3-0, you lost three straight to fall 3-3, before finishing strong and ending 8-4 with wins over Michigan and Oklahoma State in the Alamo Bowl. What do you think were the problems contributing to those early 2004 struggles?
I think we were just a younger team. The leaders from the 2002 and 2003 teams were gone and we struggled to find an identity. I think once we did we had success, but early on we had trouble with that.
Troy Smith emerged in that 2004 season. When did you first realize he was a special player?
I knew early in his career, as far back as his freshman season in 2002. You saw in practice he was almost Chris Gamble-like in terms of his athleticism. He would line up at quarterback, return kicks, and even play some wide receiver. I saw immediately that he had talent and that he would be a tremendous athlete and player for Ohio State.
In your four years at Ohio State you rushed for over 2,300 yards and had 26 touchdowns, a career many would be proud of and consider very productive, although it seems Buckeye fans gave you a lot of criticism about your time in Columbus. How do you look back on your career in the scarlet and gray?
I felt like when I was given an opportunity while at Ohio State that I took it and ran with it the best that I could. I'm not going to be too hard on myself because I felt I was productive on the field, but I do feel that towards the end of my career instead of getting better, I kind of leveled out. That result came with some things off the field and things of that nature, but overall I feel I gave 100% and did the best I could, but I probably leveled out instead of improving that last year.
Who do you still keep in touch with from Ohio State?
There are a few guys like Mo Hall and Mike Roberts, who was a defensive back. I talk to some other guys on Facebook a lot, as well as some non-scholarship guys from the team.
What was the most important thing Jim Tressel ever taught you?
It was nothing to do with football. He taught me that life is "all about people" and how to be a good citizen off the field. He taught me how to be a good person in life, not just in football.
If you can say one thing to Buckeye Nation, what would it be?
In Tressel we trust.
Thanks to Lydell for taking the time out of keeping Tampa safe to sit down with us for this interview.